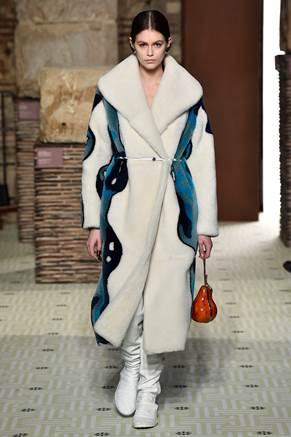 The 13th century Musée de Cluny plays host to the first Women's and Men's collection designed by Bruno Sialelli for the house of Lanvin, sublimating the illustrious heritage of the Parisian maison in the midst of its own renaissance. As the first true purveyor of lifestyle, Lanvin encompasses a prismatic vision of fashion. Contemplating the life and times of our founder Jeanne Lanvin, a vital optimism permeates this respectful evolution – acknowledging the maison as a florilegium of creative energy. Embodying a folkloric spirit, the Fall Winter 2019 collection roams from the Rue Saint-Honoré to Brest and far beyond, reminiscing upon cinematic and literary personas through history.
Reviving Lanvin's playful narrative in a symphony of romantic archetypes, Sialelli draws upon a multitude of moods: from nautical to bucolic, regal to childlike, the collection personifies lyrical conversations in cloth. Pre-Raphaelite colours depart from Lanvin 'quattrocento' blue into powdery shades of avocado, absinthe, banana and bergamot warmed by mahogany, navy, tomato and a blaze of ultraviolet. Inciting pure comfort and a suite of leisurely pursuits, classic shapes are spliced with sensual fabrications,as Norwegian blankets, exotic Fair Isles, and giant clan tartans swaddle inherently French garments. 'Whole garment' knits create sinuous volumes shaped in cashmere and lurex, whilst the vareuse from Brittany, the heart-collar caban, zipped blousons and riding coats are rendered in cashmere, gabardine, intarsia shearling or wool gazar.

Passing from myths to modern fairy-tales, graphics flit from Paul Iribe's logo La femme et l'enfant (1924) on stamped muslin to mosaic monogram pyjama silks and delicate marguerite micro-florals. Evoking the whimsy of Cécile and Jean de Brunhoff's Babar the Elephant books, illustrated scenes float over crewneck twinsets and foulard riding boots, whilst tufted hares and foxes frolic across transparent tulle. Sensuous and in perfect symmetry, shaped necks and contoured sleeves impart blouses or dresses with a medieval line, as the scrolling imprint of illuminated manuscripts is writ large acrosssilk twill. Faded Merovingian splendour is woven throughout, from gilded leather amulets and dipped thimble rings to St. George's dragon resplendent on embroidered velvet.
Voluminous kaftan gowns trail with linings inside and out, layered with bands of lace, pleated satin, and portrait print georgette.
Lanvin's muse is embellished with abandon, adorned from head to toe with heraldic charm jewellery and porcelain chokers, fruit minaudières and salome wedges in Viennese metalwork. Grounding the season's mystic vision, satchels, flat totes and asymmetric bucket bags are crafted in supple suede, canvas and calfskin to match fringed tennis shoes, studded clogs and moulded moccasin boots.
Categories