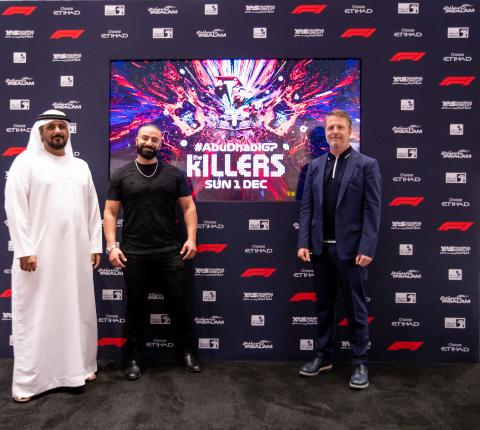 Yas Marina Circuit and FLASH Entertainment have announced the next global music superstars to perform at this year's Yasalam After-Race Concert as part of the FORMULA 1 ETIHAD AIRWAYS ABU DHABI GRAND PRIX 2019.
American rockers The Killers will bring their world beating catalogue of massive hits including "Mr Brightside", "Somebody Told Me", "When You Were Young", "Human", "Runaways", "The Man" and more to the du Arena, Yas Island, on Sunday 1st December.
The addition of The Killers to the international line-up perfectly builds on the huge excitement and momentum sparked earlier this year by the announcement that American hip hop sensation Travis Scott will perform as the Friday Yasalam After-Race Concert.
Taking to the stage in Abu Dhabi for only the second time in their incredible career, The Killers are set to close this year's F1® music celebrations with an epic performance of their biggest hits.
Formed in 2003, global success came quickly to the Las Vegas born band, with their debut album, 2004's 'Hot Fuss', catapulting them from newbies to international superstars. 
What followed was two years of constant touring, with The Killers perfecting their stunning live show over the course of an incredible 400 gigs at some of the world's most-famous music venues, stadiums, and festivals while selling millions of albums and winning over countless devoted fans in the process. Their subsequent studio albums have seen them top charts around the world (the most recent, 2017's "Wonderful Wonderful", giving them a record breaking fifth consecutive UK #1 as well as reaching the summit in the U.S).
The Killers have already this year headlined some of the world's biggest festivals, including Glastonbury in the UK. Famous for their great live sets, the band will be at the very peak of their live performance powers when they take to the stage at the du Arena, Yas Island on Sunday 1st December.
With music lovers of all ages counting themselves as fans of both Travis Scott and The Killers, the Friday and Sunday night Yasalam After-Race Concerts are sure to prove a huge hit with racegoers from more than 170 countries who will travel to the Abu Dhabi Grand Prix.
Ticket holders can take their weekend up a gear by purchasing 'Golden Circle' upgrades for the Yasalam After-Race Concerts. The upgrade packages offer the best access to the After-Race Concerts and are available to buy at www.yasmarinacircuit.com. Prices start from AED 195.
Offering superb value to loyal race fans, there's also up to a 20 percent 'Early Bird' discount for those that purchase their Abu Dhabi Grand Prix tickets before 31st July.
Those looking to add extra value and excitement to their race weekend can also purchase the three-day 'Super Parks Pass', allowing unlimited access to all three Yas Island parks – Ferrari World Abu Dhabi, Yas Waterworld and Warner Bros. World™ Abu Dhabi – Wednesday through to Sunday, the pass starts from AED1,344 (for Abu Dhabi Hill).
F1® fans can extend their weekend of fun in the capital even further with the announcement of a 50% discount to explore the Louvre Abu Dhabi included with every Abu Dhabi Grand Prix ticket from Thursday to Sunday. The Louvre Abu Dhabi is home to hundreds of acclaimed works of art and masterpieces from around the world. The quiet and calm of the galleries and intricately designed open spaces offers visitors a respite from the noise, crowds and buzzing excitement of Yas Marina Circuit.
A wonderful addition to this year's off-track action at Yas Marina Circuit is the Grand Prix Auction, hosted by acclaimed international auction house, RM Sotheby's. A must for all motorsport lovers, among the rare and legendary cars set to go under the hammer is Michael Schumacher's 2002 Formula One championship-winning Ferrari.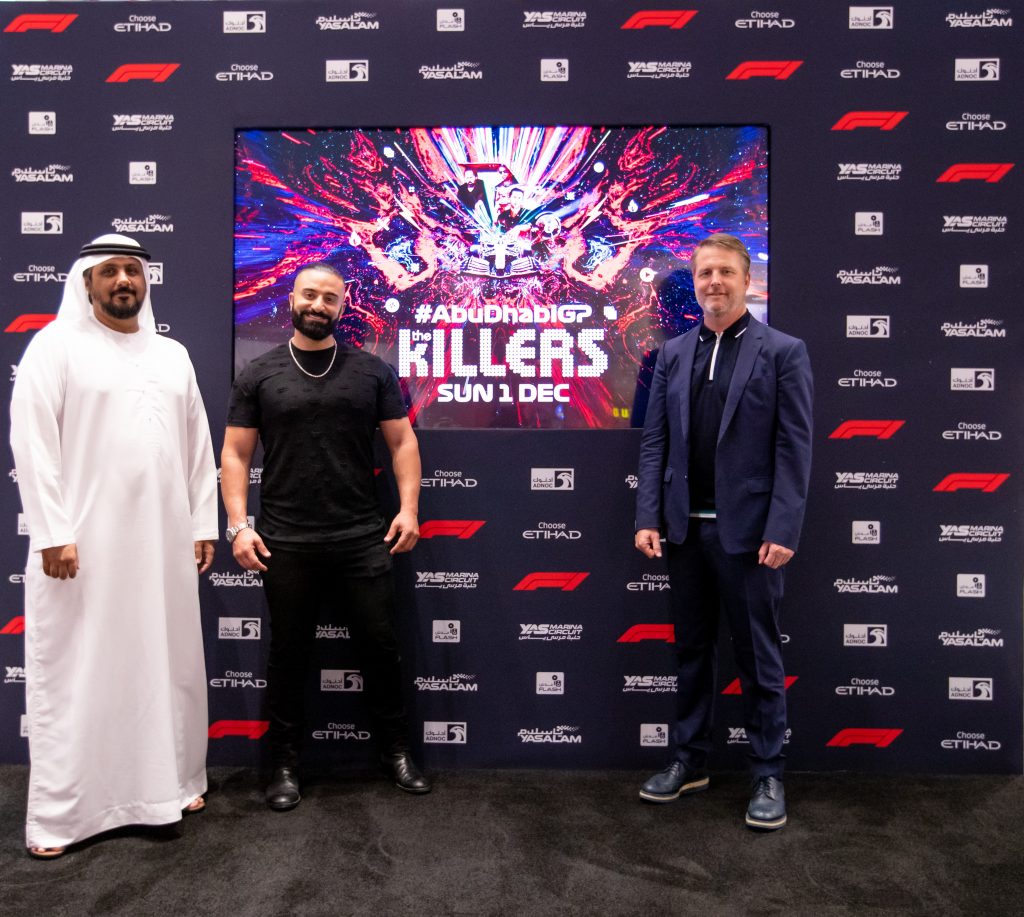 The Grand Prix Auction is a unique opportunity to see, and potentially own, a truly iconic F1® car while other supercars, including a 1990 Ferrari F40, a 1979 Lamborghini Countach LP400 ad a 2001 Diablo GT, are also up for sale to the highest bidder.
Porsche fans are also well catered for at the Grand Prix Auction, with Sotheby's accepting offers for a 1973 911 Carrera RS 2.7, a 1993 911 Carrera RSR 3.8, a 2010 911 Sport Classic, a 2011 911 Speedster, and 2017 918 Spyder.
Al Tareq Al Ameri, CEO of Yas Marina Circuit, said: "We are delighted to announce The Killers will play the headline show on Sunday night at the Abu Dhabi Grand Prix After-Race Concerts.
"With their huge collection of global anthems, massive fan appeal, and incredible live performances, The Killers are the perfect band to play at the du Arena at the end of the fourth day of great F1® action.
"This year's FORMULA 1 ETIHAD AIRWAYS ABU DHABI GRAND PRIX will be a celebration of the best in motorsport and live music with five full days of on and off-track entertainment lined-up as we mark our second decade of success at Abu Dhabi's Yas Marina Circuit."
John Lickrish, Flash Entertainment CEO, said: "Personally, I'm thrilled to see the Killers return to Abu Dhabi. Having graced the capital once before over a decade ago, they've now sold a total of 22 million albums worldwide and received seven Grammy nominations, making them one of the biggest rock bands of the 21st century.
"The Sunday After-Race Concerts have now become synonymous with surprises and truly innovative shows. From P!NK flying in 2017 to Guns N' Roses making it rain during 'Purple Rain' in 2018, I know The Killers are the next artists to stun the crowd at du Arena and continue this trend. Yasalam is instrumental in setting the scene for music in the region and helping to shape the entertainment landscape in Abu Dhabi. We are confident that this performance will be one for the history books."
Following last year's tenth anniversary edition, the FORMULA 1 ETIHAD AIRWAYS ABU DHABI GRAND PRIX 2019 will run from Thursday, 28 November to Monday, 2 December – delivering five full days of on-track and off-track entertainment across Yas Island.
The five-day race festival of on and off-track entertainment starts with Super Thursday and the ever-popular Public Pitlane Walk, with the action continuing across the entire weekend to Monday. The 48th UAE National Day on 2 December will be marked by a whole day of fun activations on Abu Dhabi Hill to keep the festival mood going after the excitement of Sunday's race day.
Tickets are available online at www.yasmarinacircuit.com and through the Yas Marina Circuit Call Centre (800 927) or +971 (0) 2 659 9800, as well as Etihad Hala, Yas Island's Experience HUB and Virgin Megastores, Yas Central Express stand at Yas Mall.
For more information on tickets, pricing and packages, please visit:
Facebook: https://www.facebook.com/yasmarinacircuit
Twitter: https://www.twitter.com/yasmarinacircuit
Instagram: http://instagram.com/ymcofficial
Categories