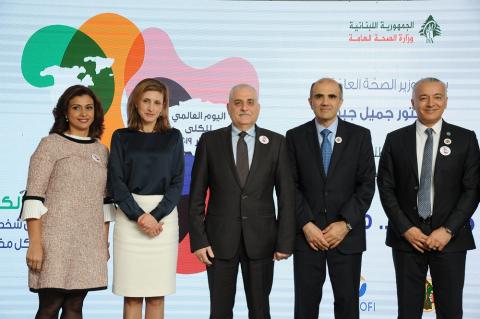 Under the auspices and in the presence of the Minister of Public Health Dr. Jamil Jabak, the Ministry joined hands with the Lebanese Society of Nephrology and Hypertension (LSNH) to launch the annual national campaign for Early Detection and Prevention of Kidney Diseases in collaboration with Sanofi and the support of the Lebanese Order of Physicians and the Ministry of Telecommunications. In line with the global theme of World Kidney Day - Kidney Health for Everyone Everywhere - the details of the campaign were revealed during a press conference held at the ministry hosting members of the medical societies, partners and press.
Kidney diseases have significant human and economic impacts due to its effects on the heart, the high rate of hospitalizations and the high burden of medications. In 2019, World Kidney Day sets out to raise awareness of this high and increasing burden worldwide and the need for strategies for prevention, management and universal health coverage (UHC).
"In line with our core commitment towards our citizens and their wellbeing, this campaign is set to raise awareness on kidney diseases, risk factors and early symptoms", said the Minister of Public Health Dr. Jamil Jabak. "Acknowledging the huge impact of the kidney diseases on patients, the Ministry kick-started providing full coverage for patients on dialysis in 1972 and took a further yet an additional step to include kidney transplantation in the coverage as well few years ago. The number of patients on dialysis reached 3855 cases annually. This huge number has a tremendous human and economic impact. Since kidney transplantation is the ultimate solution for kidney failure, we believe it's a national responsibility to promote the culture of organ donation in Lebanon as this will save many lives and reduce the financial burdens on the healthcare system," Dr. Jabak added.
"Kidney diseases are considered "silent diseases" as most often there are no apparent early symptoms. Thus, a patient may not be aware of her/his impaired kidney function until advanced stages," said Professor Ali Abu-Alfa, President of the Lebanese Society of Nephrology and Hypertension. "Although common risk factors such as diabetes, hypertension, obesity and established cardiovascular disease are on the rise, other causes such as genetic diseases and congenital urological abnormalities in children need to be kept in mind and relevant questions included in screening evaluations. Finally, Acute Kidney Injury with partial recovery of kidney function, such as post-hospitalization for severe illness or infection, is being recognized as a cause for chronic kidney disease.
The majority of the Lebanese population is not yet fully aware of the impact of these conditions on the function of the kidneys and may be consequently not being screened early enough for kidney disease. In order to optimize the management of kidney diseases, screening should be a primary healthcare intervention including diagnostics with urine and blood tests. Screening, especially in high risk individuals, is cost effective to prevent or delay end-stage kidney disease requiring dialysis or transplantation," added Professor Abu-Alfa. He continued to say "Finally, and as we did at the 2015 World Kidney Day conference in Beirut, we call on all clinical laboratories in Lebanon to automatically report estimated GFR (or kidney function level) with any measurement of serum creatinine using recommended formula".
Around the world, 850 million people are now estimated to have kidney diseases from various causes. Chronic kidney diseases (CKD) cause at least 2.4 million deaths per year and are now the 6th fastest growing cause of death globally. In addition, acute kidney injury (AKI), which is an important driver of CKD, affects over 13 million people worldwide and 85% of these cases are found in low- and middle-income countries, and around 1.7 million people are estimated to die annually because of AKI.
"In Lebanon, 10% of the population suffers from kidney diseases. This high number of patients is alarming and here comes the importance of running such awareness campaigns on a national level. For the fourth year in a row, these campaigns managed to put the kidney diseases on the map of the healthcare agenda and helped reinforcing the basic health services kidney patients need such as blood pressure and glycemic control and essential medications to delay CKD progression," said Dr. Robert Najm, Nephrologist and Coordinator of the national campaign. "World Kidney Day is not just about awareness: It is to emphasize that simple lifestyle changes can have a huge impact on CKD development and progression. These changes include a balanced diet, regular exercise, blood pressure control, enough consumption of water, cessation of smoking, and abstinence from taking any medications without physician's consultation," Dr. Najm concluded.
To expand the outreach of the awareness message and reach a wider audience while impacting more lives, the Lebanese Society of Nephrology and Hypertension is organizing a series of on-ground activities in collaboration with the campaign stakeholders, including medical booths in 73 hospitals across Lebanon, offering free blood pressure tests and distributing educative brochures. An SMS campaign endorsed by the Ministry of Telecommunications will reach out to all mobile subscribers in Lebanon. Additionally, a symposium with the American University of Beirut and the Lebanese Order of Nurses will be organized to educate nurses about caring for the kidney patient. A series of community awareness events will also take place in different places in Lebanon as well as sports activities sponsored by LSNH.
The campaign will also be promoted through various media outlets including links on all leading Lebanese TV channels, press, radio, online portals to help deliver and spread awareness across Lebanon. Acknowledging the role of the private sector in creating positive impact in the public health, Sanofi, Alfa, Sohat, Amgen and Algorithm supported the campaign to help achieve its objectives.
It is worth mentioning that the great success of the "National Awareness Campaign for Early Prevention of Kidney Disease" in Lebanon received global recognition thanks to the great efforts put into making kidney disease awareness a priority in the country.
Categories