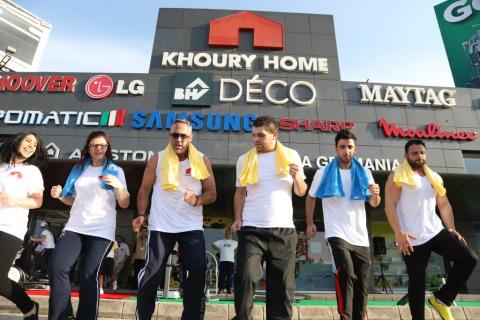 A Khoury Home Work Out: Run Jump and Go
Beirut, April 2014: Khoury Home celebrated Fitness Month during April, further shedding light on their initiative which empowers individuals to challenge themselves and include fitness in their daily lives. The aim was to highlight the importance of staying fit and making it accessible to the public through various activities conducted during the month. Run, Jump and Go was the selected motto, with exciting activities and tailored promotions on fitness items.
On April 11, the Dora Showroom was transformed into a zone of fitness with a pop up session with trainer to the stars George Assaf. The showroom's ambience was filled with positivity and energetic staff and customers who gathered around for an intense workout session and got their hearts pumping.
Noting that staying healthy is not just about working out, but having the right diet; Khoury Home partnered with HealthBox Diet and Nutrition Center to conduct the BMI test and provide customers with healthy eating habits and tips.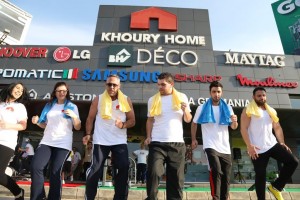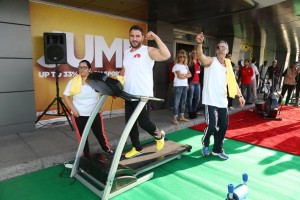 Commenting on the occasion, Romen Mathieu, Chairman of Khoury Home stated "At Khoury Home, we are known for being the one stop destination for all your Home needs. With the notion that the body is the Home of the soul that same pledge applies and we strive to highlight the importance of healthy lifestyles and the integral part fitness plays."
Khoury Home offers a wide range of fitness items from sports equipment and machines to cater to audience's workout needs: Treadmills, upright bikes, recumbent bikes, elliptical, multi-gym machines, benches, free weights, billiard, soccer & tennis tables, sports accessories, variety of activity trackers' bracelets, food-control scales and much more.
Do not forget to visit the Khoury Home Facebook and Twitter pages for the latest offers and activities.
Categories