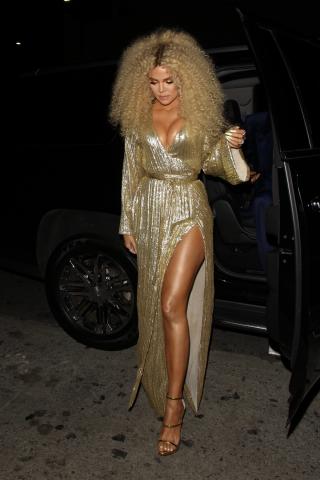 "It's been a dream," said the late former First Lady Jacqueline Kennedy, describing her
first visit to India in March of 1962. This season, Madiyah Al Sharqi looks to the historic
trip of the iconic American figure to tell the story of her collection while subtly
conveying her elusive personal style through her creations. Sharing a penchant for
pastel palettes in elegant, unusual fabrics with Kennedy, Al Sharqi ingeniously
combines those references to take shape in delicately feminine yet entirely
contemporary, statement-making looks.
Spring/Summer '19 plays out with multi-coloured stripe, pastel-hued paisley, gingham,
and rich leather fabrics alongside the eponymous label's signature embroidered lace.
Cut to take the form of silhouettes borrowed from the Sixties era, the collection
creates a mod moment with every look. Puff-sleeved jackets are paired with belted
flare trousers, playful hems are demonstrated in silk mini cami dresses with floor
length tiered lace overlays, and one-shouldered sequin embroidered dresses feature
button details, altogether showcasing Madiyah Al Sharqi's progression into elevated
daywear.
Citing traditional Indian garb, accents include paisley shawls incorporated to dresses,
tailored separates and jumpsuits that completely transform into a new look each time
it is styled a different way: placed over the neck, tied like a scarf or cascading down
one shoulder.
Taking daywear further, Al Sharqi immortalizes Jackie Kennedy's Indian journey with
embroidered cotton shirts that say "It's Been A Dream" and "1962" in short and longsleeved
options.
Al Sharqi, who has visited India a number of times, shares, "I was amazed by all the
different cultures, landscapes and their warm hospitality. We've always had Indian
influences in the UAE but I discovered that India was much more than what I thought.
Visiting India really is a dream, getting familiar with and admiring the country's rich
culture, history and architecture."
About Madiyah Al Sharqi
Sheikha Madiyah Al Sharqi, daughter of the Ruler of Fujairah, U.A.E., H.H. Sheikh
Hamad bin Mohammed Al Sharqi is an internationally recognised talent who founded
her eponymous label in 2012. Her collections are epitomised by a confident,
contemporary and whimsical aesthetic. A renowned Middle Eastern designer with a
global presence, Al Sharqi's work embodies everyday luxury with exquisite, delicate
fabrics, bold silhouettes and subtle colour palettes.
Madiyah Al Sharqi has received significant international acclaim including being
honoured as a Vogue Italia "Vogue Talent", and being featured in titles including
Vogue Italia, Vogue Arabia, Harper's Bazaar Arabia and Grazia Middle East.
Her designs have been worn by celebrities including Lorde, Nicole and Sofia Richie,
Heidi Klum, Alessandra Ambrosio, Sofia Vergara, Kourtney Kardashian, Priyanka
Chopra, Nicole Scherzinger, Karolina Kurkova, Constance Jablonski and more.
Categories