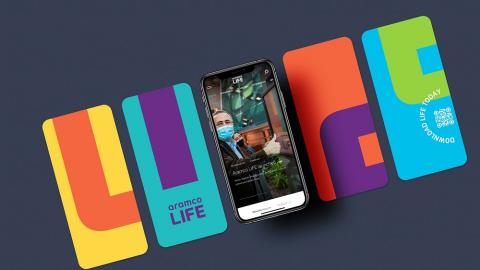 Aramco LIFE is a comprehensive mobile app experience and information marketplace that empowers and engages the people of Aramco, transforming the company's internal communications.
Originally, the assignment for AKQA was to simply digitize Aramco's weekly newsletters and magazines. But in order to do justice to the company's strong culture spanning more than eight decades, and the people of Aramco's rich contribution across multiple communities, much more was needed. And so, Aramco LIFE was born. 
An all-in-one experience
Aramco LIFE is a combined app and website based on the Sitecore platform. A content hub and information marketplace for news, articles, and updates. It provides a digital version of the company's publications and content, grouped by topic and publication. 
The channel includes user engagement, social feed, personalization of content, and content segmentation for employees and the public.
Life at Aramco. As it happens.
"In general, the way we consume news professionally is becoming increasingly similar to the way we do it when we're not working. We actually prefer the ease of the private experience. And that was key to creating the LIFE experience, showing all facets of life at Aramco, as it happens," Hans von Haffner, General Manager at AKQA, says. 
Fahad Al Dhubaib, Public Affairs General Manager at Aramco, states: "Innovation is the cornerstone of everything we do at Aramco, and we have embarked on a Digital Transformation Program that touches all aspects of our business. Yet we remain proud of the rich heritage of our internal publications like Arabian Sun, which has been in circulation for more than 70 years. By launching Aramco LIFE, we are creating a 21st Century platform to house our various titles – one that respects our history and at the same time brings people together through shared interests, offering new ways for our diverse workforce to connect and keep pace with latest developments at one of the world's most important companies." 
A perfect way to utilize Sitecore's capabilities
Sitecore CEO Steve Tzikakis says: "Aramco LIFE showcases Sitecore's wide ranging capabilities for creating transformative and exciting digital experiences. Today, through the partnership with Sitecore, Aramco can seamlessly deliver personalized content across multiple touchpoints at every step along the customer journey. We are thrilled that Sitecore's versatile technology has helped Aramco's achieve its goals in offering ultimate customer satisfaction and engagement."
Aramco LIFE is available for download now in Apple App Store and Google Play.