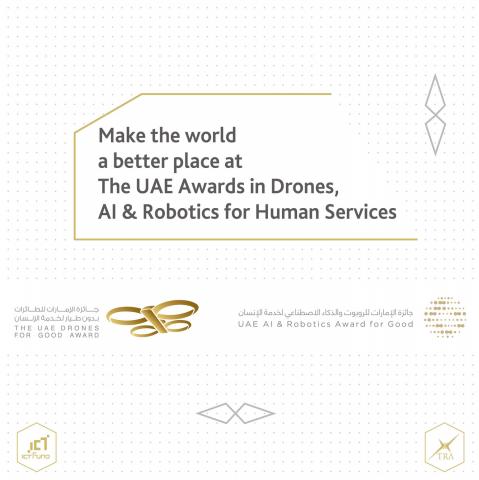 Initiative aims to generate innovative ideas and projects that will serve humanity
The ICT Fund, the financing tool of the Telecommunications Regulatory Authority (TRA) has announced it is organizing the UAE Drones for Good Award and the UAE AI Robotics for Good Award, two different sets of competitions each having local and international categories. The awards aim to encourage innovative ideas and designs intended to help serve humanity using drones, robotics and artificial intelligence (AI).
The ICT Fund urges the public to participate in the competitions and register either through www.roboticsforgood.ae or www.dronesforgood.ae. All submissions will be accepted until end of October 2016 and winners will be announced in February 2017.
H.E. Hamad Obaid Al Mansoori, Director General, TRA said: "It is our honour that the ICT Fund was entrusted to organize these awards which were launched by H.H. Sheikh Mohammed Bin Rashid Al Maktoum, Vice President and Prime Minister of the UAE and Ruler of Dubai, which shape the ideal employment of technology to serve humanity." Generating innovative concepts through awards and competitions and support for researchers in their projects is the ideal approach to promote technology's role in serving individuals and society, he noted.
Eng. Omar Mohammed AL Mahmoud, Acting CEO, ICT Fund, said: "The competitions gather global and local innovators in once place with the aim of adopting technology in the service of humanity." He added that the UAE is known worldwide for promoting such projects that will help others in solving human challenges.
We always prioritize the present human conditions and needs in all of its implemented and planned projects. As a hub for international prizes and competitions, the country can serve society and improve the quality of human life using technological advances such as drones and robots and use their capabilities to solve various issues, Al Mahmoud noted.
The ICT Fund explained that to participate, interested applicants may fill a form through the website, and attach a video at least 210 seconds long explaining the technology and the services of their invention for either the national or international category before the deadline. The awards' organizing body will provide for the costs of travel and transport of devices to the UAE, as well as the visa arrangements for participants coming from abroad.
It added that for the national award, participation is open to UAE ID holders whether UAE citizens or residents, while the international category is open to all citizens of other countries living outside the UAE.
International winners of both awards will receive USD 1 million, while national winners will receive AED 1 million. Any individual who would like to know more about the awards can email the organizers through info@roboticsforgood.ae for the UAE AI and Robotics for Good Award and info@dronesforgood.ae for the UAE Drones for Good Award.
Categories