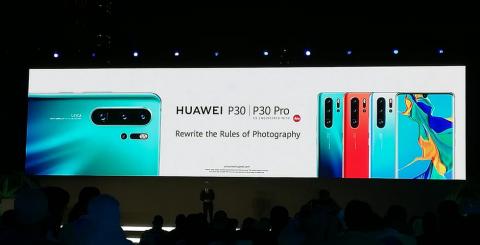 Huawei Consumer Business Group (CBG) unveiled the much-anticipated HUAWEI P30 Series to consumers in the Middle East and Africa region during a launch event that took place in Burj Park where the audience was treated a mesmerizing animation and lightshow projection on the Burj Khalifa.
HUAWEI P30 Series are the company's most advanced camera smartphones to date: Innovations such as the HUAWEI SuperSpectrum Sensor and SuperZoom Lens allow Huawei to push the envelope of not just photography, but videography as well.
Gene Jiao President of Huawei CBG, Middle East and Africa said: "Since its launch, the HUAWEI P Series has been at the frontier of groundbreaking smartphone photography. The HUAWEI P30 series is no exception and will push the boundary even further, rewriting the rules of smartphone. With innovative features like the HUAWEI SuperSpectrum Sensor and SuperZoom Lens, we were able to reshape the perception of consumers by delivering pioneering technologies that will not only offer new photography experiences, but will also take smartphone videography to another level."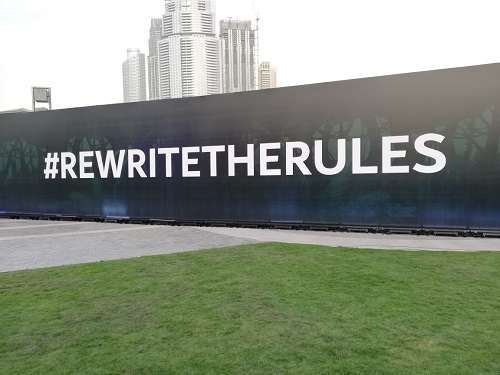 Lojain Omran the prominent TV presenter and social media personality was invited to take the stage to talk about her hands on experience of the Huawei P30 Pro as she was one of the first users to try out the super camera phone and share her hands-on experience when it comes to its fantastic camera and  the optimized Snapchat experience.
The HUAWEI P30 Series is set to change people's expectations of smartphone photography.
An optimized Snapchat experience.
Huawei also announced that it has worked to optimize the Huawei P30 series camera for Snapchat, bringing more camera innovation to users, aiming for Snapchatters to soon be able to enjoy more experiences using the Huawei P30 camera.
World's First Leica Quad Camera with Cutting-Edge SuperSpectrum Sensor and SuperZoom Lens
Taking mobile photography to a brand-new level, HUAWEI P30 Pro is the highest-rated smartphone camera on DxOMark with an average score of 112. HUAWEI P30 Pro carries a new Leica Quad Camera on the back of the device, including a massive 40MP main camera with a revolutionary 1/1.7-inch SuperSpectrum sensor, a 20MP ultra-wide angle lens, 8MP telephoto camera and HUAWEI Time of Flight (ToF) Camera to unleash the imagination. Unique to the HUAWEI P30 Pro, HUAWEI ToF Camera captures depth-of-field information to deliver accurate image segmentation and uses precise distance measurement to allow for the simulation of multiple levels of bokeh. A 32MP selfie camera mounts the device front and produces AI-beautified pictures.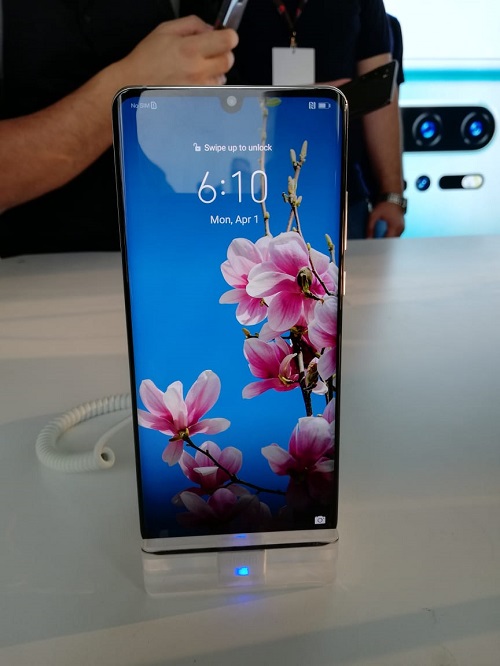 The 1/1.7-inch HUAWEI SuperSpectrum Sensor looks at light in a fundamentally new way. The RYYB HUAWEI SuperSpectrum Sensor deviates from the traditional RGGB Bayer filter by replacing green pixels with yellow pixels, yielding a high maximum ISO rating of 409,600 on the HUAWEI P30 Pro and 204,800 on the HUAWEI P30.
HUAWEI SuperZoom Lens:
The SuperZoom Lens takes smartphone zooming capabilities to unprecedented territories. The innovative periscope design enables Huawei to incorporate the telephoto camera into an extremely slim device. The periscope design uses a prism element to bend light at a 90-degree angle. By doing so, the sensor can be fitted in the chassis and support 5x optical zoom, 10x hybrid zoom and a never-before seen 50x digital zoom, bringing the farthest objects closer to the user's eyes.
Dual-View Video mode: Redefining Smartphone Videography
The HUAWEI P30 Pro brings a refreshing way to shoot and view videos. HUAWEI Dual-View Video¹ uses multiple cameras simultaneously to capture videos. While shooting, the screen splits into two halves: the lower half shows the wide-angle capture, while the half that's closer to the front camera shows a close-up shot. This mode, with its capability to capture dual perspectives, lends itself to capturing large-scale events such as sporting matches and concerts where users can adjust magnification levels as well.
Feature will be enabled via HOTA update at a later date.
40W HUAWEI SuperCharge and 15W Wireless Quick Charging with Reverse Charge Support
The HUAWEI P30 Pro also houses a large, high-density 4,200mAh battery, and supports 40W HUAWEI SuperCharge, which gives the device 70 percent charge in 30 minutes. The safety of the technology is certified by TÜV Rheinland. Moreover, HUAWEI P30 Pro supports 15W HUAWEI Wireless Quick Charge, and Wireless Reverse Charge, which enables the device to work as a power bank for selected electronic devices supporting wireless charging.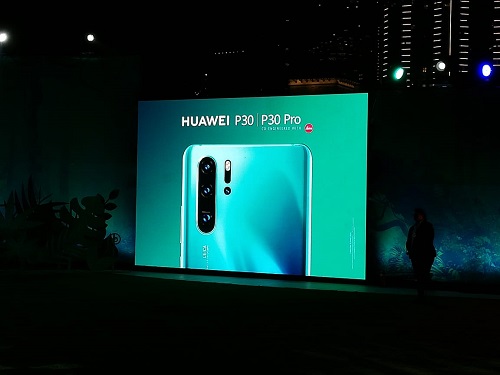 Super Night Mode: Taking the Beauty of Photography to the Next Level
The HUAWEI P30 Pro supports a newly-introduced Super Night Mode in shooting videos. Equipped with the HUAWEI 1/1.7-inch SuperSpectrum Sensor with a f/1.6 large aperture lens, ISP and Dual-NPU, and supported by the new HUAWEI AIS+OIS solution, the HUAWEI P30 Pro retains great vision at low light and every frame taken across the long exposure is better with superior colors, dynamic range and clarity. Combined, these processes enable an exposure of 3-8 seconds and produce the most stunning images in low-light settings. The "night vision" capability lets the HUAWEI P30 Pro capture videos even in the poorest of lighting conditions.
Huawei P30 Lite:
Combining exquisite design and innovation, Huawei also launched the HUAWEI P30 Lite in the region. The smartphone comes armed with a 32MP 3D Selfie Superstar camera integrated with AI Beautification which works like a professional team to enhance users' beauty. The rear of the device features a 24MP AI ultra-wide triple camera comprising of 24MP main camera with a f/1.8 wide aperture lens, 8MP camera for ultra-wide angle shots and 2MP lens. In order to deliver a seamless user experience, the smartphone is launched with the EMUI 9.0.1 installed and offers 4GB of RAM and 128GB of internal storage. The device also features a 6.15-inch Dewdrop display and achieves a massive screen to body ratio of 84.1 percent. HUAWEI P30 Lite continues excellence in design and features a slim 3D curved glass exterior that provides a modern feel that smoothly merges with Huawei's core innovations to deliver a premium and sleek user experience. HUAWEI P30 Lite will be available in three colors: Midnight Black, Pearl white and Peacock Blue.
HUAWEI WATCH GT
Huawei also launched the HUAWEI WATCH GT Active Edition and Elegant Edition. The outdoor smart watches feature up to two and one-week ultra-long battery life respectively, industry-leading fitness and wellness tracking capabilities, multi-sport modes and classic watch look with modern sensibility. The Active Edition features the same 46mm watch face and will be available in Black Stainless Steel, Stainless Steel.
The Elegant Edition features a smaller 42mm ceramic bezel option and will be available in Magic Pearl White and Tahitian Magic Black Pearl.
Price and availability in Lebanon
The HUAWEI P30 Pro (8G + 256GB configuration) and the HUAWEI P30 (8GB + 128GB configuration)
will be available in five colors including Pearl White, Black, Amber Sunrise, Breathing Crystal and Aurora.
Both devices, the Huawei P30 Pro and P30, will be available for pre-order with a premium gift package in Lebanon from April 2nd till April 10th. The P30 Pro package will include the HUAWEI Watch GT 2019 as well as the HUAWEI 15W Wireless Charger while the Huawei P30 package will include the HUAWEI Watch GT 2019 and the HUAWEI 40W Car Charger. Huawei also set-up a pre-order phase for the P30 lite, sold at USD315, from April 2nd until April 13th with a gift package that includes a power bank and a tripod selfie stick.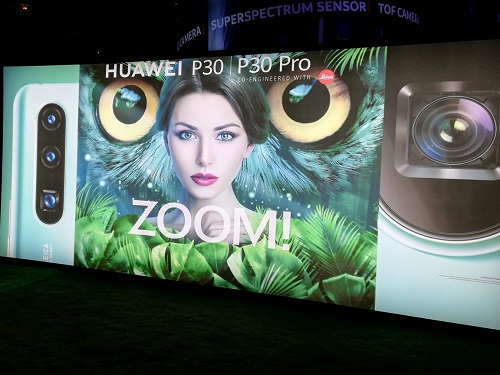 VIP Service offer in Lebanon
The Huawei P30 Pro and P30 devices are offered with the Huawei VIP service from the Huawei Service centers which includes: screen damage warranty for the first six month after purchase, free Screen Protector offered in case of any repair, One hour repair service as well as loan phone offering should the repair service require a longer duration. The VIP service includes a premium dedicated care line for them to get directly connected to a customer care assistant by dialing the hotline 1279.
Categories