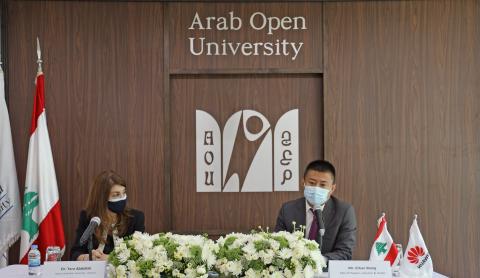 Huawei, a leading global provider of information and communications technology (ICT) infrastructure and smart devices, has signed a Memorandum of Understanding (MoU) with the Arab Open University in Lebanon to establish the Huawei ICT Academy for the college's students in the Faculty of Computer Studies.
The MoU aims at promoting joint cooperation and paves the way for knowledge exchange by providing quality courses and support services for the university experts and students via the Huawei Authorized Information and Network Academy program (HAINA).
The MoU was signed by Mr. Ethan Wang, CEO of Huawei Lebanon and Jordan, and Dr. Yara Abdallah, AOU's Rector, in the presence of members and instructors of the Faculty of Computer studies. Under this partnership, Huawei will launch its ICT Academy at AOU to deliver training and certification programs to the instructors and students via the Huawei Authorized Information and Network Academy program (HAINA). Huawei will also provide the latest technology equipment and provide Huawei Certification Academy Instructor (HCAI) training for the teachers for each course. Through this collaboration, Huawei and AOU aim to contribute towards the development of Lebanon's ICT talent ecosystem, in line with Lebanon's Digital Transformation Strategy.
Commenting on this partnership, Mr. Ethan Wang, CEO of Huawei Lebanon and Jordan, said: "We are very happy to collaborate with AOU to establish the Huawei ICT Academy in their Lebanon branch, as part of our commitment to further boost the ICT skills in Lebanon, among youths and educational experts alike. AOU is well-known for always seeking to provide quality education, life-long learning and ongoing support to the students with their career preparation, and we are confident that through this partnership, we will be able to help the students to master the latest ICT technologies required to build their successful careers in the future, by providing Huawei's leading innovations and courses."
Dr. Yara Abdallah, AOU's Rector welcomed Huawei Middle East CEO Mr. Wang to the Arab Open University, and thanked him for the initiative. She added "We are excited about this collaboration and we would like to see it materialize on different levels. Such an agreement is consistent with AOU's mission to build a science and knowledge-based society in the Arab world, and to facilitate access to quality higher education programs of International standards". She continued "collaboration with industry to bring real word knowledge and practice into the classrooms is one of our strategic goals. We focus on this in our formal undergraduate and graduate programs and our training programs in the continuing education center as well. To this end, this collaboration will permit AOU Lebanon and Huawei to mutually serve their mission."
AOU students have participated in the Huawei competition in previous years and performed well winning top places. Dr. Abdallah expressed her appreciation for the work of the Huawei ICT Academy and their efforts in training the youth about the digital economy and digital solutions. Finally, Dr. Abdallah acknowledged as well the hard work of the AOU academic in the FCS program in support of their students.
Dr. Mohammad Malli, Faculty of Computer Studies program coordinator said: "The Faculty of computer studies (FCS) is keen on establishing relationships with Industry and Professional Bodies. This would enable FCS to be in touch with the real-world implementations, usages, adoptions, developments, demands, needs and requirements in the computing domain. This enables the FCS to keeping ahead in the domain, which have positive impact on the quality of the course offering and graduation projects. The collaboration with the top industrial companies such as Huawei will help also to have the courses, trainings, and internships aligned with the market needs and trends."
Launched in 2013, the Huawei ICT Academy helps universities cultivate ICT talent that meets industry requirements, providing high-quality workforce for the sector's development. As a leading global ICT solutions provider, Huawei advocates for an open, shared, ICT talent ecosystem that benefits all parties. Through this initiative, Huawei builds a talent supply chain covering the entire process of learning, certification, and employment—by deepening the cooperation mechanism between universities and enterprises, aiming to promote industry development, and innovate talent development models based on enterprise requirements.