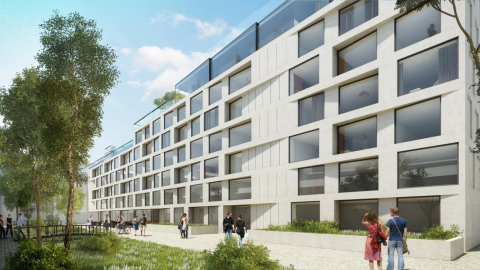 Hilton (NYSE: HLT) today announced its intention to introduce its upper upscale lifestyle brand, Canopy by Hilton, to France. Two new hotels – Canopy by Hilton Paris Trocadero and Canopy by Hilton Bordeaux Chartrons are set to welcome their first guests before the end of 2021, following management and franchise agreements.
Patrick Fitzgibbon, Senior Vice President, Development, EMEA, Hilton, said: "Paris and Bordeaux are exceptional destinations, and these new hotels are meticulously designed to celebrate their respective neighbourhoods. Hilton's expansion in France is gaining further momentum, with plans to triple our portfolio in the next five years. The introduction of new brands including Canopy by Hilton is testament to the quality of partners we are working with to grow across the country."
Gary Steffen, Global Head, Canopy by Hilton, Hilton, said: "Travellers want a hotel to help them get the most out of travel and experience the best of a great neighbourhood – Canopy by Hilton allows our guests to do just that. Designed with their immediate surroundings, local art, culture and cuisine in mind, Canopy hotels redefine the lifestyle hotel category."
Canopy by Hilton hotels are thoughtfully curated to appeal to travellers seeking a locally inspired experience, with unique interiors that are influenced by the culture and history of the neighbourhood. Guests are welcomed by friendly Enthusiasts with expert local knowledge and recommendations and are invited to immerse themselves in the experience with local food and drink tastings and use of the complimentary Canopy by Hilton bicycles to explore the city.
Canopy by Hilton Paris Trocadero – 2020
The 123-room Canopy by Hilton Paris Trocadero is scheduled to be the first Canopy by Hilton to open in France. Slated to open in mid-2020, the hotel is located in sight of the place du Trocadero and Palais de Chaillot in the 16th arrondissement of Paris, a cultural hotspot with several galleries and attractions such as the Palais Galliera and Palais de Tokyo museums.
Construction has already started on the property, which is being transformed into an open and inviting space in touch with Canopy's local design influences.
The hotel is owned by a French institutional investor and will be operated by Hilton under a management agreement. The hotel is located at 16 Avenue d' Eylau, Paris.
Canopy by Hilton Bordeaux Chartrons – 2021
Canopy by Hilton Bordeaux Chartrons is expected to open in early 2021. The new-build property will be constructed in the Chartrons neighbourhood, overlooking the Garonne River. Chartrons is famous for its waterside bars and dining, antique shops and vintage boutiques.
The hotel will offer multiple dining options, including a spectacular rooftop restaurant, bar and pool overlooking the river and Bordeaux's city centre. The hotel's design will draw on the area's history as an industrial hub, made famous by its eponymous wine, which is produced in vineyards around the city.
The hotel is owned by SAS RE Hotels, an affiliate of SAS Groupe Reaumur France, and will operate under franchise agreement. The hotel is located at 85 Quai des Chartrons, Bordeaux.
The introduction of Canopy by Hilton in France marks Hilton's fourth brand entry in France in as many years, following the debut of Curio Collection by Hilton in 2017, Hilton Garden Inn in 2018 and Hampton by Hilton in 2019. The new Canopy hotels join spectacular European properties in Reykjavik and Zagreb, with a further hotel under construction in London.
For more information please visit newsroom.hilton.com/canopybyhiltonE
Categories