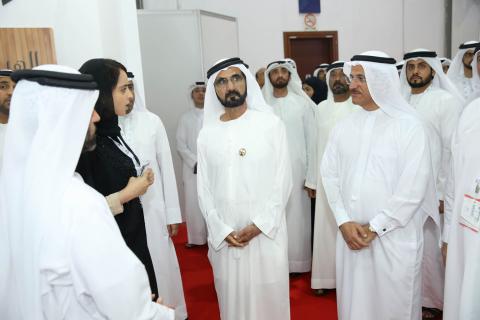 HH Sheikh Mohammed bin Rashid Al Maktoum, Vice President and Prime Minister of the UAE and Ruler of Dubai, visited the stand of Dubai Electricity and Water Authority (DEWA) at the 5th Dubai International Government Achievements Exhibition (DIGAE). HH Sheikh Mohammed bin Rashid Al Maktoum reviewed the latest developments in clean energy projects, including the Mohammed bin Rashid Al Maktoum Solar Park, which is the largest single-site solar project in the world. The 200 megawatt (MW) second phase of the solar park was inaugurated by His Highness on 20 March 2017.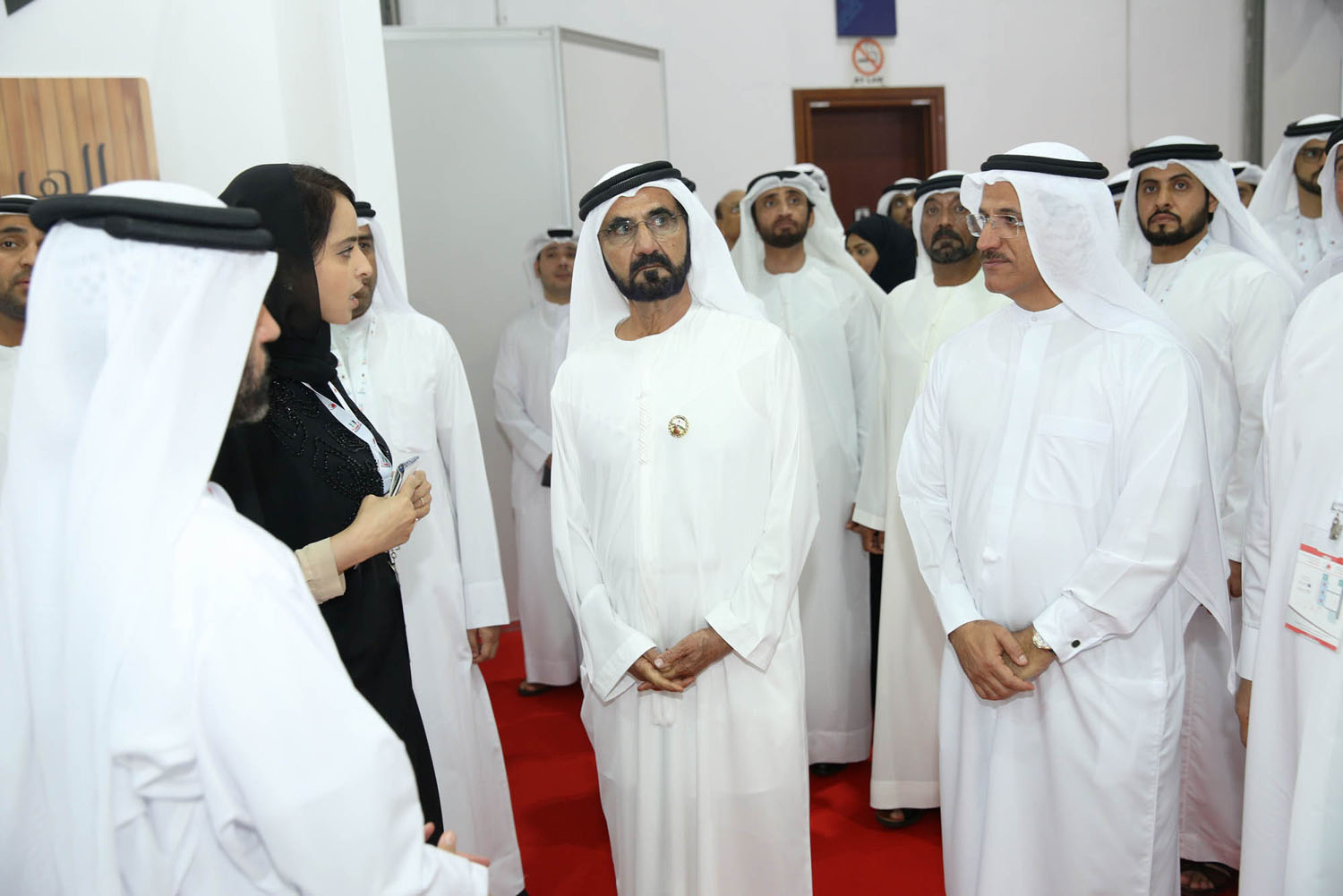 HH Sheikh Mohammed bin Rashid Al Maktoum also reviewed DEWA's projects that support the Hatta Comprehensive Development Plan. These include the first hydroelectric power station in the GCC. The 250MW power station will be completed within five years. Other projects include installing photovoltaic panels on the rooftops of 640 villas to produce electricity from solar power.
The Mohammed bin Rashid Al Maktoum Solar Park will produce 1,000MW by 2020 and 5,000MW by 2030, with total investments of AED 50 billion. Upon completion, the solar park will offset over 6.5 million tonnes of carbon emissions annually. This is part of DEWA's efforts to achieve the Dubai Clean Energy Strategy 2050, to provide 7% of Dubai's total power output from clean energy sources by 2020, 25% by 2030, and 75% by 2050.
At DIGAE, DEWA also showcases the Hassyan clean coal power plant, which adopts the latest technologies and is fully-compliant with best international standards. DEWA is also highlighting its three smart initiatives to support the Smart Dubai initiative. These include connecting solar energy to houses and buildings through the Shams Dubai initiative, smart applications through smart meters and grids, and building the infrastructure and electric vehicle charging stations through the Green Charger initiative. DEWA is increasing the number of charging stations in Dubai to 200 in the second phase of the project.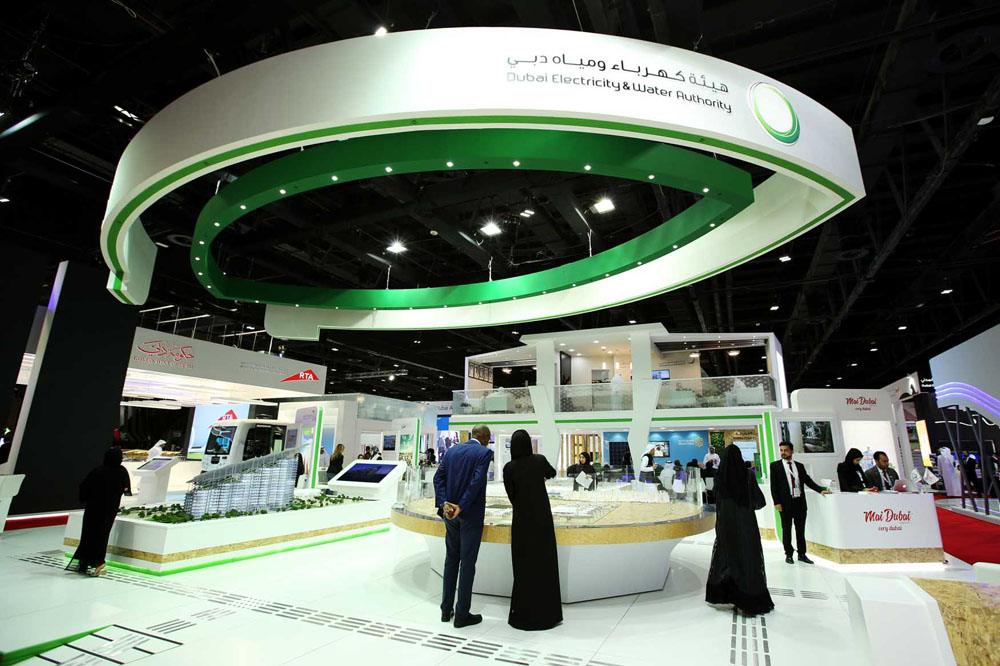 DEWA is also highlighting the Solar Decathlon Middle East (SDME), a global competition created through an agreement between the Dubai Supreme Council of Energy and DEWA, and the United States Department of Energy. Dubai will host the first two rounds of the Solar Decathlon, which is held for the first time in the Middle East and Africa, in 2018 and again in 2020 to coincide with World Expo in Dubai, whose theme 'Connecting Minds, Creating the Future' fits well with this distinguished international competition. The total competition prizes are AED10 million.
DEWA is also showing a model of its new headquarters called Al Sheraa (sail in Arabic). The building is being constructed at the Heritage Village in Al Jaddaf, Dubai. After installing its photovoltaic (PV) solar panels, it will be the tallest, largest, and smartest government net Zero Energy Building (ZEB) in the world. DEWA is also showing a model of its 3D printing lab which is being constructed at the Mohammed bin Rashid Al Maktoum Solar Park. DEWA has recently signed a Memorandum of Understanding (MoU) with General Electric (GE) to collaborate on 3D printing and additive manufacturing.
DEWA's stand also includes key projects of the UAE Water Aid Foundation (Suqia), under the umbrella of the Mohammed bin Rashid Al Maktoum Global Initiatives. In cooperation with DEWA, Suqia's R&D projects include reverse osmosis of sea water and a photovoltaic desalination plant, in addition to water purification using solar technology. The stand also highlights the Mohammed bin Rashid Al Maktoum Global Water Award, worth USD1 million to find sustainable solutions to help address water shortages around the world.
At DIGAE, which runs until Tuesday, 4 April 2017 under the theme 'National Government…Global Achievements,' DEWA's stand (DIAGE-B-4) in hall number 8 at the Dubai International Convention and Exhibition Centre, provides an interactive platform for visitors. They can take part in seminars, lectures, and workshops by specialists, experts, and media figures on topics such as Youth and Digital Media, Year of Giving, and Happiness. The first day featured a discussion session on Positivity and Making Change presented by Fahd Haikal, the renowned media personality. There was also a lecture on the Green Charger presented by Majid Al Hazami, and an awareness session presented by Engineers of the Future. These are students who took part in the 'Engineers of the Future' launched by DEWA to encourage innovation and creativity among the younger generation, while providing an educational platform for them to develop their skills in engineering, electricity, mechanics, science and maths. Jassim Hamad Rajab also gave a lecture about Climate Change Champions.
Categories