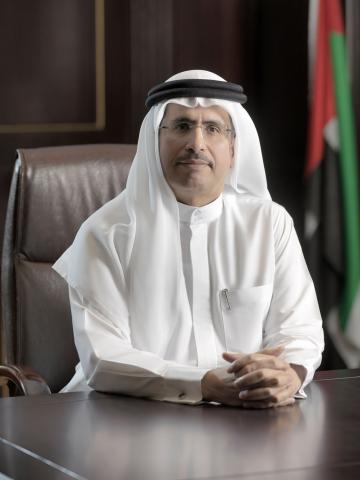 HH Sheikh Mohammed bin Rashid Al Maktoum, Vice President and Prime Minister of the UAE and Ruler of Dubai, has honoured Dubai Electricity and Water Authority (DEWA), at the Arab Social Media Influencer Summit Awards for its work on the Environment.
DEWA won the award as a result of its efforts to use social media to raise environmental awareness and update society on social media. HE Saeed Mohammed Al Tayer, MD & CEO of DEWA, received the award during a ceremony held at the 2nd Arab Social Media Influencers 2016, attended by media and social media influencers from all over the world. DEWA participated as Sustainability Partner of the Summit. The event was held at Dubai World Trade Centre.
"I would like to express my gratitude to His Highness Mohammed bin Rashid Al Maktoum, Vice President and Prime Minister of the UAE and Ruler of Dubai, for honouring DEWA with this award, in appreciation of our success, and efforts to enhance communication with our customers through our social media network, while listening to their suggestions and opinions, to achieve their happiness, and the happiness of the community as a whole.
DEWA will remain a leading government organisation, and continue its efforts to adopt the latest techniques and tools, to achieve the directives of His Highness, to transform Dubai into the smartest and happiest city in the world, as well as the preferred place to live, work, and visit," said Al Tayer.
"DEWA will continue to implement the long-term vision of the wise leadership, who realise the importance of social media to change the lifestyles of people, as well as using these channels to achieve the happiness of the community, by listening to their comments, suggestions, and ideas, while improving government services. DEWA is one of the first government organisations to use social media tools to communicate with the public and to introduce its sustainability and conservation initiatives. Thanks to the directives of His Highness Sheikh Mohammed bin Rashid Al Maktoum, we have successfully transformed these channels into a tool for development, innovation, and knowledge, to monitor positive interactions and opinions, and improve our services," added Al Tayer.
"Since DEWA's Marketing and Corporate Communications division was formed, its goal was clear – to enhance DEWA's corporate image both internally and externally, and to instil a sense of loyalty, belonging, and pride among DEWA's employees, to reach an international level of excellence. DEWA's social media is promoting DEWA's initiatives and projects, spreading awareness about conservation, involving customers in initiatives, and listening to the opinions of customers, to continuously improve and develop," said Khawla Al Mehairi, Vice President of Marketing & Corporate Communications at DEWA.
These achievements are a result of DEWA's efforts to develop social media policies and adopt the best international standards. DEWA is the first organisation to develop a social media policy to enhance DEWA's image and positive reputation. The results reflect DEWA's excellence internationally—being included as one of the 10 best international utilities that provide electricity and water services and performs better than the 10 best electricity and water utilities in the USA, according to key performance indicators that have assessed performance based on the number of followers, the size of interaction with social media channels and the number of views via Youtube and other video-streaming channels.
DEWA has adopted five social media channels to promote its services and reply to the questions and enquiries of its audience. It shares photos and videos about its activities and promotes its campaigns using various content that suits all categories in society. It includes photos, videos, info-graphics and live videos. The move supports DEWA's strategic communications goal to spread awareness and introduce its services through a smart communication system.
In 2015, the total number of DEWA's followers on social media channels was 240,197, while the total number of the best electricity and water utilities in the world was 90,616. The number of DEWA's followers on Facebook was 190,816 in 2015 compared with 120,494 in 2014 and 56,043 in 2013. The number of followers of DEWA's account on Twitter was 39,610 in 2015 compared to 20,174 in 2014 and 9,606 in 2013. The total number of viewers on Youtube was 2,605,686 in 2015 compared to 888,662 in 2014 and 17,210 in 2013. These numbers surpass their targets every year. DEWA has received five government organisations from the UAE to help to benchmark and introduce them to DEWA's lesson learned in using social media.
Categories