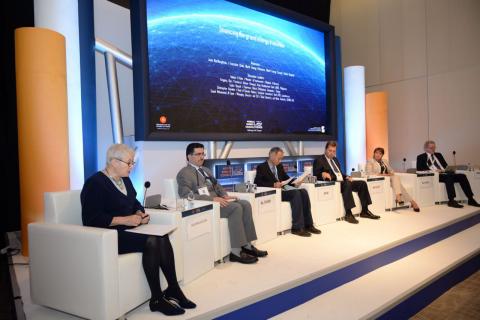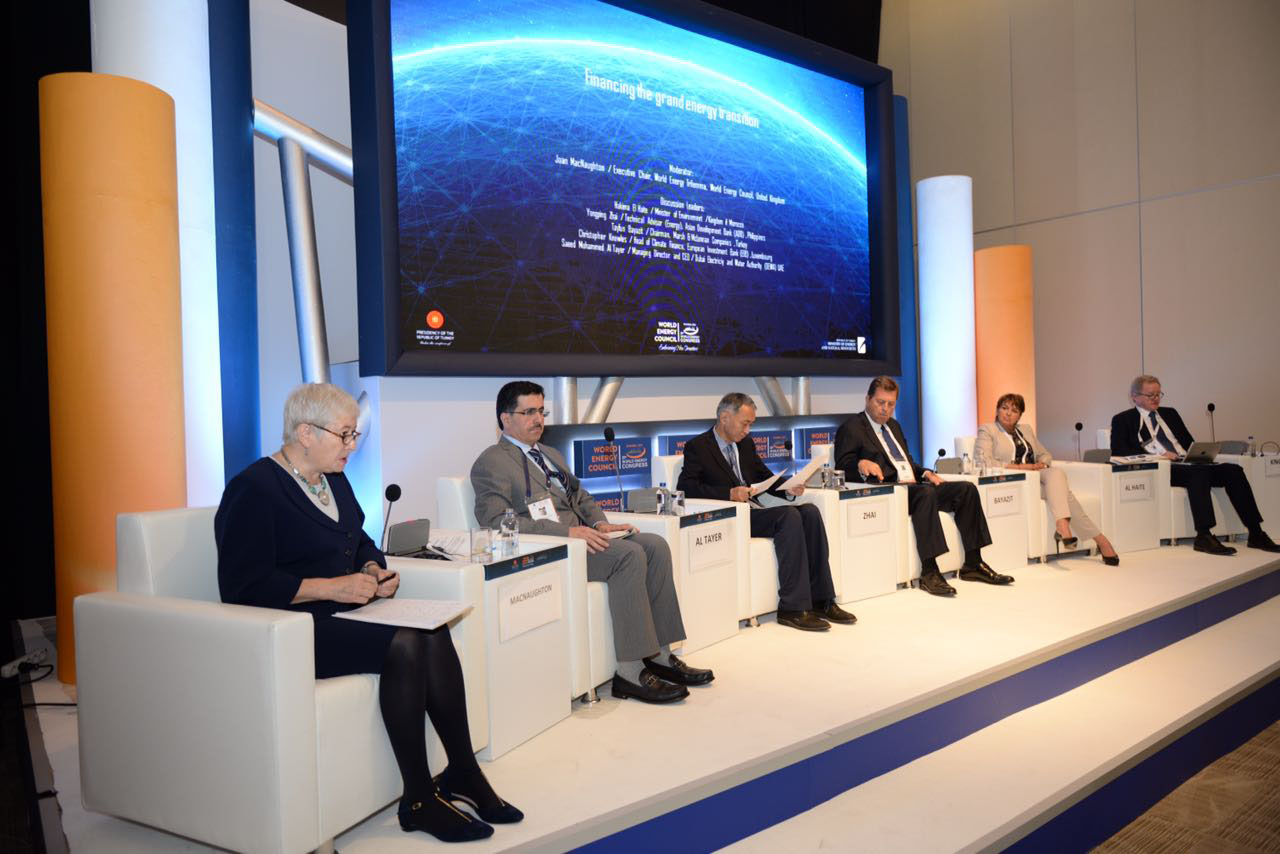 HE Saeed Mohammed Al Tayer, MD & CEO of Dubai Electricity and Water Authority (DEWA), participated in a panel discussion during the 23rd World Energy Congress, in Istanbul, Turkey, which is running until 13 October 2016. DEWA's participation is part of a high-level delegation, headed by HE Suhail Mohamed Faraj Faris Al Mazrouei, Minister of Energy. The World Energy Congress is held under the theme 'Embracing New Frontiers,' and gathers more than 150 high-profile leaders from the energy sector including heads of state and leaders from prominent international organisations.
The panel discussion was held on 11 October, under the theme 'Financing the Grand Energy Transition'. The panel was led by Joan MacNaughton, Executive Chair of the World Energy Trilemma for the World Energy Council, and besides HE Saeed Mohammed Al Tayer, panelists included Gonzalo Garcia, Co-Head of Global Natural Resources Group, UK; Christopher Knowles, Head of Climate Finance at European Investment Bank; David Sandalow, Inaugural Fellow, Centre on Global Energy Policy at Columbia University; and Dr. Yongping Zhai, Lead Professional (Energy) at Asian Development Bank.
Al Tayer highlighted the most important initiatives and projects in adherence with the vision of the wise leadership, and the UAE Vision 2021, to become one of the best countries in the world by 2021. This in turn, strengthens the UAE's global competitiveness, especially in renewable energy, and green economy technologies and products. Dubai has a comprehensive vision for a sustainable future which is pivotal to the success of building a green economy. Al Tayer noted that 75% of our energy requirement will come from clean sources by 2050. This supports the Dubai Plan 2021 and the Dubai Clean Energy Strategy 2050, launched by HH Sheikh Mohammed bin Rashid Al Maktoum, Vice President and Prime Minister of the UAE and Ruler of Dubai, in 2015, to make Dubai the city with the lowest carbon footprint in the world. Dubai works in adherence with the UAE's Green Growth Strategy, and Demand Side Management Strategy. Dubai also supports the Paris Agreement, signed at the Paris Climate Conference (COP21), to keep the increase in global average temperature to well below 2°C from pre-industrial levels, and limit the increase to 1.5°C. Dubai aims to use energy efficiently and meet its environmental and sustainability goals, to become a global centre for clean energy and green economy.
"Investors in long-term infrastructure projects are concerned with the protection of their investment and the need to obtain a reasonable return on it. In order to address this concern and to build up their confidence, each country must develop an environment which has political stability, policies and a sound regulatory framework, transparency and good governance, and incentives to promote green projects," said Al Tayer, in response to the question: 'What keeps investors of long-term infrastructure projects most awake at night?'
In response to the question: 'Are necessary incentives in place to deliver investments in tomorrow's clean, secure, and affordable energy infrastructure?' Al Tayer said, "In the UAE, HH Sheikh Mohammed bin Rashid Al Maktoum launched the Dubai Clean Energy Strategy 2050. The strategy consists of five main pillars: Infrastructure, legislation, funding, building capacities and skills, environment friendly energy mix. Green funding is one of the pillars of this strategy. We have established the Mohammed bin Rashid Al Maktoum Solar Park, which is the largest single-site solar park that will produce 5000 megawatts (MW) by 2030. We have launched Shams Dubai initiative which encourages the community to install solar panels on building rooftops. In 2015, also HH Sheikh Mohammed bin Rashid Al Maktoum announced the establishment of AED 100 billion Dubai Green Fund in order to attract green investments and it is expected that clean energy investments valued at USD 30 billion will be made by 2030. The UAE is already an attractive destination for Public-Private Partnerships. Through the Independent Power Producer (IPP) model we have mobilised large-scale investment from international equity investors and banks from all over the world and also succeeded in establishing the world's lowest solar power tariff of US cents 2.99/kilowatt (kW). Other initiatives such as establishing the Green Zone will encourage innovative green start-ups and investments and programmes under clean development mechanism (CDM). This will benefit the citizens and residents of Dubai and generations to come."
In response to the question: 'What must be the next deliverable of the global climate negotiations to ensure keeping the world below 2-degrees centigrade warming? Al Tayer answered, "We are aware of the global agenda set by the United Nations – the Sustainable Development Goals 2030. All countries must actively work for the success of this agenda. The UAE has signed the historic Paris Climate Conference or COP 21 agreement and is committed to mitigate carbon emissions and become a green economy. Under the Demand Side Management Strategy, Dubai has declared its commitment to decrease energy and water demand by 30% by 2030. We also have a carbon abatement strategy to reduce carbon emissions by 16% by 2020. Under the Dubai Clean Energy Strategy, we are targeting that 75% of our energy requirement shall be from clean sources by 2050."
Al Tayer highlighted some examples and practices to manage investment uncertainty and political risk. "We can manage investment uncertainty/risk by having a well governed, regulated and transparent business environment with the right incentives. The availability of green financing provides further confidence to prospective investors. Proven reliable financing strategies that can be used to manage investment uncertainty are: Public private partnerships (PPP), IPP model- sovereign guarantee provides significant confidence to investors/lenders; attracting equity and bond investors, and promoting project financing and bank lending. The UAE recognizes the important role of government in creating the right environment that will contribute to investor confidence, nurture innovation and promote the green economy. We are making every effort to reduce investment uncertainty, provide right incentives and a stable political environment in order to attract maximum investment and achieve our ambitious green goals," concluded Al Tayer.
Categories