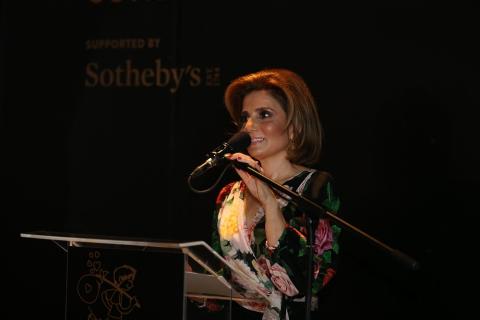 Keen on fulfilling its goal to support underprivileged children, the Happy Childhood Foundation (HCF) – Lebanon organized on March 14th, 2019 the third edition of its fundraising Contemporary Art Auction at MIM Museum - Beirut, with Sotheby's London as supporting auction house, UBS Switzerland AG as exclusive sponsor, with the presence of more than 200 guests.
Upon their arrival, the guests and HCF board members and advisory board toured the MIM Museum with its Founder and President Mr. Salim Eddé. The guests enjoyed a cocktail reception specially designed by Cat&Mouth. The event then started with welcoming speeches by HCF Events Committee President Mrs. Amira Rizk then by HCF Vice President Mr. Anthony Iliya, and was followed with the Live Auction lead by Auctioneer Martin Klosterfelde, who holds the position of Senior Director and Senior Specialist in the Contemporary Art department at Sotheby's. The 2019 edition was taken to yet another level of excellence and quality standards, by presenting 21 works of art by leading international and regional artists such as: Julian Schnabel, Jeff Elrod, Katherine Bernhardt, Rashid Johnson, Brian Calvin, Raymond Pettibon, Michael Biberstein, Jean Bogossian, Assadour, Lara Baladi, Ziad Antar, Nadim Karam, Lamia Joreige and many more.
UBS Switzerland AG, owner of one of the world's most important corporate art collections was the exclusive sponsor of this high level Auction.Through its global lead partnership with Art Basel, and as co-publisher of the "Art Basel and UBS Global Art Market Report", UBS seeks to advance the international conversation about the art market. 
Mrs. Amira Rizk, member of the Board of HCF Lebanon and President of its Events Committee, gave more details about this year's auction and explained that "an Advisory Board of leading art collectors, curators, galleries, advisors and artists also supported this year's edition. Their know-how, connections and support were key factors for the success of this project."
She added: "In addition, we have expanded our network of partner galleries, namely Vito Schnabel, Xavier Hufkens, Almine Rech, Lehmann Maupin galleries from the USA and Europe, Tanit and Mashrabia galleries from the Middle East, all of which were carefully selected among the best worldwide. We were very grateful for their trust and commitment, and for the generosity of all the artists who have gracefully donated their works."
She also said: "We were overwhelmed by the support of so many people and organizations, with generous hearts and compassion. Their continuous support allowed us to reach our objectives and share the joy of making so many underprivileged children happy."
Since its first edition in 2015, this fundraising Auction has increasingly grown in size and importance, drawing more institutions and individuals to join forces and make it a bigger success. Its main purpose is to help underprivileged children find joy and stability in life, through the LHRC, which is HCF's flagship project in Lebanon. This center has quickly become a center of rehabilitation excellence in the Middle East. Since 2013, HCF has provided support to thousands of children; In 2018 alone, the LHRC has provided about ten thousand physical, occupational and speech therapy sessions to hundreds of children fully supported by the foundation, with remarkable cases of recovered health, autonomy, and hope.
Categories