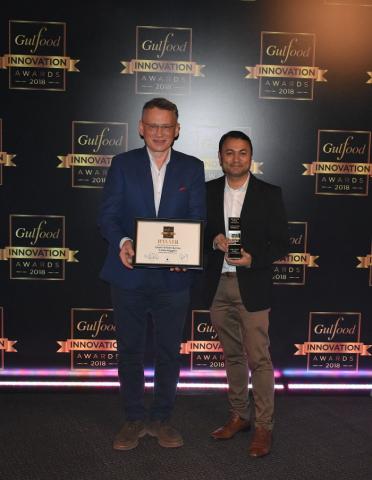 Cutting-edge,  Innovative 'Chicken Quinoa & Kale Burgers' and 'Super Chicken Quinoa & Kale Nuggets' bag 'Best Meat or Poultry Innovation' and 'Best Halal Food' awards over international and local brands
Global Food Industries (GFI), a world-class value added frozen food manufacturing company is part of Albatha Holding, one of the largest conglomerates in the UAE. GFI bagged two major awards at this year's edition of the Gulfood Innovation Awards, which was held at the Dubai World Trade Centre (DWTC). The company's deliciously tasty and healthy 'Chicken Quinoa & Kale Burgers' and 'Super Chicken Quinoa & Kale Nuggets' won in the 'Best Halal Food'  and 'Best Meat or Poultry Innovation' categories, besting other local and international brands. The awards were organized as part of the annual Gulfood show, the largest gathering of food, beverage & hospitality suppliers ever assembled globally, which opened on February 18 and will run until February 22, 2018 at the DWTC.
The awards were given in recognition of the company's  contributions to the rapidly thriving food industry and its achievement as the first company in the Middle East region to launch a pioneering range of healthy chicken burgers and nuggets, which are being produced and manufactured under GFI's Healthy Farm brand.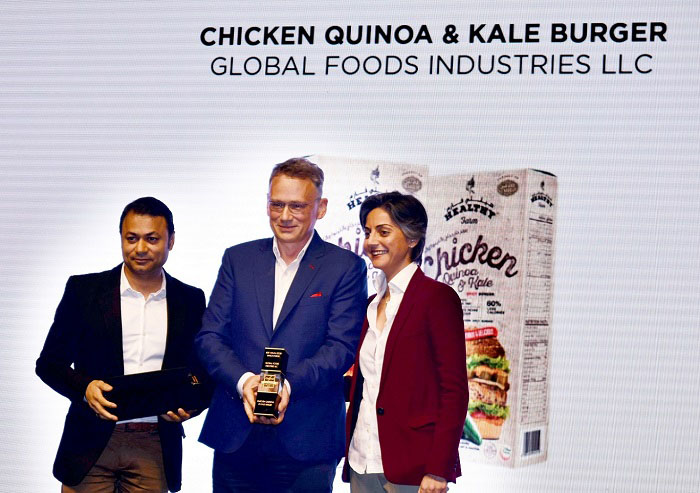 The company's 'Chicken Quinoa & Kale Burgers' and 'Super Chicken Quinoa & Kale Nuggets' are all 100 per cent natural--being presented with 30 per cent more protein, 90 per cent more fibre, 40 per cent less sodium, 40 per cent less carbohydrates and 60 per cent less calories. The highly innovative products  also offer eight times less fat, 12 times less saturated fat and six times more calcium as compared to the other chicken burger patties and nuggets available in the market today.
With no preservatives, monosodium glutamate (MSG), trans fat, sugars, food fillers, food colouring and gluten, they aptly reflect the Healthy Farm's philosophy, 'Nothing to hide, the choice is yours.'
Comprised of boneless halal chicken breast, superfoods red quinoa and kale, and seven other mixed vegetables, these products boast of rich protein and fiber content that fits well into GFI's 'Better for you' suggested food proposition for consumers, which highlights the benefits of healthy eating, without compromising on taste. This new concept looks towards countering continuously increasing obesity rates, cases of diabetes and other lifestyle related diseases--especially among children.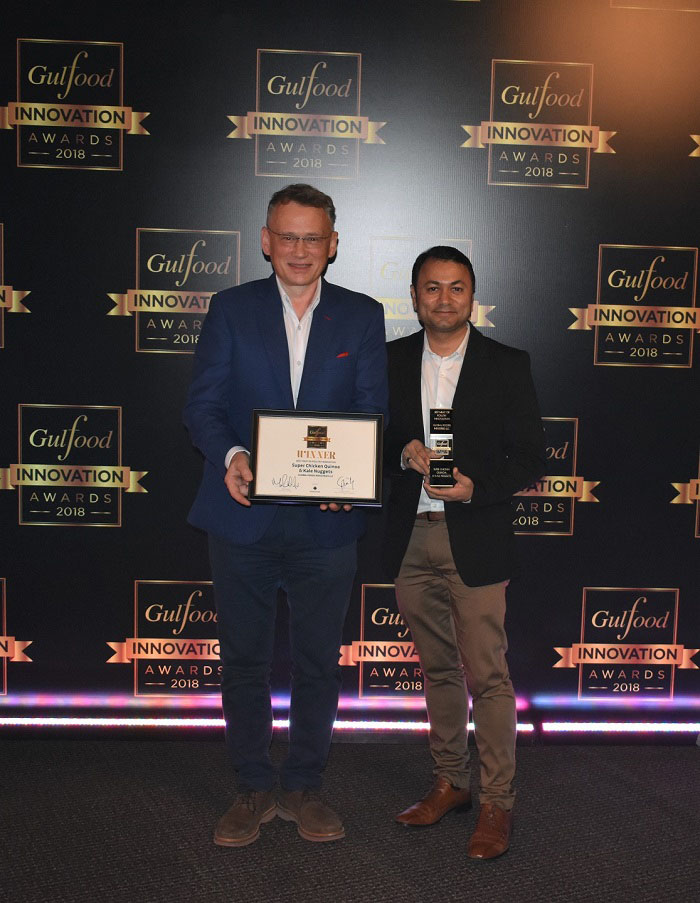 The recently-launched range immediately made waves in the world of food innovation for its honest and transparent approach to product development of nutritious and deliciuous food options for a region waking up to the urgent need of adhering to a healthy eating lifestyle.
Jacek Plewa, General Manager of Global Food Industries, said: "It is a very inspiring moment for Global Food Industries to once again be recognized for two major awards at Gulfood. These awards demonstrate our relentless efforts to create innovative products that aim at addressing health chanllenges of our consumers like obesity to diabetes via our Healthy Farm products. This win proves the very strong potential of our unique chicken burgers and nuggets to truly serve the UAE and regional market with highly-nutritious and tasty food products."
Plewa commented: "These awards have prompted us to work harder with our research and development initiatives in the food sector and continue to demonstrate our commitment towards promoting a healthy and balanced lifestyle to our consumers. The rising health concerns of our society have inspired us to keep introducing new products that will significantly contribute to the country's efforts in reducing lifestyle diseases. We believe that natural and healthy options, combined with transparent food production and clean labeling, are the way to move these goals forward."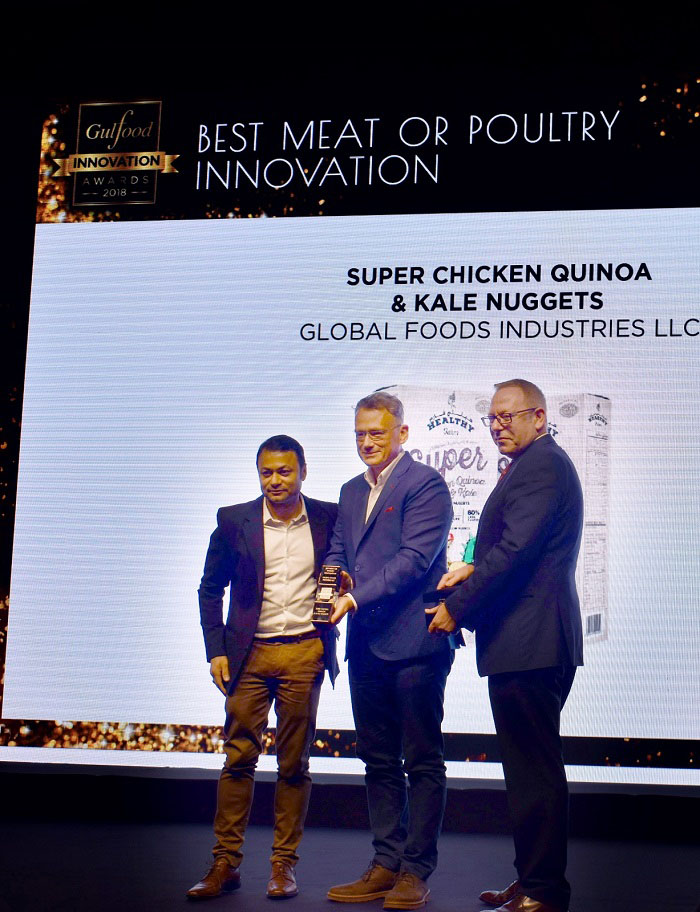 GFI envisions its Healthy Farm products reaching more than 1,000,000 people within a year's time. The Healthy Farm range will soon be available across all hyper-markets and stores in the UAE and the region. The Healthy Farm range also includes 'Aqua Kale 7 Portions,' a revolutionary healthy new product that offers all the health benefits of the renowned superfood in the most convenient way.
GFI is part of the reputable Albatha Group, a Shariah-compliant organization that comprises of over 25 companies with over 7,000 employees spread across seven industry sectors i.e. automotive, consumer, engineering, home products, real estate, healthcare, household and personal care. Albatha has marked a strong presence in the Middle East and North Africa (MENA) region through a distribution network that expands from the Indian sub-continent to Europe. Albatha represents over 200 international corporations serving them with their business and branding needs in the most effective and professional manner.
About Global Food Industries
Global Food Industries (GFI), which is part of the reputable Albatha Holding, was established in 1992 to provide delicious value-added food products to its discerning consumers. Containing the finest halal raw materials from across the world, GFI brands enjoy a significant presence across all trade channels throughout the GCC region. The company guided by its principles of commitment, achievement, teamwork, and entrepreneurship fully adheres to innovation and stringent standards to deliver products that are highly regarded for their unique taste, nutritional value, and convenience.
Categories