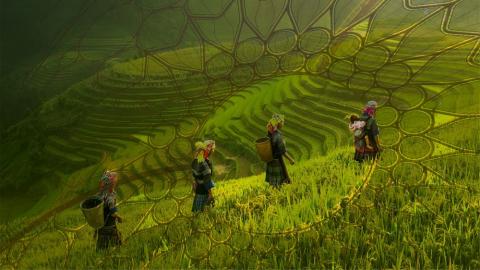 UN World Food Programme calls for bold, collaborative action among all Expo participants to build strong, reliable food systems.
Expo 2020 Dubai can act as a launchpad for the world to come together to transform how we cultivate, distribute, consume and dispose of our food, says the UN World Food Programme (WFP), as it called for urgent international action to build reliable global food systems.
Speaking at Expo Talks: Food, Agriculture and Livelihoods, Amir Mahmoud Abdulla, Deputy Executive Director of the WFP, said: "Building strong, reliable, resilient food systems is critical in the world's journey to achieving all the Sustainable Development Goals. There is no time to waste, and we at WFP eagerly await Expo 2020, starting this October, as another important opportunity for the world to come together and commit to bold action to transform our global food systems."
The WFP estimates that the number of people experiencing acute food insecurity around the world doubled to approximately 270 million in 2020 as a result of the COVID-19 pandemic.
Together with the European Union (EU), the WFP co-convened a session titled 'From Farm to Fork: Building Resilient Food Systems', which presented solutions for safe and sustainable food systems for consumers, producers, climate and the environment.
Janusz Wojciechowski, EU Commissioner for Agriculture highlighted the EU's Farm to Fork Strategy – a central component of the ambitious European Green Deal that seeks to position Europe as the first climate-neutral continent by 2050 – as a first step towards sustainable food systems. He also emphasized that climate change and biodiversity are global challenges that require global solutions.
All participants stressed that bold new actions and collaboration between public policymakers, private stakeholders and development practitioners around the world are crucial to achieving the Sustainable Development Goals, which call for major transformations in food systems to end hunger, achieve food security and improve nutrition by 2030.
Held in association with PepsiCo, Official Beverage & Snack Partner of Expo 2020, Expo Talks: Food, Agriculture and Livelihoods was the latest in a series of thematic talks helping shape the thought-provoking content and conversations that will take place during Expo 2020. It gathered leading policymakers and food and nutrition security experts from around the world.
Expo 2020 will welcome more than 200 participants – including countries, multilateral organisations, educational establishments and companies – to exchange inspiring new ideas and seek real-life solutions to real-life problems, from 1 October 2021 to 31 March 2022. 
Source: www.expo2020dubai.com