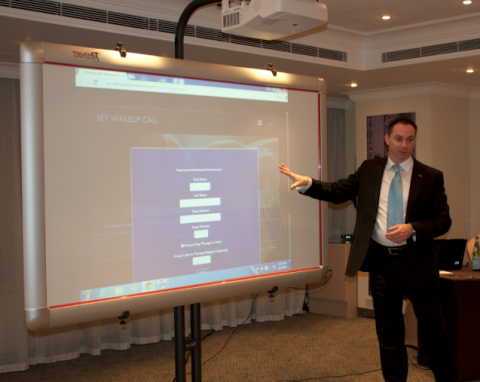 A brilliant new mobile app puts the world of Blu at your fingertips
Beirut, Lebanon (February 2015) –
Radisson Blu Martinez Hotel Beirut launched its new 'One Touch' mobile application during a press conference held at Celtis meeting room.The attendees enjoyed a live demo on the Touch-it screen that explained more about this simple and interactive way of booking and getting information about any of Radisson Blu hotels around the world. "Today, we are proudly launching the most interactive and innovative mobile app for a hotel. Through this app guests can excess every facility at our hotels with a single touch and be able to book, cancel or have information on any service whether pre-booking, airport pickup or any transportation during your stay, guest services, concierge, room service or even information about the weather," said Mr. KostaKourotsidis, General Manager at Radisson Blu Martinez Hotel Beirut.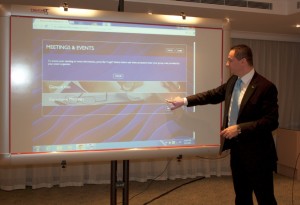 The app will offer guests 24/7 access to a wide variety of local offers, services and information at any of Radisson Blu hotels. Information would vary from what are the current restaurants in town and local attraction offers, to explore property features and amenities, to make a reservation and check-in online upon availability, to access driving directions and transportation information, to order room service or book reservations at a local restaurant. "You don't have to wait for online booking and confirmation anymore, you don't need to call the hotel to get the information you need. 'One Touch' provides everything you may need during your stay in any of Radisson Blu hotels," explained Mr. Kourotsidis while doing a demonstration showing the 'One Touch' app easy access and user-friendly features. Guests can also request wake up calls or late checkout, access local calendar of events and things to do during their stay, they can book onsite meetings and events. The conference was followed by a new food experience, the
Brain Food
concept for meetings and events; it's a new offering developed by chefs at Radisson Blu hotels for meeting and conference guests, to ensure that they are focused at all times during a meeting. 'One Touch' app is now available on
Google Play
and
Apple Store
.
Categories