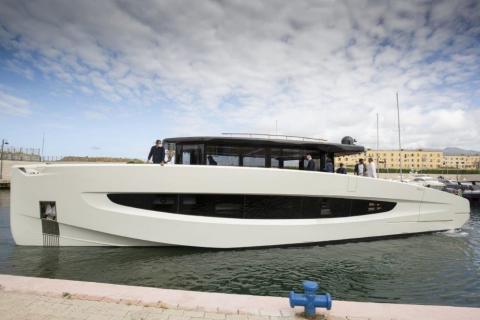 Launched last week, May 19, 2021, Evo V8 is the new flagship in the Evo Yachts fleet, the famous brand owned by the Mercuri brothers' Blue Emme Yachts. 
The owner and the Evo Yachts team watched the traditional launch ceremony from the dock at the Torre Annunziata marina near Naples, celebrating the outcome of months of careful planning and construction work involving the shipyard's engineers and craftsmen. With Evo V8, they have showcased the construction capabilities, attention to detail, and drive for innovation that have been a feature of Blu Emme Yachts right from the outset. 
The most eagerly awaited arrivals this season include the new 24-metre model, which has a refined minimalist design and is set to amaze the market with its hi-tech content and original ideas. The construction of Evo V8 has marked a turning point for the company, said Production Manager Paolo D'Orazio: "During these hectic months, the shipyard's team have worked on this ambitious project with dedication, passion and commitment. 
The creation of Evo V8 is the result of an important period of growth for the shipyard and this fills us with pride. At the same time, the launch is also a point of departure towards new increasingly ambitious and innovative projects."
Evo V8 represents a revolutionary experience, a point of intersection between suggestions from the two worlds of sailing and motor yachts, transforming our perception of the cruising experience.