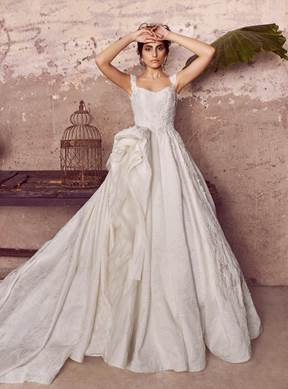 Once again, Kristie Romanos nods to romance when designing her 2019 EsposaCouture bridal collection. Celebrating love in the purest of its forms, she is inspired by the lotus flower to create pieces that blossom magnificently and depict in every movement and detail everything the sacred flower represents.
In this year's collection, floral and leaf patterns are very much in play, intricately adding the designer's signature on dresses that celebrate beauty and purity. Deeply influenced by the lotus shape, the dresses float effortlessly through cascading layers of fabrics, exuding a feeling of lightness at all times.
Behind their mystical feel, the 2019 wedding dresses reveal intricate embroidery combined with rich lace and layered details. They translate Kristie Romanos' sophisticated taste with a longing for modernity. Through deep plunge, strapless, off-the-shoulder, and high neckline cuts weaved with luxurious fabrics, the result is full-on seduction combining craftsmanship with innovation and promising romance and sensuality for the contemporary and fashionable woman.
The EsposaCouture 2019 collection is available at all Esposa Privé stores, in Downtown, Beirut, Lebanon and Jumeirah 1, Dubai, in addition to a wide selection of wedding and bridesmaids' dresses as well as bridal accessories.
Categories