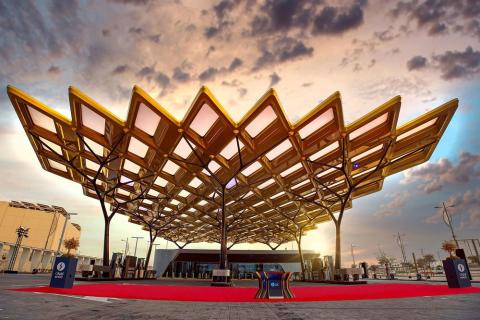 Solar and wind power will energise ENOC's futuristic service station, where the latest tech promises benefits for customers.
Filling up may never be the same again, thanks to the unveiling of the Service Station of the Future, a sustainable and technologically advanced concept realised by ENOC, the Official Integrated Energy Partner of Expo 2020 Dubai.
Located at the Expo 2020 site, it is the first Leadership in Energy and Environmental Design (LEED) Platinum-certified service station in the world, with design inspired by the ghaf tree. The service station's canopy comprises 37 tonnes of carbon fibre – a light, eco-friendly material five times lighter and three times stronger than steel.
Solar photovoltaic panels and a 25-metre wind turbine will power the service station, which will also recycle water and produce drinking water for onsite staff by converting humidity in the air into water molecules.
Advance machine learning, artificial intelligence and data analytics technologies will provide customised service and retail offerings for those fuelling up, and will help keep queuing/wait times as short as possible. Charging for electric vehicles is also available. 
The Service Station of the Future will serve the entire Expo 2020 fleet ahead of and during the six months of Expo 2020, and will subsequently serve members of the public at District 2020, as part of Expo's lasting sustainable legacy.
 
Source: www.expo2020dubai.com