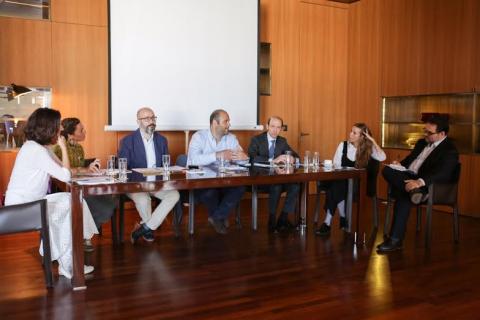 Lebanon convened a meeting to share the findings of its study on the state of the fashion ecosystem in Lebanon, and discuss improvements to invigorate and grow the fashion sector. Hosted at the Yacht Club, Zeitunay Bay, on April 30, the roundtable meeting brought together Ms. Sarah Beydoun, Founder and Creative Director of Sarah's Bag, Mr. Nadim Chammas, Founder and General Manager of Menawear Ltd., Ms. Delphine Edde, Co-founder and Publishing Director of Diwanee, Ms. Tala Hajjar, Co-founder and Director of Starch Foundation, Mr. Maher Mikati, Executive Director of M1 Group and Mr. Khaled Zeidan, General Manager of Medsecurities Investment.
Lebanon's fading competitive edge in fashion
The Lebanese are renowned for their creativity in design and strong fashion sense, which have historically contributed to Beirut's regional position as a fashion hub. Endeavor Lebanon's study, which surveyed 57 fashion designers, looked into the fashion sector's weaknesses which stand between its state today and its potential success in the future. Supply chain failures, shortage in human capital and skills, an ailing local market, a weak support system and difficult access to funding, come up as the main factors  hindering the growth of the Lebanese fashion ecosystem. Although compared to other countries in the region Lebanon has a considerable pool of talented designers, many of these countries are starting to boast their own talent and investing in the growth of their own dynamic fashion industries, such as the Dubai Design District. "Lebanon's fashion ecosystem will only be able to keep its competitive edge if its stakeholders immediately address their challenges and take tangible measures to overcome them", said Tarek Sadi, Managing Director, Endeavor Lebanon.
Successful businesses for a successful ecosystem  
Successful ecosystems are built on successful businesses. The roundtable participants agreed that while launching in Lebanon is easy, designers rarely manage to grow successful companies and take a prominent position on the global fashion scene. According to Tala Hajjar of Starch, an NGO that supports local designers to set up their businesses, "not all designers understand that fashion is a business; to succeed and sustain itself, a brand needs to be a scalable business and potentially attract institutional investors if needed". Success in the fashion sector requires striking the difficult balance between the creative and the commercial aspects of building a brand, while professionalizing the business.
Challenges in human capital development
Culture is core to the development of creative talent. In Lebanon, failures in the educational system start at a young age with little importance given to arts in school curricula. They are also apparent in a lack of awareness on the importance of copyrights and intellectual property in the industry.
"Many craftsmen are capable of copying designs and they show pride in flawlessly replicating international designers' products", added Tala.
This constitutes a major challenge for local designers. According to Sarah Beydoun, the founder and creative director of Sarah's Bag: "for Lebanese brands to sit side by side with international ones, our talented craftsmen need to adopt international production standards, be rigorous about product quality and consistency".
In addition, local designers encounter difficulties when identifying and recruiting the right business skill set as they look for merchandisers, fashion marketing experts and retail specialists to grow their businesses. The panelists concurred that Lebanon must endeavor to maintain and develop its large pool of talent and skill, on which the business of fashion and not only retailers in the fashion industry depend to succeed.
Difficult access to markets from Lebanon
Lebanese fashion designers are receiving tremendous support from the local population as a 'sourcing local' trend has developed. Nevertheless, designers face weak support from local retailers, whose confidence in the designers' ability to deliver products on time has been affected by regular production delays. Whilst this situation is slowly improving due to local demand, the Lebanese retail market remains small for local designers who are also affected by the high costs of retail space driving their retail prices up in line with those of foreign designers. This phenomenon is urging local designers to look outside  Lebanon in order to scale up. "The Arab market needs to become a natural marketplace for Lebanese fashion designers, and custom regulations need to facilitate the exchange of goods across the borders, be it for finished products or for the fabrics, the prototypes and the samples during the design process, enabling Lebanese designers to develop their products partly locally and partly abroad but quickly and at reasonable costs", said Nadim Chammas of fashion company Menawear. The discussions pointed to exceptional cases where designers succeeded internationally before commanding their place in the local market, citing Rabih Kayrouz as a prominent success story.
Impact of technology on the fashion industry
Technology trends are shaping the evolution of the fashion industry. While social media stylists and bloggers inspire lifestyles, apps, websites and social media platforms such as Instagram help designers in their marketing and communication outreach. E-commerce is another crucial development in the digital world. According to Delphine Edde, co-founder of Diwanee and fashion website and e-retailer Mooda: "internationally, all major groups are launching e-commerce platforms and huge e-commerce platforms will soon emerge in our region." She cites the example of fashion website style.com which announced its re-launch as a global e-commerce this fall.  "E-commerce can be the future of distribution for designers in a country like Lebanon where the local market is limited" she added.
Maher Mikati, Executive Director of M1 Group, asserted that: "online e-commerce will never eliminate retail. Going forward, brands can no longer be exclusive to either 100% retail or 100% online, they will have to be both. As Real Estate becomes more and more expensive, retail presence will be reduced to a mere showroom, for customers to experience the brand and live it, but fulfillment will be done through online channel".
The prime factors to attract investors
The fashion industry does not tend to interest venture capital funds as they consider it too risky to invest if the brand equity of a designer is not developed. Nevertheless, fashion designers need capital, with investors accepting the idea they might lose their investment. This results in a disconnection between stakeholders in the financial sector and in the fashion sector.
Private equity investors tend to look at fashion brands that are already established but still have growth potential. Many fashion businesses established in Lebanon are undercapitalized, and are 'uninvestable' for institutional funds, which limits the sector's growth. The lack of investment is caused by a variety of reasons as discussed during the roundtable. According to Khaled Zeidan of MedSecurities, the investment arm of Bankmed, the problem is three-fold: "Designers are usually reluctant to cede control over their businesses; they have a fear of reporting to investors and feeling accountable. Additionally, their companies often lack proper internal structure and governance in basic functions such as accounting and production management".
Many fashion designers prefer to deal only with the creative aspect of their business. This creativity vs. business dichotomy is not unique to Lebanon. Globally successful fashion houses often managed to succeed as a result of being invested in, as promising brands, by large groups the likes of LVMH which provide structure, distribution, marketing and strategic support. A similar pattern could work out in Lebanon but would require a change in risk appetite by investors and business acumen by designers.
Recommendations for the ecosystem
The discussion presented a number of initiatives that would boost the Lebanese fashion ecosystem and create more opportunities for Beirut to consolidate its position as the leading regional fashion hub. Participants argued that the fashion sector would massively benefit from a scheme similar to the Banque Du Liban 331 Circular which boosted the technology ecosystem. The suggested scheme would lower the cost of capital, invite support organizations to spring up, help develop and professionalize craftsmanship, and overall invigorate the fashion sector. Another recommendation brought to the table was for a common platform for shared services among emerging fashion companies, including production management, financial management and communications. Fashion designers were called upon to come together to create cooperative retail spaces, and lobby for regulatory reforms that smooth the progress of their day-to-day operations or exhibitions outside Lebanon. At the level of customs, reforms are needed to facilitate the process of exporting and re-introducing goods into the country after being temporarily shipped for exhibitions. Other improvements are crucial to reduce the excessive paperwork and outdated procedures required to export goods, especially hand-made ones. Last but not least, preserving Lebanon's competitive edge in creativity comes by nurturing creative talent and a culture of art appreciation, a role for educational institutions and the private sector companies alike. Fostering a dialogue between designers and investors to help them align, and professionalizing the services across the value chain of a fashion business, will remain the fundamental success factors for the fashion ecosystem in Lebanon.
Categories