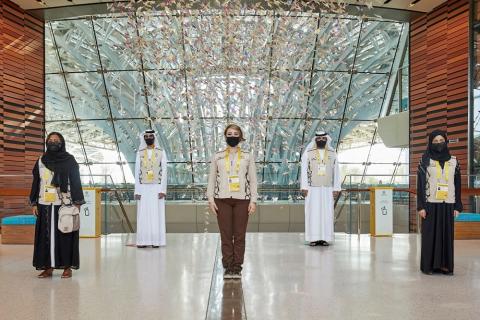 Volunteers will play an essential role in welcoming the world to the UAE once the World Expo opens its doors.
As the UN commemorates International Youth Day, Expo 2020 Dubai has revealed that UAE Nationals make up 61 per cent of all volunteers ages 18-24 within its 30,000-strong volunteer workforce.
The largest programme of its type in the UAE, Expo 2020 Volunteers will play an essential role in welcoming the world to the country, helping to showcase ideas and cultures from all over the world once Expo 2020 opens to the world on 1 October.
Acting as the first point of contact for visitors to Expo 2020, volunteers will help manage the vast number of diverse experiences, events and global discussions that will take place every day across the mega-event's 182-day run.
They hail from all segments of society, providing services in areas such as VIPs and protocol; guest services; Expo 2020's Thematic Pavilions; events, ceremonies and hospitality; and technology support.
A core aim of Expo 2020 – the largest event ever held in the Arab world – is to inspire and empower the world's next generation through numerous initiatives and programming.
Expo 2020 shared the figures to mark UN International Youth Day, commemorated every year on 12 August to bring youth issues to the attention of the international community and celebrate the potential of the planet's youth as partners in today's global society.
Supported by the UAE Government, volunteering is seen as a crucial in promoting sustainable development and building a better future for generations to come. The Expo 2020 Volunteers programme offers an opportunity to gain lifelong skills and build connections, as well as make memories of a lifetime.
Initiatives such as the Expo School Programme and, for university students, the Expo Education Programme are also helping young people think critically, communicate effectively and grow intellectually, allowing them to play a central role in building a brighter future.
 
Source: www.expo2020dubai.com