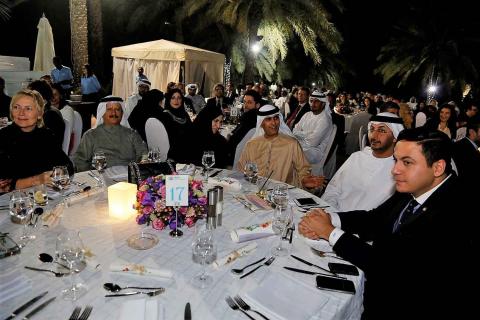 Organization continues to involve thousands in environmental education, awareness programs, & waste management projects throughout the year
 Emirates Environmental Group (EEG), the country's pioneer in community programmes for the environment, recently organised an annual gala for its members at the Hilton Dubai, Jumeirah Beach to mark the celebration of EEG's work in 2016 and highlight the major milestones achieved. Among the distinguished guests who graced the occasion were H.E. Eng. Sheikh Salem bin Sultan bin Saqr Al-Qasimi, Chairman of the Department of Civil Aviation, Ras Al Khaimah; H.E. Abdullah bin Ahmed Al Saleh, Under-Secretary of the UAE Ministry of Economy for Foreign Trade and Industry; H.E. Dr. Mohammed Saeed Al Kindi, Former UAE Minister of Environment and Water along with members of the diplomatic corporations, CEO's, and many government representatives.
In 2016, EEG managed to mitigate 7,723 metric tonnes of CO2 emissions, saved 62,834 cubic meters of landfill space, achieved efficiency equalling 115,023 British Thermal Units (BTUs) of energy, and preserved 35,218 trees from being cut to produce paper. All this can be attributed to its highly successful year-round waste management campaigns to recycle cans, paper, plastic, glass, toners and mobile phones as well as collect batteries for safe disposal. EEG's educational projects such as workshops and public speaking and drawing competitions last year involved 113,400 students and teachers from the UAE and abroad. The 2016 annual nationwide Clean Up UAE campaign broke all records by bringing together 125,536 people and collecting 110 tons of wastes from 146 sites across the country over a period of two weeks. Moreover, EEG's corporate engagement programmes reached out to 30,000 people.
Habiba Al Marashi, Chairperson, Emirates Environmental Group shared the key highlights of 2016 with the audience. She said: "In 2016, we accomplished many milestones. All our projects and programmes have achieved their defined objectives and met their stated targets, with some even exceeding it. Therefore, we are having a befitting celebration of EEG's silver jubilee."
In her speech, Al Mara'shi spoke about the importance of cross sector partnerships to address the universal development challenges facing the world. "Here at the EEG, our banner slogan has been 'Together for a Better Environment,' which highlights not only the achievements of the past brought about by collaboration and partnerships, but also the potential for the EEG to broker many more high impact partnerships in the future. We have used collaboration and partnerships as the tool to create large scale contributions to the sustainable development of our economy, environment and society," explained Al Mara'shi to the audience.
She further mentioned that EEG has always been keen to align with the national vision for sustainable development as well as connect with the international platforms in an effort to mix the 'local' with the 'global.' Furthermore, Al Mara'shi briefly discussed EEG's plans for 2017, focusing in particular on the Clean Up UAE campaign that will be held throughout the year for the first time in 15 years.
Other key highlights of the gala event were a performance by the popular Dubai Drums, followed by the awarding ceremony to all the sponsors and supporters of EEG programmes and projects in 2016. Nearly 59 organisations, including government bodies and private businesses were officially recognised for corporate citizenship, social responsibility, and the spirit of partnership.
To demonstrate EEG's deep commitment with regards to practising the values it preaches, the Gala Dinner was conducted as a Carbon Neutral Event whereby the resultant carbon emissions have been offset with the help of Swiss climate protection NGO "myclimate" and their local partner Farnek.
The EEG gala dinner was sponsored by DEWA as the Platinum Sponsor, wasl Properties as Special Sponsor, and McDonald's, Tiger Profiles, Dutco Balfour Beatty, and Chalhoub Group as Silver Sponsors.
Started in 1991 by a handful of individuals, the EEG network today spans the entire Arab Region and is represented in various international platforms as a leading civil society organisation from the Region. The first group to design year-round pro-environment programmes for corporates, academia and families alike, EEG has become the go-to organisation for individuals and institutions in the UAE that wish to contribute towards the environment.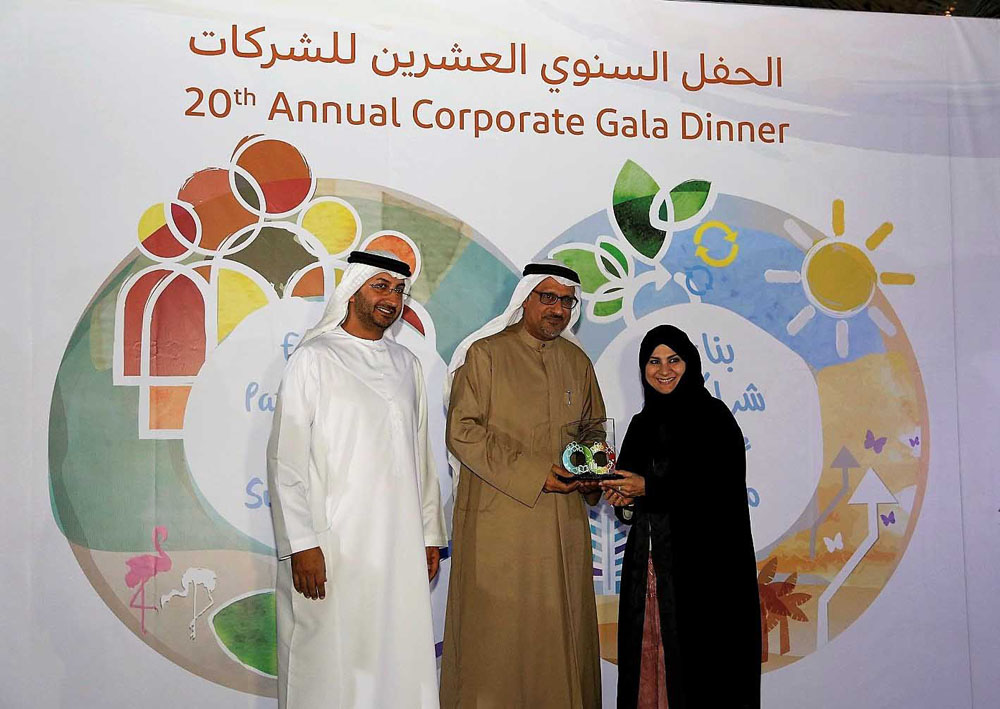 Categories