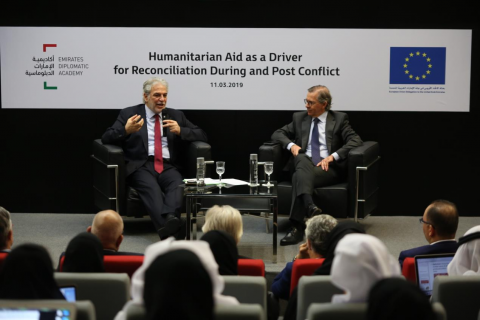 The Emirates Diplomatic Academy (EDA), the UAE's leading international relations and diplomatic institution, held an interactive discussion with His Excellency Christos Stylianides, European Commissioner for Humanitarian Aid and Crisis Management, on 'Humanitarian Aid as a Driver for Reconciliation during and after Conflict'.
Addressing an audience of ambassadors and diplomats, in addition to students, faculty and staff of the Academy, His Excellency Christos Stylianides shared the most significant insights from his illustrious career as a Cypriot politician and humanitarian advocate. He also highlighted the positive impact of humanitarian principles and actions on peace and reconciliation processes.
His Excellency Christos Stylianides said: "The objective of my visit to the UAE is to meet with government officials to discuss current humanitarian crises in the region, especially the dire humanitarian conditions in Yemen, and also to highlight the importance of education in emergencies as a strategic investment in the future." 
He added: "The fact that there are more humanitarian crises to resolve with every passing day, and that humanitarian needs are only increasing, are the key challenges I face in my role. These crises are becoming longer, more complex and more difficult to operate in. Today, humanitarian workers and infrastructure are under attack more than ever before. These challenges have made it imperative to connect with others in the global community and to advocate collectively on this matter.
"I am proud of our achievements in the humanitarian field but unfortunately, the biggest issue of all is that humanitarian problems cannot have humanitarian solutions. As we see in Syria and Yemen, only a political solution can end the suffering and agony of the innocent victims of these tragic conflicts."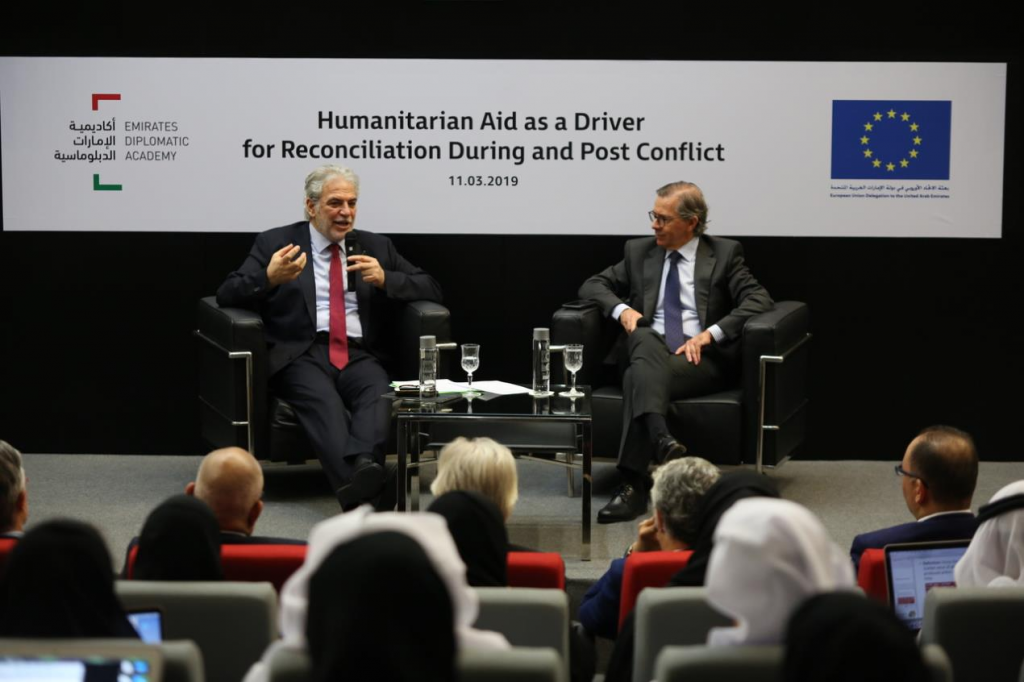 Moderating the discussion, His Excellency Bernardino León, Director General of EDA, said: "We are delighted to host such a distinguished speaker to drive home the importance of humanitarian aid as the first step in any reconciliation process. In order to implement relief measures on the ground, strong relationships with key partners and mutual understanding are crucial. This is where diplomacy comes into play."
He added: "In line with the UAE's sustained commitment to supporting humanitarian and development action worldwide and the need to keep up to date with new directions in navigating a 21st century diplomatic landscape, we are dedicated to offering our students access to the industry's brightest minds and latest trends. In 2018, we announced the launch of the Master of Arts in Humanitarian Action and Development programme, and we look forward to its official rollout."
The discussion took place as part of EDA's ongoing programme of events involving speakers from the UAE and abroad that provides an interactive platform for the Academy's students and guests to examine international affairs in a relevant context.
Categories