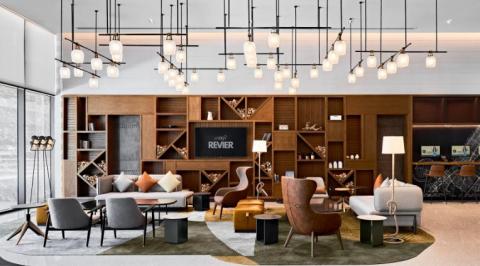 Revier Dubai, a Business Bay hotel modelled as a meeting point for modern and tireless explorers while offering Swiss Hospitality, is introducing an exciting Eid Staycation offer to ring in the Islamic holiday. With so much on offer, Revier Hotel is the quintessential spot to commune and celebrate with your family and loved ones this Eid Al Adha.
The 4-star Swiss-themed hotel is the perfect venue to welcome the influx of tourists who will be staying in Dubai during the Eid holidays. Guests who book two nights in either the hotel's modern and trendy Revier Suite or XL Revier Suite will get a complimentary bottle of grape upon arrival.
The guests will be allowed an early check-in to their home away from home along with complimentary breakfast at Alphorn Restaurant. The offer also invites the guests for a delicious set menu dinner in the restaurant where signature Swiss/German/Italian dishes are freshly cooked to order along with other international dishes. The hotel will also offer a late check out as part of this promotion to enjoy the stay to the fullest. That's not all; guests can also hop on the free shuttle service to La Mer Beach.
Book now, with prices starting from AED 450 per night/couple.
The offer is valid for families of all sizes as the Revier Suite is a 1 Bedroom Suite that accommodates 2 adults + 1 child or 3 adults + 1 infant while the XL Revier Suite is a 2 Bedroom Suite that accommodates 2 adults + 2 children or 4 adults + 1 infant.
Once settled in guests can avail the wide range of dining offers such as the Cheese Fondue Night or Pizza & Pasta Bonanza at Alphorn Restaurant. All the information can be found on Revier Hotel's website: https://dubai.revierhotels.com/en/dining.html. Guests can also indulge in delicious bites, delectable beverages and refreshing shisha at Allegra Bar & Shisha, Revier Dubai's other dining venue.
For more information on the many offers available at Revier Hotel follow the link: https://dubai.revierhotels.com/en/promotions.html
For bookings, please call at +971 4 574 7555 or email reservations.dubai@revierhotels.com
Terms & Conditions: The offer is available now and valid till 25th of July 2021. Price is exclusive of applicable service charges and taxes. Complimentary set menu dinner at Alphorn Restaurant can be availed on one of the two evenings. Offer is not valid in conjunction with any other promotions and discounts. Other terms & conditions may apply.