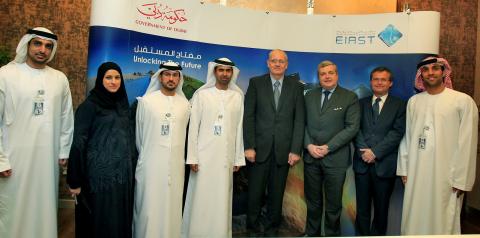 Delegation joins follow-up talks on mutual cooperation & joint projects
UAE, July 6, 2014 - The Emirates Institution for Advanced Science and Technology (EIAST), has recently received a visit of high-level delegation from Centre National d'Etudes Spatiales (CNES), the French government space agency. The visit followed up commitments made earlier by both entities to enhance partnerships in space-related research, projects, and technology developments. The delegation was led by the President of CNES Mr. Jean-Yves Le Gall.
In early May 2014, representatives from EIAST led by Director General H.E. Yousuf Al Shaibani and Eng. Salem Al Marri, Assistant Director General for Scientific and Technical Affairs, traveled to the CNES headquarters in Paris, France to strengthen bilateral ties between the space industries of the UAE and France. The group discussed various possible areas of cooperation and key industry trends and practices. They shared technical and scientific expertise as well.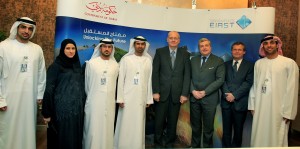 The recent visit reaffirms the strong resolve of EIAST and CNES to promote collaborative, harmonious and productive partnerships between the space communities of UAE and France for the mutual benefit of industry and society as a whole.
H.E. Yousuf Al Shaibani, Director General, EIAST: "EIAST shares CNES' vision of inventing the space systems of the future and bringing space technologies to maturity. We thank CNES and the government of France for embracing a collaborative approach towards the development of the space programmes of our respective countries. We aim to establish and maintain productive partnerships with renowned space agencies such as CNES to help consolidate global efforts to harness the full potential of space technologies for the betterment of society".
EIAST was established by the Dubai Government in 2006 to encourage scientific innovation and technological progress in Dubai and in the UAE. It also aims to develop the scientific skills and knowledge of Emiratis. It is mainly involved in outer space research and development; satellite manufacturing and systems development; space imaging; and ground station services and support for other satellites.
For more information, please visit EIAST website: www.eiast.ae
You can also follow EIAST on:
Twitter: @EIAST
Facebook: Emirates Institution for Advanced Science and Technology (EIAST)
YouTube: Emirates Institution for Advanced Science and Technology (EIAST)
For latest news and developments on Khalifa Sat, please follow us on
Instagram: @KhalifaSat_Project
Categories