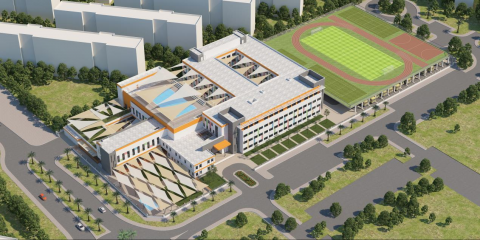 Dubai's leading operator of schools to launch Dubai's first affordable International Baccalaureate (IB) school, built on education excellence with global quality standards and benchmarked against the best schools in the world.
Fees at IB schools in Dubai average AED 52,800 in the Kindergarten and AED 65,600 in the Primary.  At Ambassador International Academy (AIA Dubai), the average Kindergarten tuition fees are AED 30,400 and AED 35,800 in the Primary School. Parents with children at AIA Dubai would save AED 22,400 in Kindergarten and AED 28,800 in the Primary. 
Kamal Kalwani, Co-founder and Vice Chairman Ambassador International Academy (AIA) said: "Not only quality education, but affordable education with global standards is important in today's scenario. We wanted to bring international education to the city, while keeping in mind affordability so that all students of Dubai would have access to two world recognized curriculums within one campus - the International Baccalaureate (IB) and British Cambridge Curriculum – providing AIA Dubai students with a successful pathway to leading universities and beyond."
AIA Dubai, students will benefit from the IB Primary Years Program (PYP) and Middle Years Program (MYP) from Pre-Kindergarten – Grade 8, which will be integrated with the English National Curriculum, providing AIA students with the content and learning outcomes required to lead them on to success in Secondary School – Cambridge (I)GCSE's in Grade 9 and 10 & the IB Diploma Program (DP) and/or Cambridge A Levels in Grade 11 & 12.
James Lynch, Principal of Ambassador International Academy, said: "Choosing the right school for your children is a very critical decision for every parent. Students at AIA would be provided with personalized attention; with every class having an experienced teacher- 10.9 years along with a qualified teaching assistant. The adult to student ratio in the classroom would be 1:8 in the Kindergarten and 1:14 in the Primary."
The school is designed to offer the best possible facilities encompassing academics, sports, play.  Facilities at the new Ambassador International Academy campus will include: four libraries; a multipurpose hall; a 25 metre outdoor shaded swimming pool plus a training pool for the Kindergarten; football pitches, tennis courts; cricket practice nets; science labs; design and art studios
All AIA students will have the opportunity to develop their knowledge and skills through an extensive extra-curricular program that is truly spectacular. The programme has been organized to incorporate over 30 varying activities ranging from sports; mother tongue language programme by the world's leading language school - Inlingua International; robotics; chess and violin lessons from the Kindergarten to name just a few.
Ambassador International Academy (AIA), which will open doors in September 2019, is centrally located between Meydan Road and Umm Suqeim Street; making the school easily accessible for residents living in old (North) and new (South) Dubai. 
The new Al Khail campus is the fourth Ambassador School to open in the United Arab Emirates. The founders of Ambassador Schools have over 17 years of education experience and serve more than 3,000 students every day with the support of over 300 qualified teachers from all over the world. 
Categories