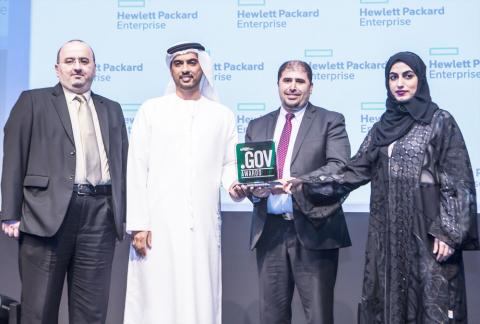 Award-winning smart app downloaded over 143,600 times so far
Dubai Now, Smart Dubai Government's innovative app that features more than 50 smart services provided by 22 government entities, has won the 'Best Government Mobile App of the Year' category at the '.GOV Awards 2016' held recently in Dubai.
The award-winning app offers customers a set of service packages built to meet their needs and assembled within sub-bundles that are classified into 11 categories to access services anytime and anywhere with ease and speed in one place. The categories are Payments and Invoices, Public Transportation, Security and Justice, Health, Car Driving, Visas, Education Services, Islam Service, Business, Housing, and Public Services.
H.E. Dr. Aisha Bint Butti Bin Bishr, Director General, Smart Dubai Office, said: "We aim to offer sustainable happiness to the residents of Dubai in line with the directives of H.H. Sheikh Mohammed Bin Rashid Al Maktoum, Vice President and Prime Minister of the UAE and Ruler Dubai, who has stated that 'Making people happy is a task that can't be delayed' and therefore dedicate this award to him. Smart Dubai Government is working to make Dubai the world's smartest and happiest city and has developed a unique plan for the city based on technological and smart innovations across four pillars and six strategic dimensions. We have set a benchmark from the world's 10 smart cities to enhance smart services in the emirate to ensure comprehensive happiness of the community. The integrated services platform – 'Dubai Now', 'Smart Dubai Platform' and the 'Happiness Index' are the most important initiatives and services that we have developed and launched."
For his part, H.E. Wesam Al Abbas Lootah, CEO, Smart Dubai Government said: "Smart Dubai Government is working according to a clear strategy that runs parallel and integrates with the roadmap of Smart Dubai. We aim to make people of Dubai happy by increasing their confidence in the services provided to them in line with the vision of the wise leadership in harnessing modern technology to serve the emirate's residents. This will not be possible without permanent innovation and continuous improvement of all the services provided by us."
Lootah added: "We have invented "Dubai Now' which is the first government service platform that combines more than 50 services in a single contact point for customers, complementing the directives of H.H. Sheikh Hamdan Bin Mohammed Bin Rashid Al Maktoum, Crown Prince of Dubai and Chairman of the Executive Council, for providing an integrated one-stop-shop for services. We have implemented this platform in cooperation with our strategic partners in various government and private entities since it required concerted efforts of all parties involved to work together as an integrated team that has the thought, knowledge, and effective performance which is based on development and efficiency, employing innovation-based modern concepts and overlooking the future to provide smart and innovative solutions, ensuring the customers have access to the services 24/7 with easy, streamlined, highly efficient and transparent procedures to meet the needs and expectations of customers in the city of happiness 'Dubai'."
"We have engaged citizens and residents of Dubai via the Customer Experience Lab in developing 'Dubai Now' smart app, which has won the '.GOV Awards 2016' in Dubai and the Northern Emirates. We had gathered customers' ideas and explored their views and requirements such as customer contact points, favourite colors, and the most popular services to enhance the app to make them happy. This also ensures positioning of Dubai as a global model for the integrated and connected smart city that considers customers as its topmost priority."
The innovative 'Dubai Now' app has also won the 'Best Government Mobile Service Award' in the One Stop App category at the national level at the World Government Summit 2016 held between February 8 and 10, 2016 in Dubai. The app has registered tremendous response from customers who are taking advantage of the services provided at one location. The latest statistics of Smart Dubai Government reveal that 'Dubai Now' app has so far been downloaded 143,600 times from the Apple Store and Google Play. The app is constantly updated and customers can now apply for certificates of good conduct from Dubai Police and get smarter alerts enabled for mParking free timings. 'Ejari' and 'Makani' services have also been added to the list of other inter-connected and integrated services it provides, such as payment of traffic fines, search for the nearest vehicle registration centre, car registration renewal and locating the place to pick it up. In addition, it facilitates payment of bills, including electricity &,water, Etisalat & du, Salik, Nol, and Dubai Customs as well as donation to Dubai Cares and Al Jalila Foundation in a more intelligent way.
Dubai Now app allows a customer to customize the list of smart services according to their preference with one click. Customers can also add and delete at the same time, by dragging the smart service to add to the Favorites menu or deleting it by dragging the service off the menu.
The app can be accessed in three simple ways – MyID, mPay, or direct subscription of the app after downloading it from the link: http://bit.ly/1nj5RA3.
The '.GOV Awards 2016' was founded by ITP Technology to highlight the leading scientific progress of the governments across the region in the field of smart government and the use of IT for developing business and improving the standard of living.
Categories