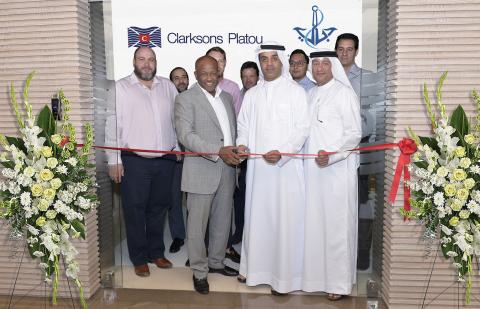 New headquarter serves as important link for company's operations within Middle East, India, Egypt & Morocco markets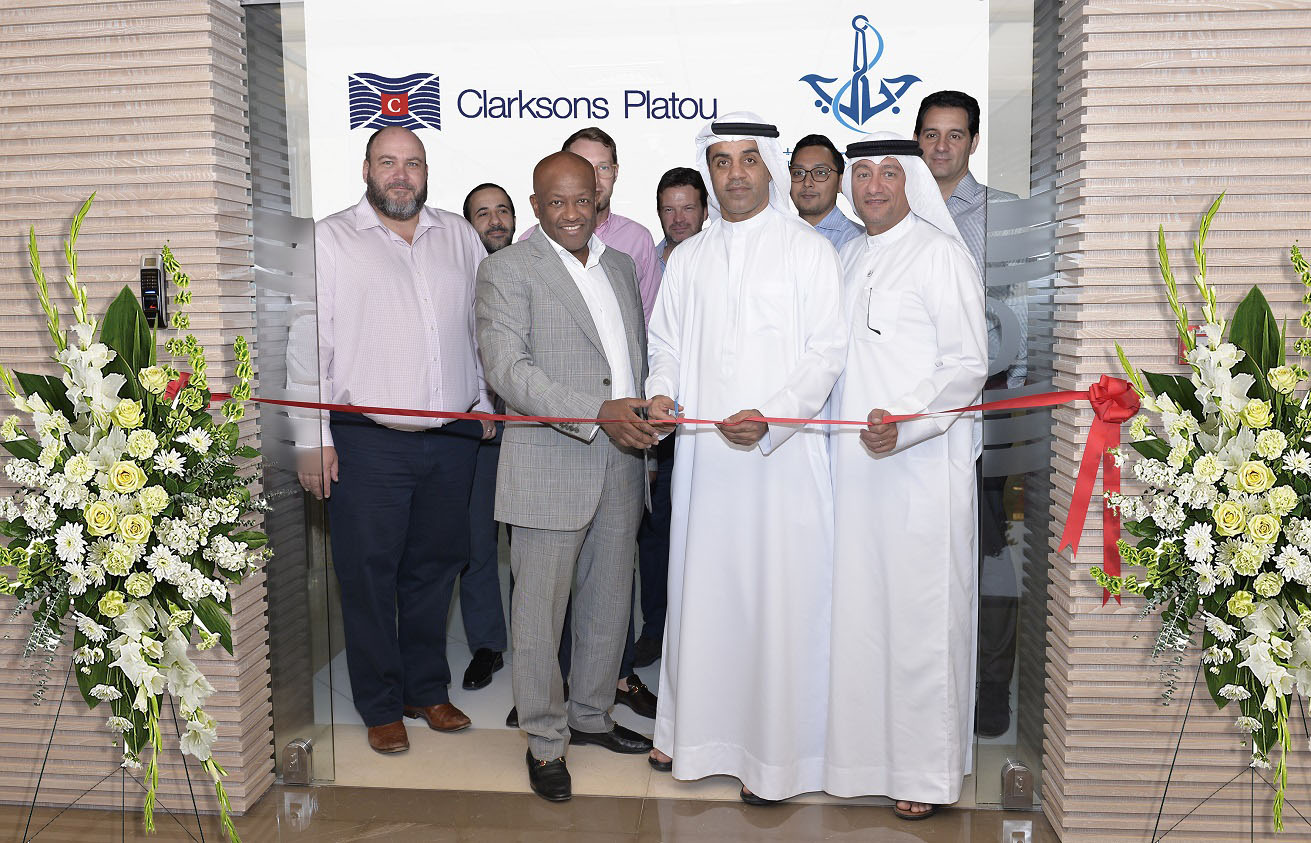 Dubai Maritime City Authority (DMCA) praised Clarksons Platou, leading integrated shipping services provider, for its expansion efforts in the emirate during the opening ceremony of the company's new office at the Gold Tower. DMCA reaffirmed its continued commitment to strengthen strategic partnership with the private sector as a top priority for positioning it among the world's leading maritime sectors in terms of competitiveness, excellence and comprehensiveness.
The inauguration ceremony was attended by a number of government officials, decision makers, and maritime leaders, including Amer Ali, Executive Director of Dubai Maritime City Authority; Nawfal Al Jourani, Chief Officer of Dubai Maritime Cluster Office; and Essam Bella, Managing Director of Clarksons Platou. All officials present emphasized on the importance of the joint efforts to leverage Dubai's strategic location as a major business and investment hub in the Middle East and Africa.
The new office in Dubai is Clarksons Platou's fourth largest office after London, Oslo and Singapore. The latest move reflects the growing international confidence in Dubai's role as an influential force on the global maritime map, backed by competitive strengths that have ranked it as the 10th among the world's top maritime capitals for 2017 and fifth in terms of attractiveness and competitiveness. The new office provides an ideal platform to expand Clarksons Platou's operations in the Middle East, India, Egypt and Morocco, particularly in brokerage services in the dry cargo, specialized products and offshore markets.
Amer Ali welcomed Clarksons Platou which has opened the office in Dubai, a leading destination for the world's leading maritime companies, as a main headquarters for the management of regional operations. He reaffirmed DMCA's commitment to support the new office which is an important addition in its efforts in promoting the prestigious reputation and competitive advantages of the local maritime sector in meeting the aspirations of both regional and international investors.
Ali added: "This meeting represents a practical demonstration of the Dubai Maritime Cluster Office efforts to connect with the maritime sector leaders as we strive to build a fruitful and solid partnership with Clarksons Platou, which has a long history of leadership, success and excellence in the world of maritime services for over 165 years of time. We will spare no effort to build bridges of constructive cooperation with private sector leaders as part of our ongoing efforts to enhance our strengths and build a secure, sustainable and comprehensive maritime sector that is capable of supporting the economic diversification process pursued by the Emirate of Dubai and the UAE."
Essam Bella said: "We are honored to set our new headquarter in Dubai to better serve our customers in the Middle East, India, Egypt and Morocco. Dubai is significant to us as it strongly pushes forward our ambitious expansion plans, taking advantage of Dubai's high potential. The emirate is characterized by advanced infrastructure and legislation, an environment conducive to business and investment, and competitive components at ports and marine services, making it among the world's best maritime centers. Given its strategic location as a link between East and West, Dubai provides the ideal gateway for us to serve our extensive customer base in the Middle East. We look forward to our new office, which is our fourth largest office among 49 offices around the world, providing us with the opportunity to manage our regional operations efficiently from one of the world's most attractive and competitive maritime centers."
Clarksons Platou, founded in 1852, is one of the world's leading providers of integrated maritime consultation, services and expertise, supported by a wide network of branch offices, currently numbering 49 offices in 21 countries around the world.
Categories