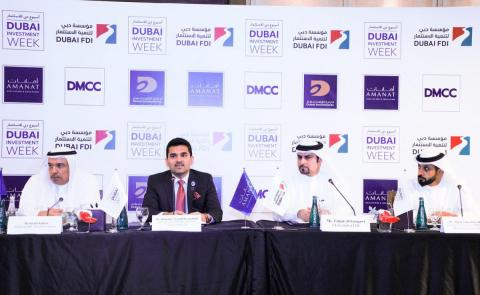 Dubai FDI leads global event set to open in Dubai on October 7
Dubai Investments, DMCC & Amanat Holdings among strategic partners
Forum highlights Dubai's proactive approach to keep pace with global changes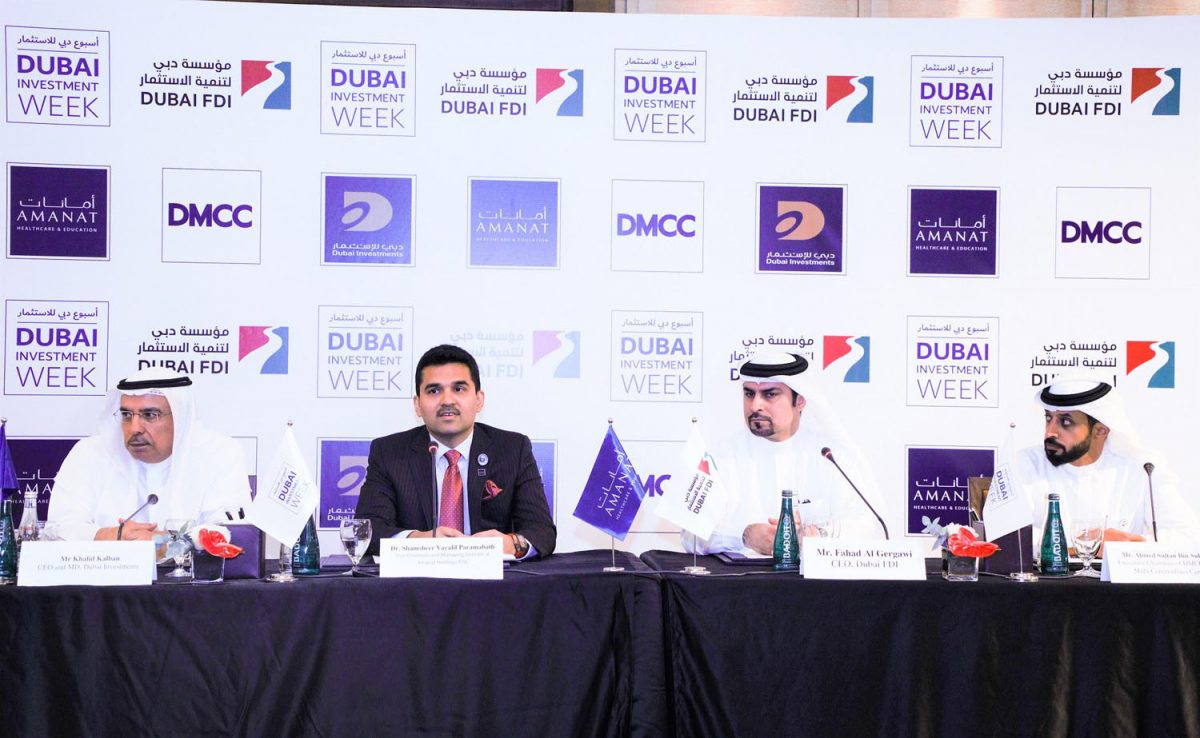 Under the patronage of Sheikh Hamdan bin Mohammad bin Rashid Al Maktoum, Crown Prince of Dubai and Chairman of the Executive Council, Dubai FDI, the investment development agency of Dubai Economy (DED), announced that it is set to convene global investors in Dubai at the upcoming Dubai Investment Week 2018. The major event, which will take place from October 7 to 11, 2018, will explore the future of foreign direct investment (FDI) in light of today's rapid transformations across the world.
The event, which will kick off with an official opening ceremony on Monday, October 8, 2018, will further highlight Dubai's continuing efforts to proactively address global changes and keep pace with the future and promote the emirate's strategic and competitive advantages as the city of the future.
Dubai FDI revealed yesterday (Wednesday, October 3, 2018) during a press conference the main features of the event, to be held under the theme 'Investing in Future Transformations'. The event will explore ways to strengthen partnerships between local and international businesses and keep pace with the demands of future changes. It will explore investment opportunities in new and emerging economic sectors in Dubai particularly in areas of knowledge, innovation, and sustainable development.
Dubai FDI also announced the strategic partners of Dubai Investment Week 2018 from government and private sectors, which include the Dubai Investments, DMCC and Amanat Holdings.
The event will hold various forums such as exploring cooperation prospects between public and private sectors,and enhancing networks and linkages between investors and government entities in Dubai. It will also witness the attendance of high-level investors, policy makers, entrepreneurs and startup companies, looking to explore growth opportunities and expansion in Dubai, considering its strategic location as a gateway to regional and global markets.
Fahad Al Gergawi, CEO of Dubai FDI, said: "Exploring the theme 'Investing in Future Transformations' in this year's event is inspired by the vision of H.H. Sheikh Mohammad Bin Rashid Al Maktoum, Vice President and Prime Minister of the UAE and Ruler of Dubai to look at innovation as the way to generate growth and sustain Dubai's competitiveness in the future.  We look forward to highlighting the emirate's promising opportunities in future transformations, focused on smart technology and research and development, which are the priorities set under the UAE National Agenda and Dubai Plan 2021."
Al Gergawi explained that the Dubai Investment Week 2018 provides the platform to strengthen partnerships between the local and international investment community and unlock huge opportunities as the emirate bids to become one of the world's leading cities to invest in knowledge and advanced technologies. He further noted the continued confidence of the global investment community in the emirate, which has maintained a conducive environment for business, supported by its unique strategic location, modern infrastructure and legislations, an incubator environment for innovation and entrepreneurship, and attractive incentives for FDI.
Khalid Bin Kalban, MD and CEO, Dubai Investments said: "Dubai Investment Week offers a platform to explore future investment opportunities in Dubai, which has been and remains a major hub for investment in the region due to its sophisticated infrastructure, strategic location and political stability. The event will allow us to connect with leading government figures and entities from around the world and establish investment partnerships with international investors and start-up companies seeking to establish their businesses in Dubai."
Ahmed Bin Sulayem, Executive Chairman, DMCC concluded: "As the world's flagship free zone and Government of Dubai Authority on commodities trade and enterprise, supporting the 2018 Dubai Investment Week (DIW) is critical for DMCC, and we commend Dubai FDI for hosting it. The collective revenue of our 15,000-member companies contributes over 10 per cent to Dubai's overall GDP, and we pride ourselves on removing barriers to trade and fostering a welcoming climate for international private investment. We look forward to participating at DIW and sharing our views on working collaboratively to further enhance Dubai's appeal to foreign investment and in turn, help realise the emirate's true economic potential."
Dr. Shamsheer Vayalil, Vice Chairman and Managing Director of Amanat, said: "We are delighted to be a strategic partner of Dubai Investment Week, a unique and valuable platform to showcase Dubai's reputation as a hub for global business, and the preferred destination for investment opportunities across different sectors. This partnership aligns perfectly with Amanat's active role in contributing to the development of the UAE economy through our focused investments to date. Amanat has invested approx. AED 2 billion in healthcare and education and is looking at deriving them further."
 He added: "We look forward to exchanging and sharing insights with industry experts on how we best continue to drive investments and aid in diversifying the economy".
The DIW will cover a comprehensive range of discussions on leading global trends and top-level talks, including a 'Leaders' Dialogue', an exclusive presentation reviewing the progress of the Dubai Plan 2021 and key economic and FDI performance indicators. It will also offer fresh insights about Dubai's future initiatives, latest smart incentives and investor services.
Among other key highlights include expert panel discussions focusing on global trends in strategy management and governance, forum on the future of investment and global FDI opportunities and investments in the UN-led Sustainable Development Goals (SDGs) and innovative startups.
The Dubai Investment Week 2018 will also feature the FDI Readiness Forum, a capacity building workshop themed 'The Investor Experience: New Priorities, which will be held on Ocotber 7, a day before the opening ceremony. The workshop will be held in collaboration with OCO International and MAGNiTT to review investor experiences and discuss new priorities which will encourage and attract FDI and promote international entrepreneurship.
The Dubai Investment Forum will take place on October 8 and 9, featuring topics on 'Investing in Future Transformations' and 'Spotlight on Investment Opportunities'. The Impact FDI Forum which will also start on October 9 will focus on Investing in SDGs aimed at strengthening local, regional and global partnerships, capacity-building in research and development and the establishment of a market for FDI projects aimed at supporting sustainable development.
The FDI Policy Forum themed FDI Future Readiness on October 10 and aims to enhance the future readiness of the FDI environment in Dubai. The organizers will also set up the 'Public – Private Connect', an exclusive DIW service which offers pre-arranged meetings with investors and delegates as well as site visits, to facilitate connections with government officials and the wider industry stakeholders.
Dubai Investment Week 2018 will be the ideal platform for global investors to discuss and explore key topics, including leadership in digital transformation, investments in emerging companies, and investments in SDGs. It is set to become the most comprehensive venue to shed light on the rapid economic developments and transformations in new investment sectors.  A recognition ceremony will also award leading FDI projects through the 'Impact FDI Award', for their contribution which impacts the future of Dubai's sustainable economic development and prosperity.
---
About Dubai FDI:
Dubai Investment Development Agency (DUBAI FDI) is an agency of Dubai Economy – Government of Dubai. DUBAI FDI develops, promotes and supports Foreign Direct Investment (FDI) opportunities to facilitate investors' success, growth and expansion in Dubai, the United Arab Emirates and across regional and international markets.
Categories