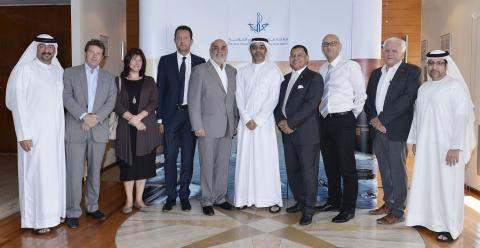 Hamburg-bound UAE trade mission to highlight features of Dubai maritime clustering
Dubai Chamber and DMCA to participate in SMM Hamburg 2016 to promote UAE maritime sector's competitiveness 
Mr. Amer Ali, Executive Director of DMCA with UAE delegation members that will participate in SMM Hamburg 2016
Maritime Sector Strategy under spotlight 
Dubai playing larger role in hosting major global maritime events
The Dubai Maritime City Authority (DMCA) has reaffirmed its commitment to promote the local maritime sector's competitiveness at Shipbuilding, Machinery and Marine Technology (SMM) Hamburg 2016, the latest edition of the world's leading trade fair for the maritime industry. The fair will take place from September 6 to 9, 2016 in Hamburg, Germany. DMCA will participate alongside the Dubai Chamber of Commerce and Industry to promote the city's leadership and standards of excellence to make the emirate one of the world's most competitive maritime hubs. On top of their participation, DMCA and the Dubai Chamber will also dispatch a trade mission to Germany from September 4 to 10, 2016 to meet with local and international business communities. The meetings will enable the Emirati authorities to highlight the features of the local maritime cluster, strengthen channels for direct communications, explore new investment prospects, and gain access to the latest innovations and emerging trends in the global maritime industry.
DMCA's attendance in the biennial international fair is a major step towards showcasing the key aspects of the Dubai Maritime Sector Strategy (MSS) developed in accordance with the goals revolve around establishing a sustainable and integrated maritime sector; gaining regional and international investors' confidence in domestic integrated logistics programs; building world-class infrastructure; and developing maritime regulations and legislations for smooth maritime operations in accordance with the highest professional safety standards, best environmental practices, and local and international resolutions.
The event will also serve as a platform for DMCA to highlight the Dubai Maritime Cluster Office it recently established in response to the government's efforts to transform the local maritime sector into one of the world's most comprehensive and competitive maritime clusters. It will introduce the Office's pivotal role in strengthening the fruitful cooperation among government sector, private entities, and stakeholders involved in local, regional and global maritime activities.
The 3rd edition of Dubai Maritime Week is also expected to gain international interest during SMM Hamburg 2016. To be held from October 30 to November 3, 2016 under the patronage of H.H. Sheikh Hamdan bin Mohammed bin Rashid Al Maktoum, Crown Prince of Dubai and Chairman of Dubai Executive Council, Dubai Maritime Week is an integrated platform that features the latest emerging trends and best practices to improve the maritime sector locally, regionally, and globally. Prominent international decision makers and maritime industry leaders regularly grace the event. Additionally, this year's participants of SMM Hamburg will have an opportunity to learn more about Dubai Maritime Summit 2016, the first global maritime summit that will help cement Dubai's status as an international centre for maritime excellence and innovation. The summit encourages constructive dialogues on the latest global maritime developments to determine the best ways to promote maritime components and their competitiveness.
H.E. Hisham Abdullah Al Shirawi, the Dubai Chamber's 2nd Vice Chairman, is looking forward to attending SMM Hamburg 2016 as part of the UAE delegation along with DMCA, which is at the forefront of enhancing the local maritime sector's competitiveness and promoting Dubai as a world-class global maritime hub. He pointed out that this qualitative step will serve as an inspiration to successfully represent the UAE in similar international forums as well as strengthen communication with the global business community to attract foreign investments to take advantage of the Dubai's competitive business environment and support its industrial strategy where the maritime sector constitutes an important pillar of it.
Al Shirawi added: "We organize the UAE's trade mission on the sidelines of the prestigious SMM Hamburg 2016 following our success during the 2014 edition, with UAE delegates meeting with their German and other foreign counterparts. During their interactions, they exchanged experiences, transferred knowledge, and discussed effective strategies to boost the capacities of the maritime and shipbuilding sector. We are confident that our efforts, in cooperation with DMCA, will deliver tangible and positive results in terms of supporting the growth of maritime activity and consolidating Dubai's reputation as a major global headquarters for operators of ports and a key global destination for ship owners."
Amer Ali, Executive Director of DMCA, said that participating in SMM Hamburg 2016 will bolster national efforts aimed at promoting the competitive advantages of the UAE's maritime sector through Dubai which moves towards becoming one of the world's best maritime capitals. He added: "We are confident that DMCA and the Dubai Chamber will successfully represent the UAE in this important international event. DMCA, in particular, has already made major strides in boosting Dubai's capabilities in hosting key global maritime events and promoting the competitiveness of the local maritime clustering. Our series of quality initiatives have made a clear impact on promoting sustainability and competitiveness in Dubai and the UAE's maritime industry."
"We are also honored to organize the upcoming trade mission as part of our mutually beneficial partnership with the Dubai Chamber. We believe that this qualitative step will open new horizons for leaders, experts, decision makers and investors to know about Dubai's potential and competitive advantages, including its independent maritime arbitration, modern ports, advanced infrastructure, key policies, investment facilities, and integrated maritime and logistic services, among others. We look forward to the upcoming event, which will undoubtedly help us attract new investments necessary to boost the maritime sector's contributions to the UAE's economic diversification agenda and comprehensive development," he further stated.
DMCA and the Dubai Chamber will occupy the UAE pavilion (B3.OG.120) during SMM Hamburg 2016.  DMCA delegates headed by Amer Ali will comprise Nawfal Al Jourani, Director of Communications; Eman Alshamsi, Assistant Manager of the Communications Department; Abdullah bin Touq, Senior Manager at the Survey and Inspections Department; and Hanan Al Kashri, Manager of Registration and Licensing.
They will also be joined by Knut Mathiassen, Managing Partner, North Cape, Captain Gamal Fekry, CEO of Red Sea Ship Management; Captain Anshuman Singh, CEO of One Maritime; Ralph Becker, Business Development Manager, DNV GL; Jasamin Fichte, Managing Partner, Fichte & Co Legal Consultancy; Essam Bella, Managing Director, Clarksons; Rashid Isa Rishi AlHeddi, Group Managing Director of Seamaster Maritime; Captain Tore Sigvart Svensen, Senior Shipping Specialist at United Arab Chemical Carriers; and Suha Obaid, Strategic Planning Director at Folk Shipping.
The team from the Dubai Chamber of Commerce and Industry, on the other hand, will be composed of Vice President Hassan Al Hashemi; Hisham Al Shirawi, 2nd Vice Chairman; Omran Al Bakri, Senior Manager of Protocol and Logistics; and Jihan Khalil, Executive.
Categories