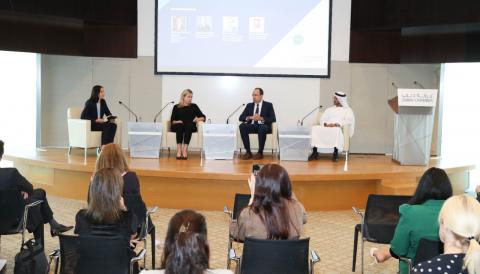 The Dubai Business Women Council (DBWC) announced its schedule of events for the month of June, which features five training workshops and specialized seminars focusing on women's health and well-being as well as necessary business skills. The events will also explore how female entrepreneurs can improve their productivity by investing in their health and personal/professional abilities.
On June 7th, a training workshop in cooperation with Mind Resilience Training launched the month's activities. The workshop covered topics such as flexibility and mental health, and how to use mental well-being to overcome professional and personal challenges, increase individual productivity, learn and adapt to changes, and build constructive patterns of thinking and behavior.
Another interactive business meeting will be held on June 9th for DBWC team to meet new members, share ideas and experiences, and explain how to take advantage of meetings and membership perks. The gathering is expected to include productive and constructive discussions.
Following the meeting, on June 14th, a training workshop will be organized to highlight effective communication, listening, and observation skills, as well as to shed light on the tools of constructive dialogue and discussion. The Council will host its fourth training session of the month on June 21st, titled "Deloitte Global Marketing Trends 2022."
The DBWC will conclude its activities for the month with a training workshop on June 29th for female entrepreneurs. The workshop, held in association with "Cross Cultural Connections," will discuss ways to foster happiness and self-confidence, the concept of personal happiness and societal expectations of happiness, as well as practical recommendations and advice to boost self-esteem and increase individual happiness.
Established in 2002, under the umbrella of the Dubai Chamber of Commerce and Industry, the DBWC is the UAE's leading platform for the personal and professional development of businesswomen in the Emirate of Dubai. Since its establishment, the Council has dedicated its efforts to encouraging women to play an active role in the country's progress and promoting sustainable development.
For more information about DBWC please visit: