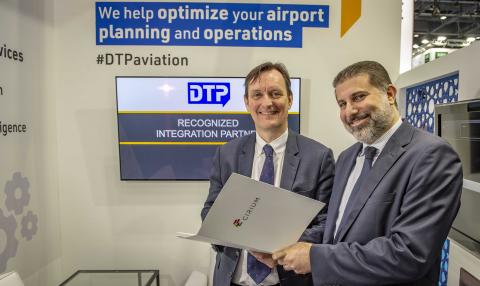 Cirium has welcomed leading aviation technology solutions provider DTP as the first member of its new Partner Program.
The announcement comes as Cirium takes part in a moderated panel at the Arabian Travel Market at the Dubai World Trade Centre in the United Arab Emirates.
Dubai-based DTP provides a comprehensive portfolio of products and services designed to optimize planning and operations in the aviation industry, with world-class clients including Dubai Airports, Abu Dhabi Airports, Emirates Airlines and Saudi Airlines Catering.
The Cirium Partner Program is part of Cirium's vision to use fleets, flight status, schedules, and trip-related data to bring industry leaders together to shape the future of travel.
As a recognized Integration Partner, DTP offers standard and bespoke solutions with direct access to the Cirium data portfolio, including status alerts, and the first-ever travel waiver monitoring service, known as Cirium Proactive Services.
Kevin O'Toole, Cirium VP Strategy, said: "The mission we have set ourselves at Cirium is to help open up innovation in the air travel industry. Our role is to get data and analytics flowing fluently across the ecosystem. But no-one on their own can provide the whole solution, which is why we've launched the Cirium Partner Program to collaborate with like-minded innovators.
"We are delighted to sign our first such partnership with DTP, a forward-looking company with a similar vision of how bringing together the right data with the right technology can start to transform the travel experience."
Abdul Razzak Mikati, DTP Managing Director, said: "As the first recognized Cirium Partner, we believe our participation will enable us to enhance the overall traveling experience through the integration of smart data.
"By solving operational challenges with advanced analytics by Cirium, we are confident we can address the automation and recovery needs of our customers, such as airports. In combining modern technology with smart data, together with Cirium we will lead the way for the growing Middle East market."
Airlines and airports working with a recognized Cirium Integration Partner, like DTP, can provide additional context for short-term split-second decision making, as well as aiding in long-term strategic planning.
The importance of the Middle East for Cirium was revealed through a recent YouGov survey for the company of Middle East travelers, as part of a global initiative, showed they wanted more information about delayed and cancelled flights. 80% of those questioned online said they would be likely to use an app which alerted their friends, family or company about their delay.
Cirium was recently launched to be the leading data and analytics solutions for aviation and the wider travel industry. Its data technology experts, analysts and data scientists monitor the journeys of 70 million passengers annually.
It manages the impact of disruption with intelligent data and analytics solutions to keep the industry in motion. Last year nearly four million flights – or 10,700 a day – were delayed by over 30 minutes or cancelled globally, affecting more than 470 million passenger journeys around the world.
Cirium's comprehensive data and analytics portfolio has grown in recent years by bringing together best in class aviation tech companies Ascend, Diio, FlightStats and Innovata. As one company these combine to improve the traveler experience, develop commercial strategy, manage financial investment and elevate air operations for the company's customers.
Cirium's analytics solutions are supported by one of the most comprehensive arrays of data available anywhere in world aviation. The group integrates global data across airline schedules, fleets, aircraft valuations, flight status, passenger traffic, revenues and traveler itineraries. These datasets are combined into powerful solutions by Cirium's truly global team of over 400 developers, analysts, data scientists and market experts, based in its offices across the USA, Europe and Asia-Pacific
Categories