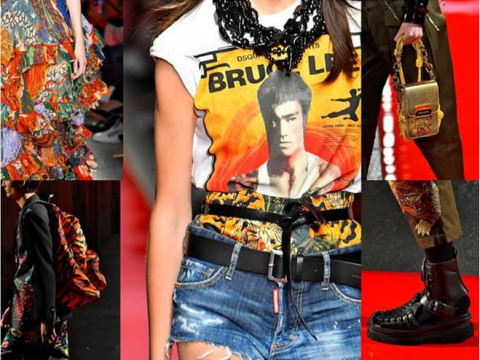 The fighters of Dsquared2's Spring Summer 2020 collection are pacifists of pop culture, in a wardrobe inspired by when kung fu met Hollywood action films in American and Hong Kong cinema from the 70s.
Looks draw on the colour and energy of the time—the neon lights of Hong Kong, giant floral and embellished tiger prints, boxer styled robes, jackets and shorts. An American 50s 'southern sun-belt' silhouette is woven through high waisted cropped pants that show the tops of printed satin boxers, tucked-in short sleeve buttoned shirts with notch collars and bomber jackets.
Pants and prints define the collection. The trousers come in three shapes all with high waists, the 'Brad', a straight leg, flat front cropped style and 'Fight' with a double front pleat. These are constructed in cotton canvas, one design reveals a crystal embroidered tiger on the leg, others in soft leather or clean, dark blue denim. Another women's style combines the high waist with a full leg that sits higher on the calf.
The silk boxers that can be seen above the pants' waistbands are cut from the rich prints of the collection: tiger stripe camouflage, oversized chrysanthemums, monkeys and Eastern motifs. The opulent fabrics take shape in other key pieces: kimono style long jackets, paper-feel parkas, and a women's floor-sweeping chiffon gown made up of a patchwork of the collection's placed prints in plissé ruffles with an embroidered neckline.  Original Bruce Lee movie posters—reprinted in collaboration with the Bruce Lee Foundation—appear on jersey pieces for men and women.
Eveningwear includes men's tanks in transparent tulle and lace tops with printed colored and shiny stripes, a belted jacket that's half wool and half floral printed silk duchesse. Perfecto jackets have sweeping shawl collars and a leather sleeveless motorcycle jacket has a standup collar. Bomber jackets have a dimensionality to the floral pattern created by two layers of printed silk organza. A women's cropped padded printed kimono bomber is also designed to be worn upside down.  Zips and lacing feature in jumpsuits—in blue nylon for men and gold leather for women, and corsetry style tops and jackets.
Braiding decorates leather lace-ups and sandals with thick soles, their fronts inset with lines of blue or red, and Dsquared2's Key bag comes in shiny leather in a compact rectangular shape with a long cross body strap.  Women's stiletto sandals have laced fronts and heels with monkeys or gold pearls.
Categories