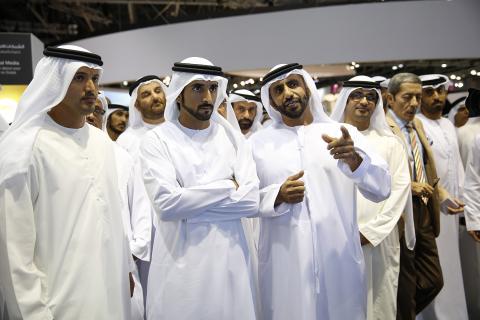 UAE, October 12, 2014 - The 34h edition of Gitex Technology Week 2014, which was opened by His Highness Sheikh Hamdan Bin Mohammed Bin Rashid Al Maktoum, Crown Prince of Dubai and Chairman Of Dubai Executive Council, kicked off today at Dubai International Convention & Exhibition Centre and will continue for 5 days between October 12 and 16.
HH Sheikh Hamdan visited the 3,800-square-metre Dubai Smart Government's stand at Sheikh Saeed Hall 3, where 37 Dubai local government entities are displaying their eServices, smart solutions and many new and excellent smartphone apps under one roof.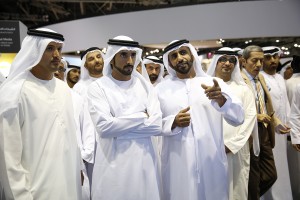 HH Sheikh Hamdan toured the section allocated for "the realistic model that simulates the smart services in the government and city of the future", which features 3 sectors covering all the smart services oriented for the three major categories: tourist sector, business sector and individuals sector.
HH Sheikh Hamdan also launched the totally new version of mDubai, which is the most comprehensive and seamless app for the public to communicate with Dubai government departments and entities. The mDubai app contains many of smart services in implementation of the initiative of His Highness Sheikh Mohammed Bin Rashid Al Maktoum, Vice President and Prime Minister of the UAE and Ruler of Dubai, for the shift to smart government and smart city.
The mDubai app provides a range of smart services classified under 11 categories: bill payment, security and emergency cases, health, travel and transport, finance, consumer rights, job and employment, visas and residences, Islamic affairs, housing and public affairs.
Following the launch of mDubai, H.E. Ahmad Bin Humaidan, Director General of Dubai Smart Government, said: "In compliance with the directives of the leadership as embodied by Dubai Ruler HH Sheikh Mohammed Bin Rashid Al Maktoum to develop the services provided to the society as per the world's best practices and standards, thereby promoting the corporate vision of building an excellent city where welfare,  sustainability and success ingredients are available, and based on our keenness on enabling all sections of the public to communicate with Dubai government entities and be provided with their services in the easiest and fastest manner anywhere round the clock, our technical teams have made vital changes to mDubai to cover many of DSG's services by designing various packages, based on customer interests."
Bin Humaidan added: "All those who have accounts with mPay or MyID can access the mDubai app to settle the fees of Salik, Nol, Etisalat, Du DEWA, in addition to traffic fines and many services provided by Dubai Municipality and Dubai Customs. They can also donate to Al Jalila Foundation and Dubai Cares, access information on flights, shopping malls, taxi booking service and health services including medical appointments and other medical services. In addition, they can access visa services, religious services, consumer rights, Dubai Police security services, postal services, weather reports, government centres and many more services."
Bin Humaidan said that mDubai was the most comprehensive app, with easy customization including displaying most used services, search, video assistance, on-screen tips, integration with Dropbox, email, Facebook and Whatsapp, conversion to PDF and document scanning, noting that the new mDubai version would be provided for iPhone and Android users by the end of the year.
With so much happening at Gitex 2014, DSG has a daily TV programme with major Dubai government highlights, called 'Smart Government' on Sama Dubai channel at 8.40 pm. DSG has a dedicated website gitex.dubai.ae, while social media followers can keep track via Facebook dubaismartgovernment, Twitter @SmartGov_Dubai and Instagram dubaismartgov.
Categories