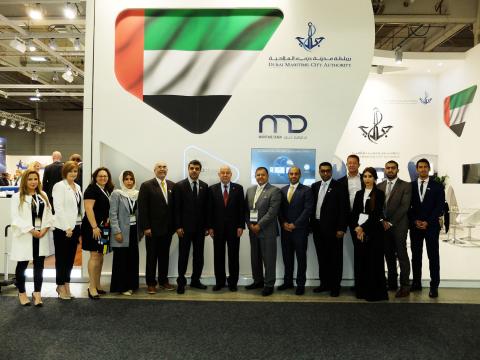 Dubai creates significant impression as world's 5th highest maritime city in terms of competitiveness & attractiveness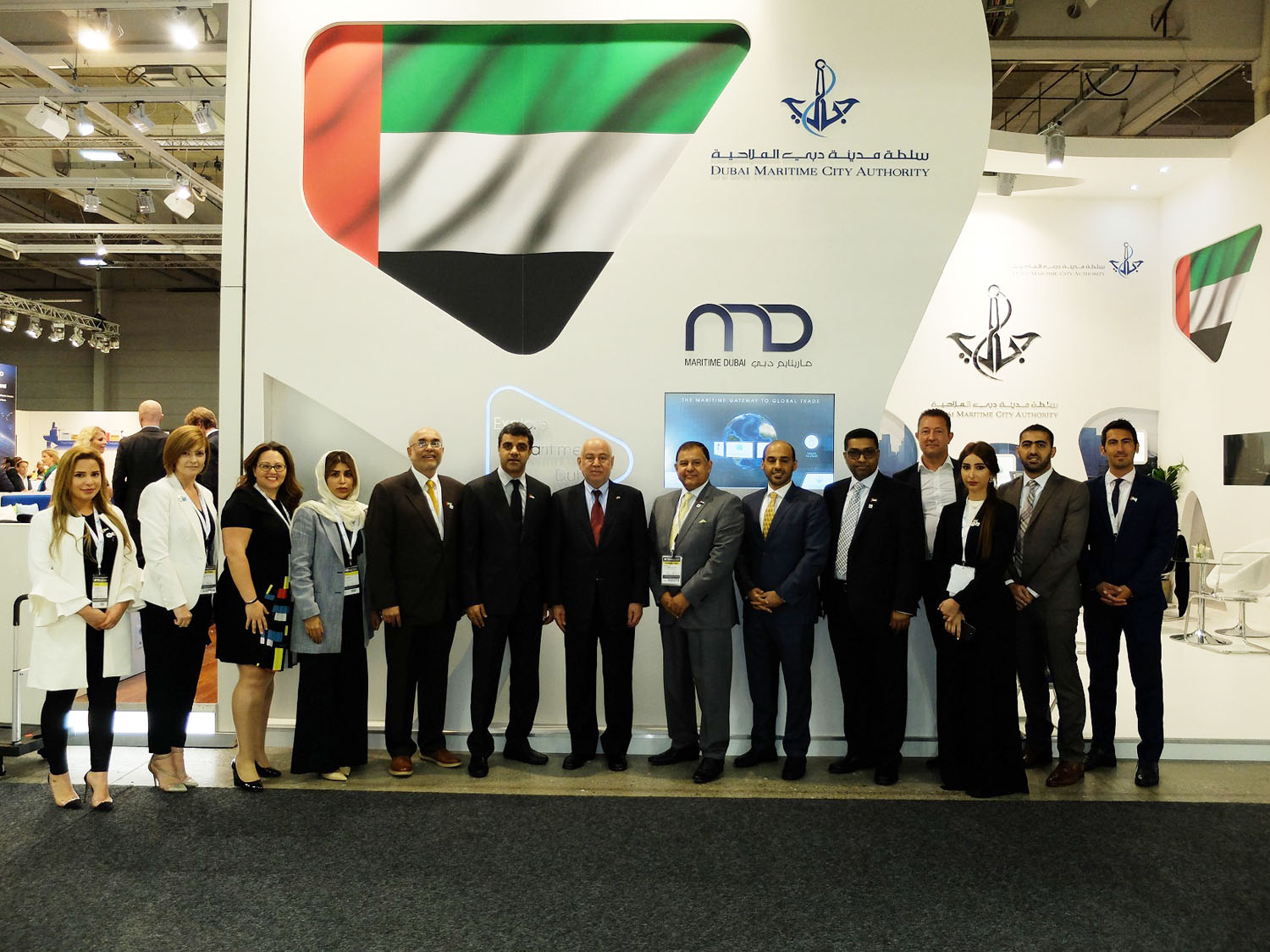 The Dubai Maritime City Authority's (DMCA) participation at the Nor-Shipping 2017 – the leading maritime event week, taking place from May 30 to June 2, 2017 in Oslo and Lillestrøm, Norway, draws an unprecedented attention with its successive achievements building a maritime sector that supports sustainability and growth. The Authority's presence at the event is well-timed as Dubai has recently been elected as the first Arab city to lead the region at par with top maritime leaders. Dubai ranked 5th among the world's most competitive and attractive maritime clusters, and moved three places to be 10th internationally in the list of the world's best maritime capitals in 2017.
Upon his visit to the DMCA stand at the exhibition, H.E. Mohammed Ibrahim Al Juwayed, UAE Ambassador to Norway, said: "The UAE plays a significant role across the global maritime sector, particularly as a leading maritime hub--the first in the Arab region that has left a positive impact on the international maritime industry. The participation in this global event will give the UAE the opportunity to showcase the benefits and advantages offered by the country's maritime sector and to also highlight Dubai's pioneering maritime position--which is currently ranked as fifth in the world in terms of competitiveness and attractiveness."
DMCA stand attracts big interest from the international maritime industry as it highlights the competitive advantages of Maritime Dubai initiative of Dubai's maritime sector. The authority also focuses on highlighting the efforts being made to strengthening port management, shipping, ship maintenance, and operational management. Visitors to Nor-shipping 2017 will get a deeper insight about the pivotal economic role of Dubai's maritime sector, which contributes AED 26.9 billion or 7 per cent to the emirate's GDP and generates more than 76,000 jobs.
Amer Ali, Executive Director of Dubai Maritime City Authority, said: "DMCA's participation in the 2017 edition of Nor-shipping is strategically important as it reinforces our efforts to share Dubai's leading experience globally. We are keen to share our knowledge, experiences and achievements that has positioned Dubai as one of the world's top 5 maritime clusters in terms of competitiveness and attractiveness. We are excited to create a tremendous impression with our strategic initiatives because of which there are more than 5500 maritime companies operating in the local maritime cluster. DMCA also aims to enhance the number of local maritime activities which has increased to 13,000 in 2017 in line with the objectives of Dubai Plan 2021 with the objective of transforming Dubai to a key pillar of international economy."
Ali added: "We are glad to be part again of Nor-Shipping Exhibition as it offers an ideal platform to us to showcase Dubai's march towards leadership and its pioneering position on the maritime map. The local maritime sector's attractive components, under the guidance of the wise leadership and DMCA's continuing efforts, have become one of the top 5 sectors influencing Dubai's economic development by achieving an unprecedented growth of over 25 per cent since 2011. We are confident that our presence in the event will enable us to interact with global maritime leaders as well as sign strategic partnerships, promoting shipping growth, ports, marine engineering, maritime training and support which provide solid foundation for establishing a sustainable and integrated marine sector.
Dubai Maritime Cluster Office, established by DMCA as part of DMCA's innovative initiatives and continuous efforts to upgrade maritime and logistics services, is gaining big interest from international participants at Nor-Shipping 2017. It attracts significance as it contributes continuously in updating legislation, regulation and infrastructure as well as the improvement of the operational processes according to the highest standards of excellence, quality, innovation and maritime safety. During the exhibition, DMCA will be showcasing the progress achieved in terms of updating its infrastructure and legal system and providing diversified investment opportunities which are designed to strengthen the confidence of regional and international investors in the local maritime environment. All these activities are within the framework of the government's ongoing support to make Dubai as one of the top maritime hubs globally by 2021 based on the pillars of innovation, excellence and creativity.
Visitors to the DMCA stand at Nor-shipping 2017 will be able to learn more about the initiatives and achievements of the past year, including Innovation Quay – a new and ambitious initiative designed to take advantage of technological innovation to promote development in all aspects of the maritime sector. Another initiative of DMCA is UAE Maritime Week, a world-class forum designed to provide a visionary concept on the future of maritime industry. Other initiatives are Dubai Maritime Training Centre operating under Maritime Creativity Lab, Dubai Maritime Virtual Cluster, and Dubai Maritime Summit, the sponsor of the 'Dubai Maritime Innovation Award' which aims to support the efforts to honor innovative initiatives and stimulate innovation within the maritime sector.
Categories