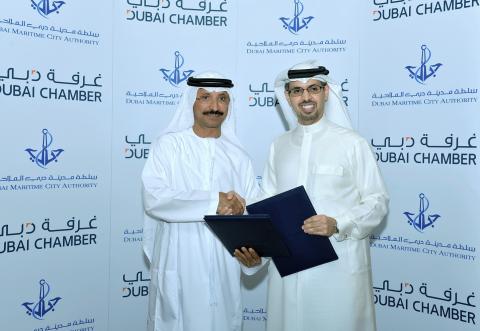 Agreement's strategic priorities include cooperation in maritime arbitration and investment in human capacity building
December 14, 2014 - Dubai, United Arab Emirates
As part of its efforts to highlight Dubai as a leading global hub for trading, business and investment, Dubai Maritime City Authority (DMCA) recently signed a Memorandum of Understanding (MoU) with the Dubai Chamber of Commerce and Industry to pave the way for fruitful cooperation in various areas of mutual interest. The partnership between the two organisations focuses on strengthening Dubai's maritime sector in recognition of its contribution to the national economy.
The MoU was signed between H.E. Sultan Bin Sulayem, Chairman of Dubai Ports, Customs and Free Zone Corporation and President of DMCA, and H.E. Hamad Buamim, President and CEO, Dubai Chamber, in the presence of senior officials and managers from both the organisations.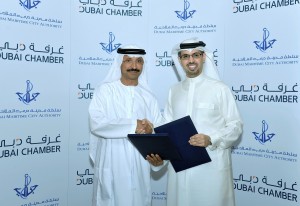 H.E. Bin Sulayem said: "Our strategic partnership with the Dubai Chamber of Commerce and Industry is highly important. Both of us share a common vision of contributing to Dubai's economic development and promoting the emirate as one of the world's most prominent leading investment destinations. The new agreement also forms a nucleus for future cooperation between Dubai Chamber's Dubai International Arbitration Centre (DIAC) and the Emirates Maritime Arbitration Center, a first-of-its-kind initiative which aims to settle maritime disputes in the Middle East.  Disputes are resolved in accordance with independent legal and regulatory measures in line with the maritime sector's strategic goals of improving, organizing and enhancing Dubai's competitiveness as a first-class global maritime hub."
Commenting on the signing of the Memorandum of Understanding, H.E. Hamad Buamim, President and CEO, Dubai Chamber, said: This MoU is in line with the Chamber's strategic objectives of creating a favourable business environment, supporting the development of business, and promoting Dubai as an international business hub. Also, the maritime sector is an important pillar of Dubai's economic growth as it directly supports the competitiveness of Dubai and its strategic location and status as one of the topmost transhipment hubs in the world. This latest agreement with Dubai Maritime City Authority will lead to a new phase of cooperation between us and will take the maritime sector a step closer to making Dubai a first-class global maritime hub."
Under the new strategic partnership, the two sides agreed to enhance channels for transferring knowledge and exchanging experiences and information as well as begin their bilateral cooperation in arbitration. They will also coordinate in building the maritime sector's human resources capacity by jointly organizing interactive workshops and training courses, attending regional and international meetings, and conducting official visits. The partnership aims to contribute to enhancing Dubai's presence on the global economic map. Dubai Maritime City Authority has established solid strategic partnerships with various government bodies, non-government institutions, and local maritime parties. These collaborations have had a positive impact on its efforts to improve the performance, safety, efficiency and competitiveness of the local sector and reinforce Dubai's position in the ranks of the world's leading maritime centres. H.E. Bin Sulayem added: "Human resource development in the maritime sector is one of the most important strategic priorities of our agreement with Dubai Chamber. This is aligned with the vision of the wise leadership to appropriately invest in the country's human capital in order to promote comprehensive economic and cultural development and progress. We are optimistic that our new MoU with Dubai Chamber is an important addition to our extensive network of strategic partners in the public and private sectors. We extend our gratitude and appreciation to them for supporting our grand aspirations of creating an attractive environment for the pioneers of the world's maritime industries, activating the role of the local sector in promoting economic development, and promoting sustainability to meet the needs of future generations."
Categories