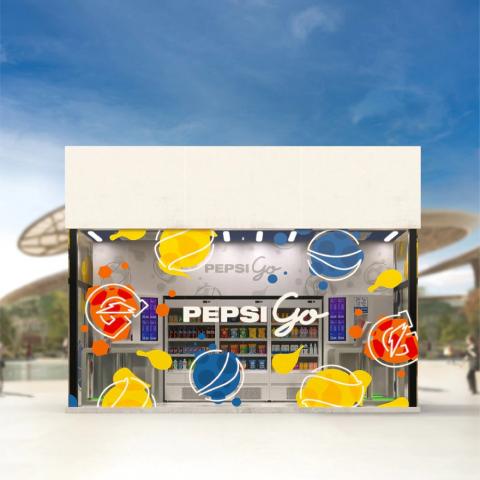 PepsiCo reveals three innovations set to transform the way we snack and drink, from how we consume to the way we shop.
With less than one month to go until Expo 2020 opens its doors to welcome the world for 182 unforgettable days, PepsiCo – Expo's Official Beverage and Snack Partner – has revealed three exciting new innovations that are destined to change the way we shop, eat and drink.
Pepsi Go is an AI-powered, unmanned store that will first open its doors at Expo 2020. In partnership with Mastercard, Pepsi Go has been designed around shoppers' needs, and is secure and contactless.
Start your journey by tapping, inserting or swiping a payment card to open the kiosk's doors. Once inside, the store uses AI and computer recognition technology to track the PepsiCo snacks and beverages selected. To check out, simply exit – and the Mastercard Payment Gateway Services technology automatically initiates the payment, making checkout queues a thing of the past.
As part of an ongoing commitment to reduce single-use plastics, PepsiCo will debut the Aquafina® Water Station at Expo. Providing a personalised experience while encouraging mindful consumption, the station allows you to customise your drink, choosing between still or sparkling water, with the option to add a variety of flavours.
Once you have perfected your order, the Water Station's QR code-enabled reusable bottle syncs to the system, remembering your choices for personalised refreshment every time you visit.
In line with its sustainability commitments, PepsiCo is also bringing compostable packaging for Sunbites®, exclusively to Expo 2020. Industrially compostable and bio-based, the snack's new packaging includes plant-based materials and has a lower greenhouse gas footprint compared to a traditional snack bag, meaning the entire production line is kinder to the planet.  
Throughout Expo 2020, PepsiCo will take a leading role in showcasing the future of the food and beverage industry, from sustainable practices to exciting innovations that will transform the sector.
 
Source: www.expo2020dubai.com