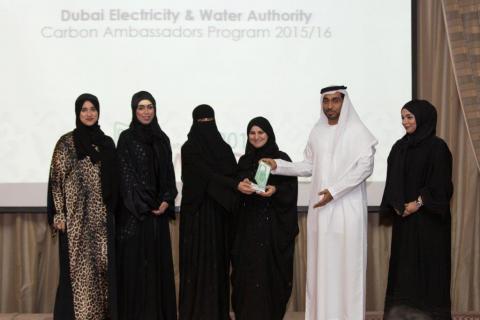 Dubai Electricity and Water Authority (DEWA) won the Training Initiative of the Year Award from the Emirates Green Building Council, for the Carbon Ambassadors Programme. DEWA sponsors the programme to involve youth in environmental and sustainability issues.
Dr Yousef Al Akraf, Executive Vice President of Business Support and Human Resources at DEWA, received the award on behalf of DEWA, during a ceremony held to honour the winners of the 4th Emirates Green Building Council Awards at Al Murooj Rotana, Dubai. The Carbon Ambassadors Programme was launched by the Dubai Carbon Centre of Excellence (Dubai Carbon) in June 2014, with the support of the United Nations Development Programme (UNDP), and the Ministry of Foreign Affairs and International Cooperation.
DEWA provides all necessary requirements to ensure the success of the Carbon Ambassadors programme, and engage young people in environmental and sustainability issues. This is achieved by engaging the students in activities, training courses, and workshops on sustainability, climate change, and the environment.
"We are glad to have won the Training Initiative of the Year Award from the Emirates Green Building Council, for the Carbon Ambassadors Programme, in which we sponsor as part of efforts to achieve the objectives of our wise government, in adherence with the Carbon Abatement Strategy, to reduce carbon emissions by 16% by 2020. The Carbon Ambassadors are the next generation of leaders and experts who will implement ambitious National strategies and plans as well as contribute to innovating new initiatives and programmes. They will help achieve the UAE Vision 2021, to make the UAE one of the best countries in the world by 2021, the Dubai Plan 2021, to make Dubai sustainable with its resources and make its environmental elements clean, healthy, and sustainable, and the Dubai Clean Energy Strategy 2050 launched by HH Sheikh Mohammed bin Rashid Al Maktoum, Vice President and Prime Minister of the UAE and Ruler of Dubai, to make Dubai a global centre for clean energy and green economy," said HE Saeed Mohammed Al Tayer, MD & CEO of DEWA.
"DEWA realises that young people are the driving force for building a greener future by involving them in achieving the goals of sustainable development. The youth of today are the leaders of tomorrow, who will play a key role in decision-making at all levels. Our sponsorship of this programme reflects our ongoing efforts to enhance creativity by providing the necessary tools and training programmes that contribute to the growth of cognitive and innovative abilities," said Al Akraf.
DEWA has adopted the Carbon Ambassadors Programme, doubling the number of enrolled students in the second batch to 75, from 2015-2016. Students of the second batch support the former Ambassadors' efforts to building a greener and sustainable future, emphasising their commitment to supporting sustainable development in the region, as well as Emirati Youth.
Categories