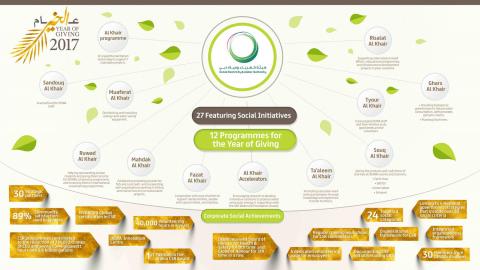 Dubai Electricity and Water Authority (DEWA) has approved 12 main programmes to provide 27 social and humanitarian initiatives that directly support the three themes of the Year of Giving initiative, which was launched by HH Sheikh Khalifa bin Zayed Al Nahyan, President of the UAE. DEWA's initiatives support the directives of HH Sheikh Mohammed bin Rashid Al Maktoum, Vice President and Prime Minister of the UAE and Ruler of Dubai, to implement initiatives to support everyone in the UAE, and establish a permanent change in the way the next generation helps the UAE.
The Higher Committee of the Year of Giving at DEWA, chaired by HE Saeed Mohammed Al Tayer, MD & CEO of DEWA, approved the initiatives as part of DEWA's Corporate Social Responsibility (CSR) and its efforts to support the Year of Giving initiative. The initiatives will be implemented in cooperation with prominent local and international humanitarian organisations.
Al Tayer noted that DEWA will launch an intranet page that includes 11 volunteering initiatives in the first phase. The site provides a dedicated page for each volunteer that calculates their volunteering hours. DEWA is the first government organisation to develop such a site that calculates volunteering hours of each employee. DEWA has also added a special category for its internal excellence awards for volunteering and charitable initiatives. This supports DEWA's efforts to enhance volunteering and social work among its staff.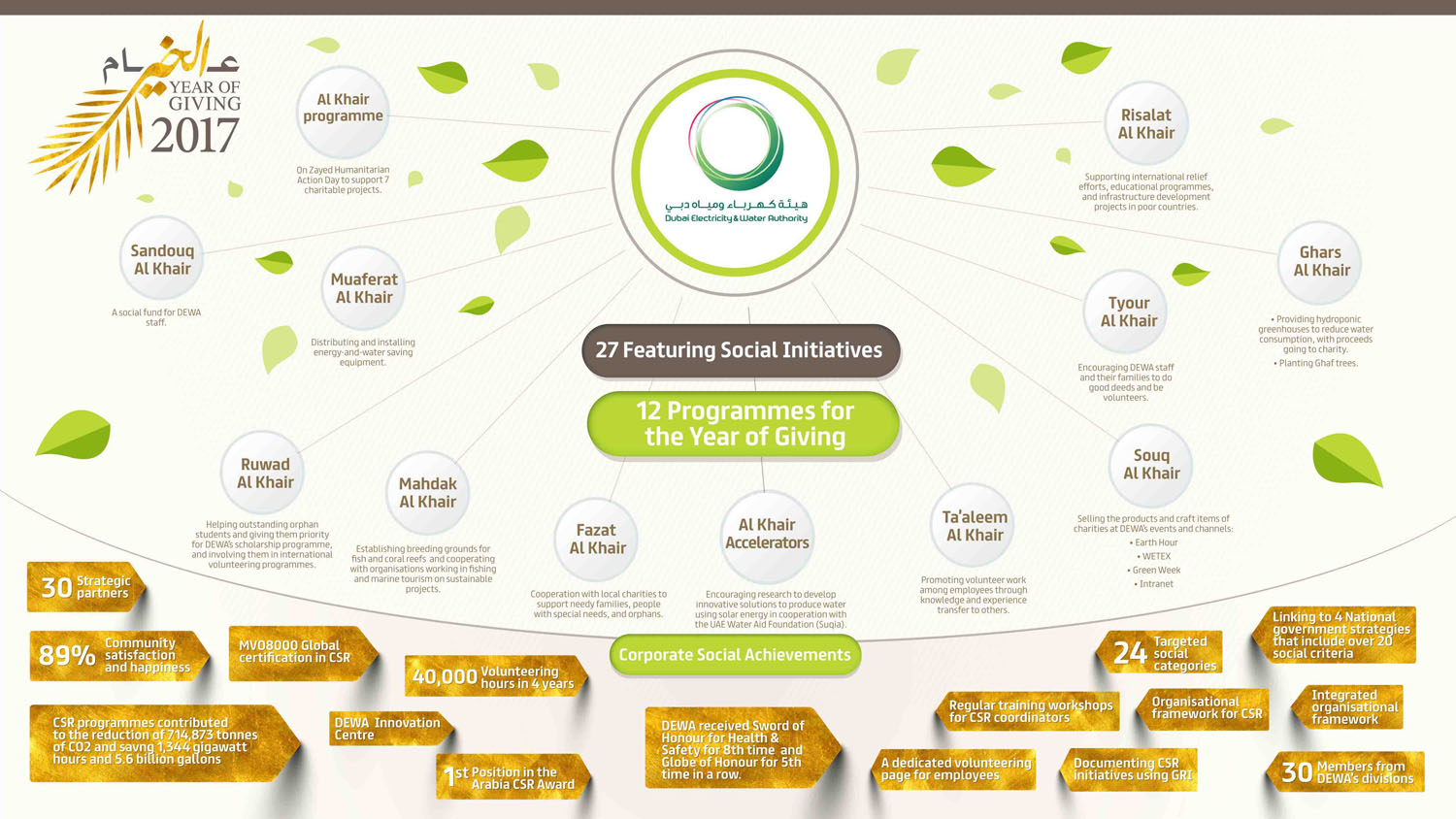 "DEWA works according to an integrated organisational framework to serve society and promote cohesion among its members. Our social initiatives are part of a comprehensive framework that is aligned with the UAE Vision 2021, the Dubai Plan 2021, and the DEWA Strategy 2021. This includes plan development, launching the initiatives, implementing, and evaluation according to the Global Reporting Initiative (GRI), to ensure the sustainability of results. DEWA cooperates with a number of government and private organisations to promote social responsibility, and encourage volunteer work among DEWA staff and society as a whole. We also work to instil the value of serving the nation in the hearts of new generations to reflect their love for the UAE, which is a value that already fills the hearts of the UAE's citizens and residents. The ultimate objective that we all strive to achieve is the happiness of individuals and society, to ensure a brighter future for generations to come," said Al Tayer.
The social and volunteering programmes that DEWA launched include: 'Risalt Khair' to support international relief efforts, educational programmes, and infrastructure development projects in poor countries. 'Ghars Al Khair' will provide hydroponic greenhouses to reduce water consumption by up to 80%, with proceeds from the sales of agricultural produce going to charity. This programme also includes planting Ghaf trees in DEWA's power plants and projects. 'Souq Al Khair' sells the products and craft items of charities at DEWA's events and channels, such as Earth Hour, WETEX, Green Week, and the Intranet. 'Taleem Al Khair' promotes volunteer work among employees by transferring their knowledge and experiences to others. 'Tyour Al Khair' distributes birdfeeders to DEWA staff and the people of Hatta. 'Fazat Al Khair' sells the goods made by inmates and prisoners. 'Mahdak Al Khair' will establish breeding grounds for fish and coral reefs using equipment and old transformers. 'Ruwad Al Khair' helps outstanding orphan students and gives them priority for DEWA's scholarship programme. 'Muaferat Al Khair' distributes and installs energy and water saving equipment. 'Sandouq Al Khair' is a social fund for DEWA staff. The programmes also include the 'Al Khair programme' on Zayed Humanitarian Action Day. DEWA will also donate unused equipment and devices to poor countries. 'Al Khair Accelerators' in cooperation with UAE Water Aid Foundation (Suqia) encourages research to develop innovative solutions to produce water using solar energy.
DEWA's CSR efforts over the last few years have contributed to an increase in community satisfaction and happiness levels, from 82% in 2013, to 89.01% in 2016. DEWA also received many international awards and certificates in CSR, including the MVO8000 Global certification in CSR, becoming the first government organisation in Dubai to receive this global recognition.
Categories