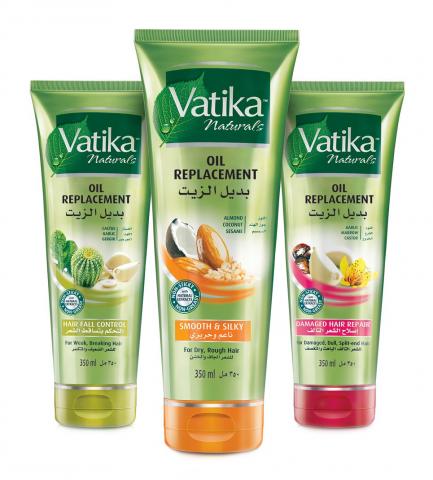 Three innovative variants of 'Smooth & Silky,' 'Hair Fall Control,' & 'Damaged Hair Repair' offer effective replenishment for natural hair oils
Dabur International has announced the Middle East launch of a pioneering Oil Replacement range in its post-wash styling category under its flagship hair care brand Vatika. Infused with the goodness of natural oils, the innovative, rich and creamy formula of Vatika Oil Replacement deeply nourishes hair to make them healthy, smooth and shiny. The new product range is available in three variants of 'Smooth & Silky,' 'Hair Fall Control,' and 'Damaged Hair Repair.'
In today's modern and demanding lifestyle, where women have to fit into several roles, including that of a homemaker and a professional, she does not get enough time for an elaborate hair care routine. Vatika Oil Replacement is a healthy alternative for them to get beautiful and nourished hair. It is a complete post-wash hair care solution with benefits of natural oils that provides intensive nourishment to effectively address common hair problems.
Vatika Smooth & Silky Oil Replacement is enriched with almond, coconut and sesame to keep dry, frizzy and rough hair smooth and silky all day long. Vatika Hair Fall Control Oil Replacement, on the other hand, is fortified with cactus, garlic and gergir to provide strength to weak hair and control hair breakage. Lastly, Vatika Damaged Hair Repair Oil Replacement is infused with extracts of garlic, castor and marrow to repair, revitalize and help restore each hair strand and smoothen split ends. The product evenly spreads into hair strands to strengthen them from root to tip, making them radiant and bounce with good health.
Vivek Dhir, CMO, Dabur International, said: "Vatika Naturals has created a unique and natural-based Vatika Oil Replacement range that effectively addresses the demand of women in the region for a convenient and quick solution to keep hair nourished and well-styled. The rich and creamy formula is fortified with extracts of natural ingredients which delivers essential nourishment to revitalize dull and dry hair. Moreover, Vatika Oil Replacement is a non-sticky, easy-to-use cream that ensures that hair, do not miss out on benefits of oil to keep them beautiful and healthy. Vatika's entry into the oil replacement category reflects its commitment to enhance its product range as per consumer requirements and continue to reign as one of the Middle East's leading hair care brands."
Vatika Oil Replacement range is a non-sticky, light, and easy-to-absorb cream that can be used post-wash before any styling or as a leave-on styling product.
Dabur International, a wholly owned subsidiary of Dabur India, has an overall turnover of over USD 1.3 billion and a market capitalization of around USD 8 billion. Dabur's International Business Division headquartered in Dubai is the cornerstone of its growth strategy, reaching a milestone of AED 1 billion within only eight years of its existence.
Categories