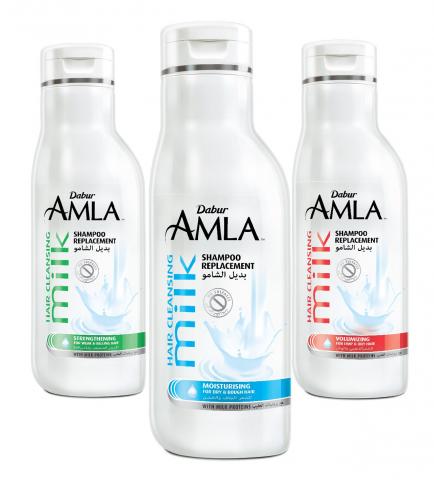 Sulfate-free shampoo replacement nurtures & cleanses hair with gentle care
Continuing with its legacy of introducing path-breaking personal and beauty products, Dabur International, has launched Dabur Amla Hair Cleansing Milk for its consumers in the Middle East. The innovative hair care product has been developed as a sulphate-free formulation that provides nourishing care to hair while gently cleansing your hair and scalp. Dabur Amla Hair Cleansing Milk is an innovative shampoo replacement and can be regularly used instead of chemical-based shampoos that can damage hair with every wash.
Women in the Arab region have often complained that frequent shampooing makes their hair dry, dull, brittle and prone to hair fall. In response, Dabur International's research and development team have introduced a superior product that not only cleanses the hair but also nourishes them and is gentle for everyday use. Enriched with milk proteins, Dabur Amla Hair Cleansing Milk's nourishing formula deeply moisturises, conditions and strengthens hair to give them bounce, volume and radiance for a fresh and even texture all through the day.
Vivek Dhir, Chief Marketing Officer, Dabur International, said: "For the majority of women, shampooing has become an integral part of their hair care regimen without realising that shampoos have sulphates. Sulphates have a harsh effect on hair and are also found in laundry detergents and drain cleaners, making them harmful for hair. Dabur Amla Hair Cleansing Milk has been specifically developed by are research and development team to bring out a product that is free of harmful chemicals, and is designed to gently cleanse the hair. In addition, its milk protein formulation provides nourishment to hair so that they become soft, silky, shiny, and easy to manage. Dabur Amla Hair Cleansing Milk reinforces our 130-year-old legacy of developing unique and innovative range of personal care products and we are upbeat that it will be a perfect shampoo replacement for women in the region."
Dabur Amla Hair Cleansing Milk is available in three variants of Volumizing, Strengthening, and Moisturising to address the need of different hair types. It is gentle to be used every day to cleanse hair. It is applied on wet hair which is worked to lather and then rinsed for a beautiful result.
Dabur International, a wholly owned subsidiary of Dabur India, has an overall turnover of more than USD 1.3 billion and a market capitalization of around USD 8 billion. Dabur's International Business Division headquartered in Dubai is the cornerstone of its growth strategy, reaching a milestone of AED 1 billion within only eight years of its existence.
Categories