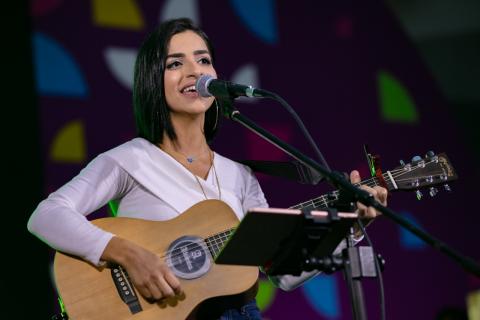 Ideas Abu Dhabi Festival was a showcase of talented performances, stimulating conversations and engaging activities last evening at New York University Abu Dhabi (NYUAD), Saadiyat Island.
The open-to-all festival enthralled festival-goers with performances by Arabs Got Talent finalist Daneel Sayegh, Jordanian acoustic pop and RnB sensation Dina Rabadi, and jazz maestro Alan Farragher.
Visitors also attended enlightening talks with the extraordinary Daniel Tammet who displayed his amazing mental abilities that allows him to learn an entire language in a week, or recite the number Pi to over 22,000 decimal places without a single error; Josh Giegel, CTO and Co-Founder of Virgin Hyperloop One, who talked about the revolutionary power of hyperloop; along with Drew Murray and Stephen Davies who showcased their colourful 3D printed assistive devices for children.
This was supplemented by an array of activations and workshops, including a digital slingshot, 'brain racers' where you can control toy cars with your mind and a BATAK Challenge.
The Ideas Abu Dhabi Festival continues today between 5:00 pm – 10:00 pm at New York University Abu Dhabi (NYUAD), Saadiyat Island.
Categories