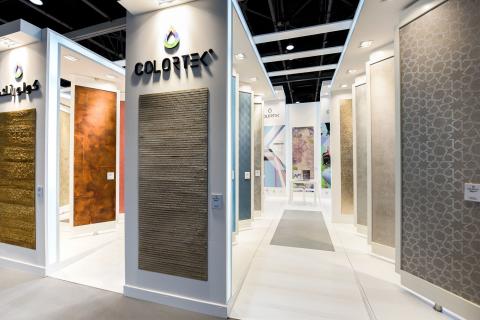 As a part of its expansion in the Middle East and Africa, COLORTEK the international paints brand manufacturer, participated in the Middle East Covering exhibition, the most exclusive contract business flooring and wall covering in the MENA region, coinciding with INDEX (International Design Exhibition), that took place from May 23, 2016 until the 26th of the same month, at the Dubai World Trade Center, in the palm tree capital of Dubai.
Positioned at S-C47 on the exhibition map, a crowd of professional designers, architects, interior designers and painting business professionals were welcomed at COLORTEK's exceptional yet inspiring stand, and were introduced to COLORTEK's latest wall and floor finishes collections as well as to its expanding lines of safe and sustainable architectural and protective coatings. Attendees learned more about the COLORTEK brand and its dedicated designer centers across the region while having the opportunity to gain further insight about the future development of COLORTEK's comprehensive offering and franchised retail concept.
"It gives a great satisfaction to witness the industry's leading professionals and designers taking a huge interest in COLORTEK's products and innovative features", expressed Mr. Yahya Kassaa, COLORTEK's Chief Executive Officer, adding, "Our presence in Dubai, together with our recent venture in Egypt as well as the expansion of the COLORTEK franchise in Riyadh (KSA) with two showrooms demonstrates our commitment to our strategic expansion in the region as well as to our network of COLORTEK franchisees and authorized distributors."
Awarded various certificates such as the Greenguard Gold Standard by UL Environment, Performance Certifications by Master's Paint Institute, and a R&D department that operates under ASTM International Standards, in addition to ISO certification for quality control for the manufacturing plants, COLORTEK earned its recognition across the EMEA through successful projects in Dubai, Qatar, Bahrain, KSA, Morocco and Lebanon. The earned quality and safety credentials has placed COLORTEK products on the major specifications lists due to their contribution to LEED and other sustainability rating systems such as GSAS, BREAM and ESTIDAMA.
Categories