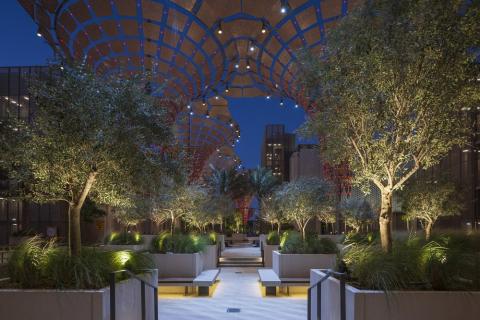 Official Digital Network Partner will lead delivery of network services across Expo 2020 Dubai.
Global tech firm Cisco has been appointed to manage, operate and maintain Expo 2020 Dubai's entire IT network, representing one of the most advanced operations of its kind in the region.
Expo's Official Digital Network Partner will now lead end-to-end Network Services Delivery across Expo's three Thematic Districts, all pavilions, parks and arrival plazas, as well as Dubai Exhibition Centre, co-located at the Expo site.
Cisco has already deployed its cutting-edge, intent-based network across Expo, supporting the automation of IoT end points and contributing towards making the first World Expo in the Arab world one of the smartest and most advanced ever held.
To ensure seamless and streamlined connectivity, Cisco will manage a large-scale, fully integrated end-to-end Network Operating Centre (NOC) for Expo 2020, to be handled by a dedicated team joining Cisco's current workforce at Expo.
Cisco's advanced infrastructure and real-time reporting will enable NOC staff to swiftly evaluate and optimise services – evolving the network to support business systems more easily and efficiently.
Through collaboration with other Expo operation centres, Cisco will help increase engagement with visitors and partners, creating unique journeys and experiences throughout the six-month event starting 1 October 2021.
 
Source: www.expo2020dubai.com