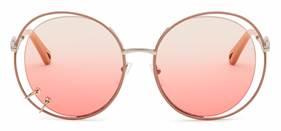 The effortless spirit of Chloé infuses the latest introduction to the brand's eyewear collection.
Presented with the Spring/Summer 2019 collection, the new "Wendy" style features round lenses surrounded by a sleek circle, offered in two metallic finishes.
The lenses, which seemingly float, are suspended by a nylon filament while the frame-front is enriched with two metal rings which pierce the right lens, adding a cool touch.
The lightweight "Wendy" sunglasses feature temples that curve downwards and are linked to the frame- front through an integrated hinge, creating a flowing profile.
Available in Rose Gold with Rose gradient lenses, Gold with Brown gradient lenses, Gold with Petrol gradient lenses, and Gold with Wine gradient lenses.
Categories