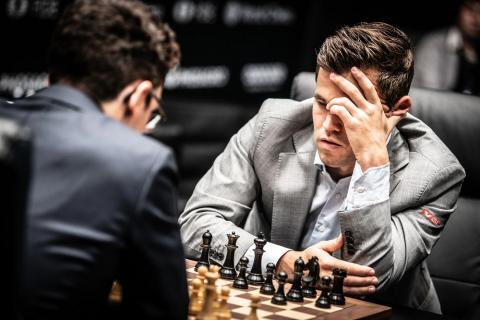 Showdown between the game's finest Grandmasters is a highlight of the global chess calendar.
The next FIDE World Chess Championship will be held at Expo 2020 Dubai and promises an enthralling contest that will delight chess fans and the wider public alike.
Organized by the International Chess Federation (FIDE), the postponed 2020 championship will see the reigning world champion, Magnus Carlsen of Norway, defend his title against the winner of the delayed Candidates Tournament, due to conclude in Ekaterinburg, Russia.
The showdown between the game's finest Grandmasters highlights Expo 2020's diverse and inspiring events calendar. It will take place between 24 November and 16 December 2021 at Dubai Exhibition Centre, with the two players competing for a prize fund of EUR 2 million (AED 9 million).
The history of chess can be traced back more than 1,500 years, and the first international tournament was held in London as part of the first World Expo – the Great Exhibition – in 1851.
A powerful educational tool, chess encourages strategic thinking and problem solving, and is played by people of all ages and backgrounds from around the globe. Spain will also host the final of the World Online School Chess Tournament at Expo 2020 Dubai, in line with the Spain Pavilion's theme of 'Intelligence for Life'.
It is estimated to be played by hundreds of millions of people worldwide, including more than 30 million children engaged in chess school programmes around the world. Its popularity reportedly surged as chess became a favourite pastime during the global lockdowns, also fuelled by the success of the chess-themed Netflix series The Queen's Gambit.
Source: www.expo2020dubai.com