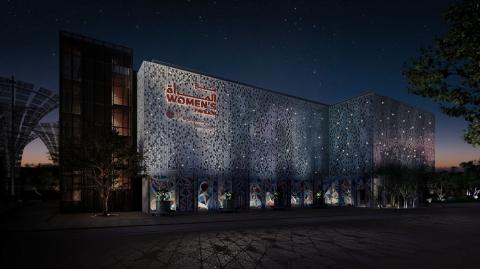 The Women's Pavilion at Expo 2020 unveils content showcasing female contributions to societies, showing that when women thrive, humanity thrives.
The Expo 2020 Dubai Women's Pavilion, in collaboration with Cartier, has unveiled creative content and programming that will help reaffirm Expo's commitment to gender equality and women's empowerment.
The pavilion is set to celebrate the important roles that women, known and unknown, have played throughout history and continue to play in the present day, based on the principle that when women thrive, humanity thrives.
Through its New Perspectives exhibition and a packed schedule of programming, the pavilion aims to inspire all who enter its doors to become change-makers, breaking stereotypes and deconstructing misconceptions on women's roles, shedding light on how women and men have contributed to women empowerment and gender equality.
Visitors can expect a creative, multi-sensory journey through the pavilion, with a diverse community of creators and artists contributing both to its design and curation, including Lebanese actor and Oscar-nominated director Nadine Labaki; French actor, filmmaker, singer and pianist Mélanie Laurent; French interior architect Laura Gonzalez; Dubai-born artist Kholoud Sharafi; French light designer Pauline David; and international multi-disciplinary artist eL Seed. The Women's Pavilion has also been endorsed by Phumzile Mlambo-Ngcuka, United Nations Under-Secretary-General and Executive Director of UN Women.
The pavilion features five structures with different narratives located on the ground floor: Introduction – expressing the purpose of the pavilion; Achievements – shining a light on women's impact on the world; Challenges – acknowledging what is holding women back; Solutions – highlighting the initiatives enabling women to thrive so humanity can thrive; and Engaging with visitors – encouraging them to become champions of gender equality and women's empowerment and take the journey forward.
Among additional events, programming and meaningful dialogues that will be hosted are a Women's World Majlis to address the role of women in creating a cleaner, safer, healthier world, and the Women in Arabia and Islam series, highlighting real-life stories of women who have led the way throughout history, inspiring other women from across the world to reach new heights.
Expo 2020 and Cartier will also celebrate International Women's Day on 8 March 2022 by hosting a global forum under the theme of 'Creating New Perspectives'.
Source: www.expo2020dubai.com