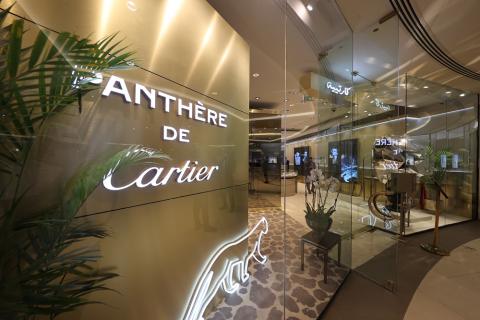 Cartier strengthens its ties with Saudi Arabia as it unveils a new pop-up celebrating the Maison's signature emblem, the Panthère, in the Kingdom's capital from April 25. The Panthère's heritage as a source of inspiration for inventive designs across decades will be showcased through an immersive experience in Riyadh's Centria Mall, signalling Cartier's strong commitment to its community in Riyadh.
The experience will allow visitors to marvel in an immersive tunnel where floor to ceiling video displays narrate the iconic Panthère de Cartier story from its inception dating from 1914. Visitors will be introduced to the creator of the iconic jewel, Jeanne Toussaint, known herself as "La Panthère". A trailblazer and style icon of the 20th century, Toussaint established the panther as a Cartier icon that occupies a special place in the history of jewellery. Through the pop-up experience, visitors can experience the creative journey and witness how the iconic emblem has been adapted over time, using different crafts and techniques, and developed into jewellery for more than a century.
Alongside the exhibition, the latest Panthère de Cartier Massai collection is exclusively unveiled for the first time to Cartier's Saudi clients. The collection includes exquisite bangles and necklaces made of 18K curved gold, stemming from the head of a sculptural panther with emerald or tsavorite garnet eyes. In addition to high jewellery pieces, visitors will be presented with a selection of pieces as magnetic as the emblematic animal itself. Visitors will also be delighted with bespoke merchandise available exclusively at the pop-up, including specially designed alphabet postcards, each showcasing unique Panthère creations.