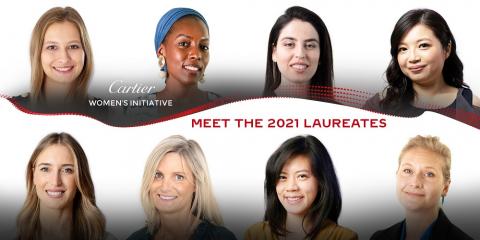 The names of the 8 laureates of the Cartier Women's Initiative were announced today during a digital ceremony, which concluded three days of virtual gathering on the theme of "the Ripple Effect". For its 2021 edition, the Cartier Women's Initiative program aims to explore how to create and sustain the ripple effect ignited by these women changemakers, thus paving the way for a better world for future generations.
Hosted by Cyrille Vigneron, Cartier President and CEO, the virtual gathering brought together a diverse group of global thinkers and doers ranging from prominent leaders such as entrepreneur and author Jacqueline Novogratz, award-winning journalist, author, and founder of Shriver Media and The Women's Alzheimer's Movement Maria Shriver or scholar Nassim Nicholas Taleb to friends of Cartier such as actor, producer and change agent Yara Shahidi, to collectively discuss the challenges of our time and to shine a light on the opportunities they provide to foster antifragility, build new alliances and uplift women impact entrepreneurs.
The 8 laureates were selected by an independent international jury committee amongst 876 applicants from over 142 countries. The winners of the 2021 edition all share an unwavering commitment to generating positive change in the world by answering to the United Nations Sustainable Development Goals of promoting good health & well-being, reducing inequalities and encouraging climate actions as well as responsible consumption and production.
For more information about the programme, visit www.cartierwomensinitiative.com